Jahnvi Kapoor has gained a lot of recognition ever since her debut film Dhadak hit the screens. She became all the more popular for being daughter of legendary actress Sridevi.
Jahnvi gave her 100 percent for the film because she didn't want to let us or our expectations down. Even her family members have been her pillar of support. Not only has Khushi been there for her, but even her step brother and sister Arjun & Anshula are helping in every possible way.
No doubt, Jahnvi is indeed very pretty & often, she is admired for the same. Despite being so beautiful, Jahnvi couldn't escape social media trolls. Yes, there is a small section of trollers who made fun of her recent picture.
In fact, they thought that Jahnvi has got a plastic surgery done and looks artificial. Here's that picture;
https://www.instagram.com/p/BkucBTehb7n/?utm_source=ig_embed
As soon as she uploaded the picture, she got trolled left and right. Have a look at some comments;
#1

#2

#3

#4

#5

#6

#7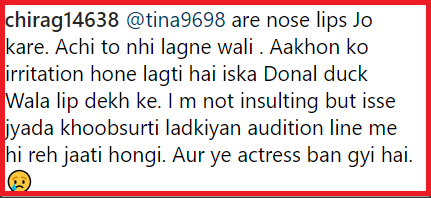 #8

She's looking damn pretty, but looks as if the trollers have no job but to pass such stupid comments. What do you have to say about this?