Bollywood & TV
Jasleen Kissed Anup In Front Of All Housemates Inside BB House. Twitter Is Trolling Them Left & Right
Bigg Boss 12 is being loved by audiences a lot, thanks to contestants who are in form since the beginning and even though there have been less than 2 weeks, the house has witnessed all kinds of behaviours – romance, drama, fights, arguments and what not!
However, there is one Jodi that is grabbing the attention of people the most since Bigg Boss 12 premiere. Yes, you guessed it right! We are talking about Bhajan Samrat Anup Jalota and his girlfriend Jasleen Matharu.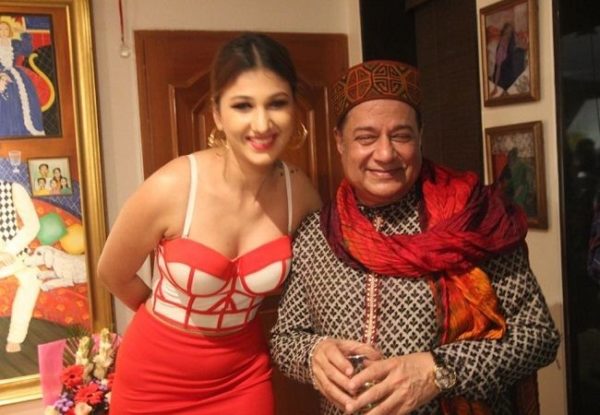 We all know that the concept of the show for this season is "Vichitra Jodi" and this pair appropriately fits to it considering the fact that there is an age difference of 37 years between the couple; while Anup Ji is of 65, Jasleen is just 28. Even more amazingly, they opened up about their relationship on BB premiere itself, leaving the entire nation as well as Jasleen's family utterly shocked.
Audiences have witnessed their romance few times inside the house as well but what Jasleen is going to do in today's episode will make singles turn green with envy. Even housemates were surprised cum shock and didn't know how to react.
A new promo is released on the micro-blogging site Twitter in which Jasleen is seen requesting or rather commanding Anup Jalota that she would do something and he would not erase or wipe it. When Anup agrees, she kissed on his forehead and left cheek. Then Anup says, "Ab ye aise hi rahega" (Now it will remain like this only).
To this, Karanvir tried to pull their legs and said, "Ek aur ho jaye" (What about one more kiss?). And when Anup said that two kisses are enough, Karanvir indicated towards lips and said that this place is left to be kissed.
Watch The Video:
.@anupjalota ko mil raha hai #JasleenMatharu se dher saara pyaar. Kya isse jal rahe hain ghar ke baaki umeedvaar ? #BB12 #BiggBoss12@iamappyfizz @oppomobileindia @TheGarnierMan @letsdroom pic.twitter.com/BHyu7oNAYO

— COLORS (@ColorsTV) September 26, 2018
Click here to watch this video directly on Twitter
This was more than enough for Twitterati to troll both Anup and Jasleen for the age gap between the couple. Check out how people reacted:
#1
budhape mai chai jawani😂😂😂😂😂

— Sonam☆.💥🌻 (@shilpaFan_No1) September 26, 2018
#2
Power of Bhajan 😂😂😂

— Vidyadhar💥 Risk Everything… Regret Nothing (@vidyadhar_more) September 26, 2018
#3
😂😂😂😂😂 sahi kaha dada ,

Aisse lagi lagan ..
Jasleen hogyi magan …
Wo toh bigg boss ghar aakar ..
Jalota ko chumiya dene lagi …
Aisse lagi lagan .😉😂

— Sonam☆.💥🌻 (@shilpaFan_No1) September 26, 2018
#4
😂😂😂 pic.twitter.com/b5NMqLAI3y

— Vidyadhar💥 Risk Everything… Regret Nothing (@vidyadhar_more) September 26, 2018
#5
😂😂😂 pic.twitter.com/Ffn0eQGZaR

— Vidyadhar💥 Risk Everything… Regret Nothing (@vidyadhar_more) September 26, 2018
#6
Ye Pyaar na Hogaa kam jab tak camera dikhaga Sanam

— 🎙️ Deepak Thakur Support🎙️ (@DeepakSupport) September 26, 2018
#7
Why he is doing this drama when everybody knows that this is fake? #Anoopjalota ji you destroyed your image you built throughout your life in just a few moments because of a girl.
Leave this drama and stat playing alone. #BiggBoss12 #bb11

— Suhani Yadav|Shilpian💥|Sreesanth🏏and KVB✌ (@Schai_k_pujari) September 26, 2018
#8
Aye haye jawani lai doobi Aye haye jawani le doobi. 😂😂😂

— Not So cool (@rithik_rajput) September 26, 2018
#9
Srm kr lottttaaaa beti ki umr ki hai woooo…… Shitttttt

— Garima Jain (@GarimaJ07568777) September 26, 2018
#10
Fake hai jasleen b grade flop actress sirf public city k lye anup tharki budde ko phasaya hai usne

— Mohammad Fahim (@fahim_78) September 26, 2018
#11
Nazar mt lgao koi ye ek poti ka apne dada k lie pyar hain 😂😂

Padmashree wale dada #JasleenMatharu You are tharki number 2 first one is ur ghalota 😒 #BiggBoss12

— 🍀 (@BeTheGameChnger) September 26, 2018
#12
Bas yahi hoga inse task to Anup ji kar nahi payenge he is senior citizen to bas yahi entertainment hai ab accha hai..

— Dips's (@DipaliJ78812770) September 26, 2018
#13
Itni achi gf to sabko milna chahye tha…. 😂😂…jo log gharme single hai unka keya ho raha hai…. 🙄

— Debalina Mukherjee (@DebalinaMukher4) September 26, 2018
#14
Aab Subha uthke Jasleen ko realize hua bohot negativity fehla dia aab kaise image clean karu?

So She Kissed Anup Jalota, to make the situation normal and make her look positive & fun loving contestant#BB12 #BiggBoss12 #BiggBoss #JasleenMatharu #AnupJalota @BiggBoss

— Preeti Gopal (@preetu1430) September 26, 2018
Watch Bigg Boss on Voot for unseen clips and amazing content!
Also watch Jasleen getting angry and saying "Shame on you Deepika" by clicking here.
Share Your Views In Comments Below