Entertainment
Jasprit Bumrah Again Lost A Wicket Because Of A No-Ball; Twitter Trolled Him In An Epic Way
The Indian team made a remarkable comeback in the third test match in the series played against England and the Indian pacer Jasprit Bumrah played an important role in India's win by picking up 5 wickets in the second innings. However, he is not able to leave behind the curse of no-ball in the fourth test match also that is being played at Southampton.
These no-balls hurt more when he could have earned a wicket if the ball had been legal. On the day 1 of the Southampton test, England won the toss and decided to bat first. Bumrah took the wicket of opener Keaton Jennings early in the innings and increased problems for the opposition but he missed the chance of getting the wicket of English skipper Joe Root in the fifth over.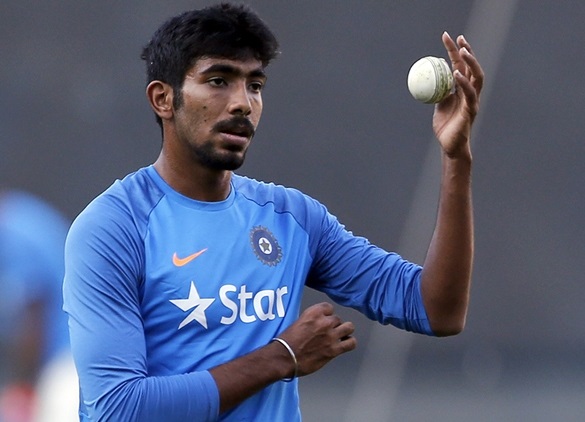 It was the third bowl of the fifth over and Bumrah's delivery knocked the pads of Root. The Indian team made an appeal but Umpire Bruce Oxenford denied. The Indian skipper Virat Kohli went for the review and it was seen in the review that Bumrah overstepped while bowling. There is no doubt that this decision would have gone in India's favour if Bumrah had bowled a legal delivery.
However, Joe Root was not able to take advantage of the chance that he got as Ishant Sharma sent him to pavilion soon, leaving England at a score of 15/2.
Indian Twitter users were quite upset with Jasprit Bumrah and his habit of bowling no-balls at critical junctures.
Even commentator and sports analyst Harsha Bhogle and former cricketer Aakash Chopra expressed their unhappiness on the micro-blogging site Twitter. Check out their tweets:
Jasprit Bumrah is a fine cricketer, and in the middle of an excellent spell, but he is letting himself and his team down too often with these no-balls.

— Harsha Bhogle (@bhogleharsha) August 30, 2018
If umpire had given that out, Root might not have reviewed this…it was that plumb. #EngvInd #Root #Bumrah

— Aakash Chopra (@cricketaakash) August 30, 2018
This is how Twitter trolled Jasprit Bumrah:
#1
For the second Test in a row, we're bestowing the highest honor we can on Jasprit Bumrah. His commitment to No Balls Cricket cannot be understated. Next time he takes a wicket off a no ball, we're sending him a sponsorship contract. #ENGvIND

— No Balls Cricket (@NoBallsCricket) August 30, 2018
#2
What Radhika apte is to @NetflixIndia ,No ball is to Jasprit bumrah #INDvENG

— Jon Sunao (@shail_rockstar) August 30, 2018
#3
When Jasprit Bumrah was born..

Doctor : Congrats, its a No Ball!!#ENGvIND

— Chandler Bing (@SarcasmChamp) August 21, 2018
#4
#ENGvIND
Aaj tak No Ball pe kitni Wickets ley chuke ho??

Jasprit Bumrah : pic.twitter.com/JzfoH1m6LT

— Akshay kadam (@Akshay_GK47) August 21, 2018
#5
Only thing that can compete with Virat Kohli's consistency is Jasprit Bumrah's wickets on No Balls! #ENGvIND

— Marwadi Gujju (@hdbarjatya) August 30, 2018
#6
Two Talents of Jasprit Bumrah:

1) Brilliant Yorkers
2) Taking Wicket on No Ball

— Jones Pradeep Nadar (@jonespradeep) August 31, 2018
#7
With this frequency of bowling No-balls, at the end of his career Jasprit Bumrah will have more no ball wickets than @sachin_rt has got out in 90s scores. @Jaspritbumrah93 #ENGvIND

— Montu (@dwanikbhatt) August 30, 2018
#8
Jasprit Bumrah and No Balls, The Untold story.😪🤧😏🤦🏻‍♂️

— Neel Patel (@NeelPatel189) August 30, 2018
#9
If Jasprit Bumrah writes autobiography, what would be ?

' Magnificent Wickets on No Ball '#INDvsENG #ENGvIND

— साकेत (@Baklol_Kishor) August 31, 2018
#10
jasprit bumrah to no ball….#ENGvsIND pic.twitter.com/Krd7MjyjJL

— $uन्द₹ कु[email protected] 🇮🇳 (@sentisonu12) August 30, 2018
#11
Jasprit Bumrah is on his way to become the fastest to reach 100 wickets*#IndvsEng

*off no balls

— Kumar Abhinav (@koolkgpian) August 30, 2018
#12
After everything that it has cost India, it's a SHAME that Jasprit Bumrah is still getting wickets off a no ball. This could potentially cost them the series. What is the coaching staff doing ? This should've been sorted by now #ENGvIND

— Ahmer Nazir (@iAhmer) August 30, 2018
What do you have to say in this connection? Let us know.
Share Your Views In Comments Below