Sports
Jasprit Bumrah Is Third Indian Bowler To Take A Hat-Trick In Test. Twitter Can't Stop Praising Him
The Indian cricket team is on its way to clean sweep the test series against West Indies as our players performed superbly in all the segments of the second test match which is being played at Sabina Park, Jamaica. The start of the day 2 was not good for team India as Rishabh Pant got out early at the score of 27 and Ravindra Jadeja also lost his wicket even before he was able to settle at the crease.
However the good thing was that Ishant Sharma batted beautifully and provided good support to Hanuma Vihari. While Ishant scored a half-century, Hanuma scored his maiden century and helped team India in putting a huge total of 416 on the board.
The hosts were never comfortable against the Indian bowling but the highlight was the hat-trick of Jasprit Bumrah who dismissed Darren Bravo, Shamarh Brooks and Roston Chase in three consecutive deliveries.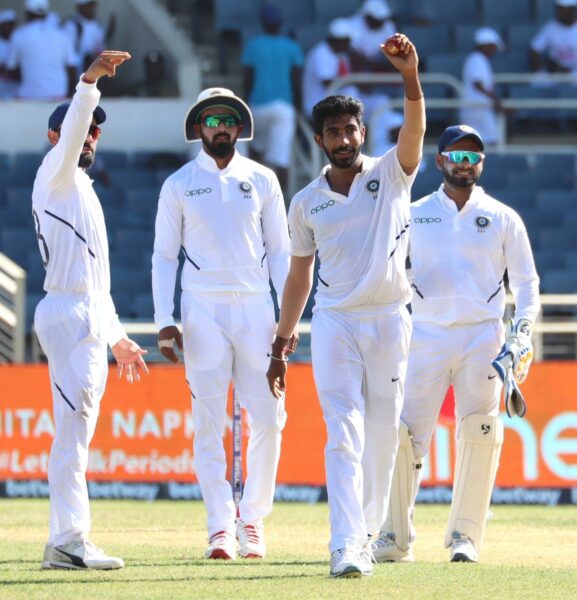 After this hat-trick, Bumrah has become the third Indian bowler to take a hat-trick and the third bowler to get a hat-trick in West Indies. He tore apart the West Indian batting line-up as he took six wickets in total and West Indians were 87/7 at the end of day 2.
The Indian cricket fans and former cricketers were all praises for Jasprit Bumrah and some fans were of the opinion that the manner in which Bumrah is bowling, history will remember him as the great Indian pacer of all time.
Jasprit Bumrah also took to Twitter to share his happiness with his fans and friends. He tweeted, "A day I won't forget 💥🇮🇳🦁"
A day I won't forget 💥🇮🇳🦁 pic.twitter.com/MnAfCoh20T

— Jasprit Bumrah (@Jaspritbumrah93) September 1, 2019
Earlier ICC also praised Bumrah when West Indies was 22/5 and all the five wickets were taken by Bumrah. ICC tweeted,
"Wow… Just wow Jasprit Bumrah!
What a stunning performance, he has all five wickets to fall and West Indies are 22/5"
Wow… Just wow Jasprit Bumrah!

What a stunning performance, he has all five wickets to fall and West Indies are 22/5 🤯 pic.twitter.com/1sMtbYwn3F

— ICC (@ICC) August 31, 2019
What a bowler Jasprit Bumrah is 🙌 pic.twitter.com/TDAeoBxgnl

— ICC (@ICC) August 31, 2019
This is how Twitter users reacted over the spectacular performance of Bumrah:
#1
Now a hat-trick! Bumrah is bowling at another level. Taking wickets for fun.

— Harsha Bhogle (@bhogleharsha) August 31, 2019
#2
Bumrah on fire … again 🙌 #Hattrick #WIvIND

— Gaurav Kapur (@gauravkapur) August 31, 2019
#3
Bumrah is playing his 12th Test. None ave been at home. He's:

– Won India a Test at Wanderers
– Averaged 17 in Aus
– Helped win a Test in Nottingham
– Has a five-for in all four countries he's played in
– Now has a hat-trick

There's just no more exciting player in the game.

— Andrew Fidel Fernando (@afidelf) August 31, 2019
#4
Jasprit Bumrah is the first Indian bowler in Test history to take five-wicket hauls in Australia, England, South Africa and West Indies.

And he does it on just his first tours to this countries and he's played only 11 Tests yet! #WIvInd

— Bharath Seervi (@SeerviBharath) August 25, 2019
#5
Amazing is lesser word for ya craft n art !! #salute #JaspritBumrah https://t.co/CZUeD5gHfj

— Snehal (@SneDam) September 1, 2019
#6
BCCI should frame this picture and hang it everywhere, like literally everywhere! #JaspritBumrah pic.twitter.com/CM1RJ6jRXq

— Divya (@Cric_Auditor) August 31, 2019
#7
Other Indian bowlers when Jasprit Bumrah is bowling#Bumrah#WIvIND pic.twitter.com/RbUDbF1iKS

— Ambrish Goswami (@Ambrish_Goswami) August 31, 2019
#8
He could've been one of us – Ambrose
Would rather face lillee than Bumrah – Viv Richards
Bumrah is once in a life time bowler – Ian Bishop.
This guy is a Treasure.#JaspritBumrah #INDvsWI pic.twitter.com/RxDiSgB3M3

— Rocket_ singh (@Rocket_si) September 1, 2019
#9
Jasprit Bumrah is a once in a lifetime talent.

— Ian bishop (@irbishi) August 31, 2019
#10
Boom Boom Boom💥

Congratulations Jasprit Bumrah

Jasprit Bumrah becomes the third Indian to took a hat-trick in test cricket.

Whatta bowler! Total destruction#JaspritBumrah pic.twitter.com/CPggQWKxcO

— Sachin-🦸‍♂️-Hulk 👓🏍️🎃🐻🏴‍☠️👾⚓️ (@Bhau60625419) August 31, 2019
#11
Woke up late on sunday morning to find out that #JaspritBumrah took a hat-trick and also plucked 6 wickets!! What a way to start the day ♥️💙
BOOM YOU BEAUTY 💥♥️💙💯#INDvWI pic.twitter.com/mlM527xcGC

— Abhaymanjrekar (@abhaymanjrekar) September 1, 2019
#12
#JaspritBumrah you beauty! A few of the many achievements to come your way! A hat-trick with 2 LBWs is accuracy at its best!
May you become even more lethal, @Jaspritbumrah93! pic.twitter.com/fzOhnVWLUY

— Arjun Uppal (@arjunuppal89) September 1, 2019
#13
#JaspritBumrah is @imVkohli of Bowling.
– Fits all Format.
– Performs in all format.
– Exceptional Talent.
– Physically Fit.
– Treat to Eye.
– No 1 undoubtedly.
And
– Class Apart. 😉@Jaspritbumrah93 👏👏👏

— Sushant Sinha (@SushantBSinha) September 1, 2019
#14
सुबह सुबह नींद से उठते ही क्या शानदार खबर मिली! #बूम_बूम_बुमराह बहुत बधाई हो! @Jaspritbumrah93 ने हैट्रिक ली और वो भी सबीना पार्क में! जहां पर एक जमाने में वेस्टइंडीज के तेज गेंदबाज भारतीय बल्लेबाजों को डराकर रखा करते थे! वहीं India 🇮🇳 के बूमराह ने इंडीज की ईंट से ईंट बजा दी! 👏

— अभिषेक कुमार सिंह 🇮🇳 (@Abhishek834028) September 1, 2019
#15
The best thing happened to indian cricket in recent times…

JASPRIT BUMRAH…

What a hattrick man!👌
Lucky to see it.#INDvsWI #jaspritbumrah #bumrah @Jaspritbumrah93

— 🇮🇳 Kaushal Singh 🇮🇳 (@kt_onTopp) September 1, 2019
If India wins this test match, it will also win the test series by 2-0 which will definitely be a good start to India's campaign of World Test Championship.
Share Your Views In Comments Below