Sports
Jasprit Bumrah Shared A Post On Twitter After World Cup Loss, Got Trolled
The young cricketer Jasprit Bumrah is one of the fastest bowlers of India but we are not going to see him bowling on the West Indian pitches as he has been rested by BCCI. He is quite active on social media networks and keeps on sharing updates with his fans; however some time ago, he was trending on Twitter because of the rumors of him dating actress Anupama Parameswaran.
Anupama is a successful South Indian actress and Bumrah follows her on the micro-blogging site which made people think that they are romantically involved. However, when the actress was asked about it, she completely denied it and said that she is just a good friend of the cricketer.
Some Indian fans are not happy with the Indian cricketers because of their dismissal performance against New Zealand in the semi-finals of the World Cup 2019. India was out of the tournament after getting defeated by the Kiwis.
Recently, Bumrah posted a photo of himself on Twitter with the caption, "My weekend thoughts are strictly a secret" and also added laughing emojis.
Take a look: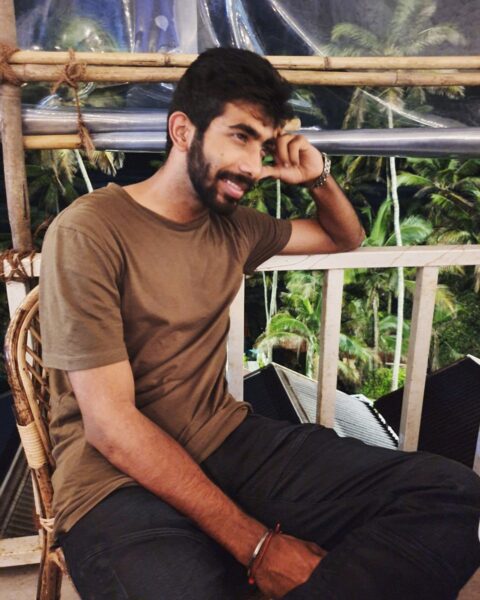 Here is the tweet made by Bumrah:
My weekend thoughts are strictly a secret .😂😂 pic.twitter.com/wguJ3Vgr0z

— Jasprit Bumrah (@Jaspritbumrah93) July 21, 2019
The netizens weren't able to control themselves and started talking about him and Anupama while some trolled him for the World Cup loss.
Here are some of the selected reactions:
#1
ye smile emoji kaise🙄 WC haare ho sharam ni h 😏

— Cricket Freak🙇🏼‍♂️ (@naveensurana06) July 21, 2019
#2
Sir आपका नाम जसप्रीत बुमराह नही जड़परित बुमराह होना चाहिये !
क्योकि आप हमेशा जड़ में ही गेंद फेंकते हो🤣😁

— Pankaj Choudhary RLP (@bhola_jaat_jjn) July 21, 2019
#3
ANUPAMA wants to know your location 😝

— AvinashAvi (@Im_Avinash7) July 21, 2019
#4
Anupama Parameshwar knows it…. 😂 @anupamahere

— Immanuel (@m_immanuel) July 21, 2019
#5
Yes…., But only anupuma knows the secret 😊

— ☣ Løgésh Empîré ᴺ ᴷ ᴾ ☣ (@stLogesh) July 21, 2019
#6
SEMI FINAL ka dard km nhi ho rha 😭😭

— IBleedBlue (@_su_mit_) July 21, 2019
#7
Aapaka hath hamesha ball k aas pass rhta hai.. 🤩

— wellलू 🍂 (@Wellutweet) July 21, 2019
#8
Right hand tells everything😂

— §umanth_Čontroversial (@SS_Controversy) July 21, 2019
#9
Bs Pandya se door Rehna 😂

— Kaleen Bhaiya / Akhanda Nand Tripathi (@godoftrolls1) July 21, 2019
#10
I know ur secret thoughts 😂 pic.twitter.com/LJIQl4b5VD

— ㅤ ㅤ ㅤ ㅤ ㅤ ㅤ ㅤ ㅤ ㅤ ㅤ ㅤ ㅤ ㅤ ㅤㅤ ㅤ ㅤ ㅤ ㅤㅤ ㅤ ㅤ ㅤ (@Anushka2weeps) July 21, 2019
Will you miss watching Jasprit Bumrah in West Indies? Do let us know.
Share Your Views In Comments Below