Sports
Jasprit Bumrah Wearing Wrong Jersey In WTC Final Made Fans Go Crazy, Funny Tweets Outpoured
The cricket teams of India and New Zealand are trying their best to win the final of the World Test Championship in order to become the champions despite the fact that the match has been marred by rains in a big manner. With one day play remaining in the match, the chances of draw are high until and unless the Kiwi bowlers deliver a magical performance and get the Indian team out at small score and then their batsmen chase the target successfully.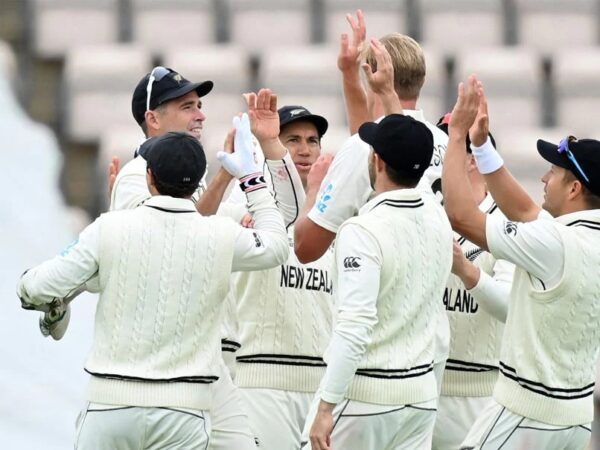 If you remember, the ICC came up with new dress for the WTC final and the players of both the teams were supposed to wear that dress only in the match. However on the fifth day of the test match, the Indian pacer Jasprit Bumrah was seen wearing his regular white BYJU'S jersey which he must have worn by mistake. After seeing Jasprit Bumrah in the wrong jersey, majority of the Twitter users got reminded of their school days when they used to get scolded by their teachers for not coming dressed up in the correct dress as mostly on Saturdays, we all had to wear whites.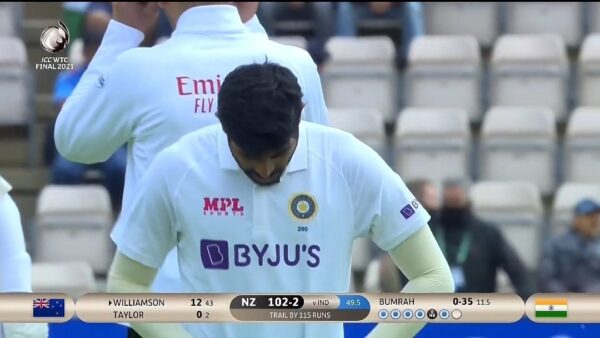 A little later, Jasprit Bumrah was seen running back to the dressing room in order to rectify his mistake and wear the proper dress.
Jasprit Bumrah had to run back to the dressing room to change the jersey as he wore the wrong one 😂😂 #WTC21final #IndiaVsNewZealand #jaspritbumrah pic.twitter.com/jk7DabgvQV

— crictips.com (@CrictipsIndia) June 22, 2021
As netizens leave no chance of having fun at the expense of someone, especially a sportsperson and celebrity, they went crazy over Bumrah wearing the wrong jersey. While some said that Bumrah is out of form in the dress selection too, many others said that his jersey might have not dried due to rains or he might be feeling more energetic in BYJU'S jersey. Here are some of the selected reactions:
#1
Thug life bumrah😂🔥
By ignoring that this is not wtc#WTC21final pic.twitter.com/PZUPRuXqSu

— Dilip™ (@DKtweetz_) June 22, 2021
#2
Sukhi nahi hogi baarish ke karan 🤣🤣
Lord's ki balcony se andar lena bhul gaye hoge

— Turmeric (@The_Turmeric_) June 22, 2021
#3
Bumrah comes to play with wearing regular byju's sponsored jersey pic.twitter.com/h4bNjN1WHh

— Kisslay Jha🇮🇳 (@TrollerBabua) June 22, 2021
#4
Because he is performing like its a regular test match rather than the wtc final 😂.

— leighton (@leighto10584440) June 22, 2021
#5
#WTC21final
Byjus And MPL after seeing Bumrah Jersey : pic.twitter.com/lnjYR93DVp

— Mota Bro (@Hard_Hu_BC) June 22, 2021
#6
He did something similar with his pants in IPL too

— Sibtain Raza (@Sibtainrazajami) June 22, 2021
#7
#WTC21final
Bumrah's statement on his mistake about wearing wrong jersey pic.twitter.com/KXsArjvMGv

— Kisslay Jha🇮🇳 (@TrollerBabua) June 22, 2021
#8
Bhul gaye honge… tension bahat hai na..

— Jyotiprakash Padhi (@Jyotipr29144312) June 22, 2021
#9
As a gujju Bumrah must be feeling at home because New Jersey. https://t.co/X1SXXIxkmx

— डी.के. (@itsdhruvism) June 22, 2021
#10
May be BYJU'S is the secret of his Energy😂⚡

— Grasfer_ceaser (@kartik_kinhekar) June 22, 2021
#11
Jasprit Bumrah today😂 pic.twitter.com/F8DznRLSku

— Shivani (@meme_ki_diwani) June 22, 2021
#12
He got extra payment from byjus

— Ařyan still exists (@Aryanexists) June 22, 2021
#13
bumrah clearly out of form in wardrobe selection as well https://t.co/k0jfQm7hAz

— Jackartoons (@jackartoons) June 22, 2021
#14
BCCI be like- wckt nhi le loge to naya t-shirt bhi nhi milega. 😅

— pradeep(ପ୍ରଦୀପ) 🪔 (@pii_ke_pee) June 22, 2021
#15
Seems like he also lost interest on wtc final 😭

— Abhiffeeaakk🙃// MY DOGGOO STAN ACT.❤️ (@wtf_abhishek) June 22, 2021
As far as the match is concerned, a lot depends on the Indian middle order now as the Indian team has already lost their four top order batsmen. By the time this article was written, the Indian team scored 103/4 with Ajinkya Rahane and Rishabh Pant on the crease and India is leading by 65 runs. Kyle Jamieson who took a fifer in India's first innings has taken 2 wickets in the second innings along with Tim Southee who has also taken 2 wickets.
The Indian batsmen were not able to put up a good show in the first innings as the whole team got out for 217, however the Indian bowlers performed well and restricted the Kiwis at 249.
Which team do you think will win the match or will it end in a draw? Share your views in this connection.
Share Your Views In Comments Below