Bollywood & TV
Jennifer's Kissing Scenes With Kunal Kohli Left Twitter In Disgust. Users Called Kunal Tharki Budha
Some popular TV actresses want to make big in Bollywood too and why not, if they have looks and talent, why should they not give a try? The Naagin of Indian television Mouni Roy is making her debut in B-Town with Akshay Kumar in "Gold" and there are many others who also aspire to work in Hindi movies.
But did you have any idea that beautiful Jennifer Winget who is one of the most established and sought after actresses of the TV industry also tried to step in Bollywood with the film entitled "Phir Se"? The trailer of the movie was released in 2015 but then the flick was caught in some legal trouble regarding script and copyrights and the makers were not able to release "Phir Se" on the scheduled date.
After three years, the movie was released on January 15, 2018, and that too not in the cinema halls but on the Internet. The male lead is being played by Kunal Kohli who is a well-known film director and this was his debut in acting.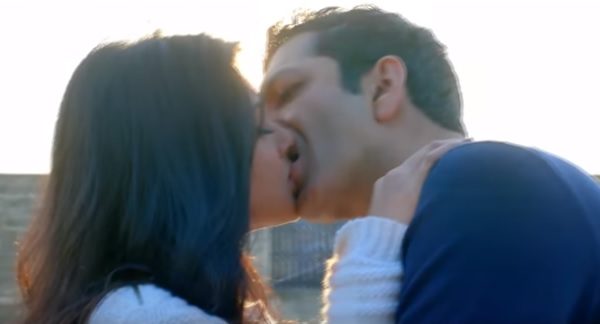 Jennifer's fans liked it but one thing troubled them a lot. Her fans simply didn't like the kissing scenes between Jennifer and Kunal. Firstly, they were not able to believe that Jennifer agreed to do liplock scenes in the flick and that too with Kunal Kohli.
Here is a video which is a compilation of kissing scenes between Jennifer and Kunal:
For More Videos, Subscribe Us Now
Click here to watch this video directly on YouTube
This is how Jennifer's fans reacted on the micro-blogging site Twitter:
It looked better when she kissed Kushal on cheeks:
Jen literally had more chemistry kissing Kushal on the cheek or in that Apple scene than she had with kissing Kohli on the lips🤣 she was so uncomfortable with Kohli, I feel so bad that she had to try so hard😑 I rest my case, what more Can I say🤮🙏🏻🤣 #beyhadh #phirse

— Isha Kumar (@ishaakumaar) January 18, 2018
Unbelievable:
Would you believe that? ?
Liplock of @jenwinget #JenniferWinget did French,,,#PhirSe pic.twitter.com/BCst1OIcGL

— Srijan Shukla (@Imsrij) January 21, 2018
Did she wash mouth with Listerine after those kisses?
@jenwinget Loved #PhirSe. Kajal Kapoor is sch a lovable ch & yr acting ws brilliant.Ulukd pretty as a doll😍BUT 3 kisses!! 😱 U hd to kiss dat Kohli thrice! OMG!! Eewww..Poor baby !Wat were u evn thinkin? 🙄hope u washd yr mouth wid Listerine aftr dos kisses!! 🙃#PhirSe

— Shreya Mukherjea (@DMrsShawnMendes) January 18, 2018
Pukeworthy kisses:
The kisses were pukeworthy, she didn't even want to kiss that being! It was clear, that she wasn't comfortable, thank god there was no such "intimate" scene other than kissing, she would've gotten sick 😷seeing this and her chemistry with Kushal is EVIDENTLY DIFFERENT🤣 #phirse

— Isha Kumar (@ishaakumaar) January 18, 2018
Tharki buddha:
Now i've this thought on why he wanted to act in this movie 😡👿Sucha Tharki budda

— Nikitaaa Gurung (@SoundsofZephyrr) January 18, 2018
Kiss pe kiss, kiss pe kiss..
The most action Kunal Kohli got in 2015 was shooting for #PhirSe with Jen. No wonder kiss pe kiss, kiss or kiss daal raha tha story mein😷🤮

— dilps⚡️ (@dilpreeeeet) January 17, 2018
Eww….
I AM SCARRED FOR LIFE EW EW EW OMFG. KUNAL KOHLI KISSED JEN. EWWWW. BLEUGHHHH EW. NO. #PHIRSE pic.twitter.com/lbk6NOluex

— dilps⚡️ (@dilpreeeeet) January 17, 2018
Forced kiss:
Thank god and I am so glad that it's not just me,but those kissing scenes from the movie looked like a forced kiss and puke worthy #Phirse why did i even watch it #Beyhadh

— Arya (@BeyhadhArya) January 18, 2018
Horrible:
Wtf😳😳😳 lip lock scene with that buddha😳😳😳😳😭😡

— Raf¡A💭(Offline) (@rafizJWx_) January 18, 2018
Traumatic:
Those kisses were so bad it wasn't even funny! jen could've kissed a wall better than that🤣 she was clearly uncomfortable, she didn't even want to open her lips for the last, and if you look carefully her lips are completely sealed🤣poorthing, must've gone through trauma #phirse

— Isha Kumar (@ishaakumaar) January 18, 2018
It's shocking:
@jenwinget kissing scene with Kunal was SHOCKING 🙈🙈🙈🙈 #PhirSe

— riya (@riya___A) January 17, 2018
What do you have to say about those kissing scenes? Let us know.
Share Your Views In Comments Below