Bollywood & TV
John Abraham Incorrectly Explains How Heart Attack Happens, Gets Mercilessly Trolled
The cases of heart diseases are increasing at a very high rate in India as modern day lifestyle is not only helping people in enjoying materialistic pleasures but it is also making them suffer from stress and other issues which ultimately lead to heart problems. There is no denying the fact that diet plays an important role in maintaining fitness but many people love indulging in junk food which is destroying their health and fitness to a great extent.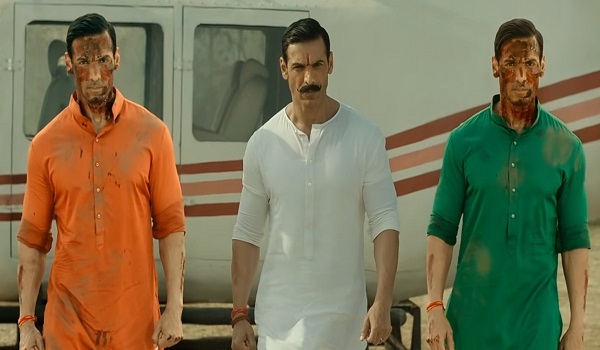 John Abraham, the Bollywood actor, is certainly one of the fittest celebrities of the industry and he leaves no stone unturned in encouraging his fans and followers to lead a healthy lifestyle. Some time ago, the "Dostana" actor appeared in the comedy show The Kapil Sharma Show for promoting his movie "Satyamev Jayate 2" in which he played three characters while the female lead was played by Divya Khosla Kumar.
During the show, John Abraham talked about how heart attack happens and that video clip from the show is not only going viral but it is making netizens laugh out loud because whatever John has said is not related to the process of cardiac arrest, though his intention is correct. What is making people laugh more is that Archana Puran Singh and Kapil Sharma are damn convinced and listening so attentively to John Abraham that it appears as if they are listening to a heart specialist doctor.
Here is the video:
Why do Bollywood people feel this urge to display their stupidity in every matter? Trust me, if this guy writes a book on heart health, our Indian public will make it a bestseller. pic.twitter.com/zQkEX22ibz

— Nandita Iyer (@saffrontrail) December 8, 2021
Click to watch this video directly on Twitter
As the clip went viral, Twitterati started trolling John Abraham for his half-baked knowledge. Here are some of the selected reactions:
#1
Miss the days when the only thing anyone asked John Abraham about was his bikes https://t.co/NDIfK87o5g

— Sahil Rizwan (@SahilRiz) December 9, 2021
#2
Hahahaha this clip just made my Thursday afternoon! What a load of unadulterated cr*p! 🤭🤣

— Ritu Matthew (@RituMatthew) December 9, 2021
#3
Mark Twain has once said,
"It is better to keep your mouth closed and let people think you are a fool than to open it and remove all doubt".

— Feroz Amir Zafar (@feroz_zafar) December 9, 2021
#4
The Ninja technique – Know what is a heart attack 😀 the easy way https://t.co/b1ASVYzHZL

— PSYCHOO16 (@PSYCHOO16) December 8, 2021
#5
😂😂😂😂😂 and the reaction of people listening is even better..

— AB (@jingado) December 8, 2021
#6
I had seen him saying this and I almost got heart attack.

— rohit kumar singh (@biharirohit) December 9, 2021
#7
Meanwhile Archana Puran Singh and Kapil Sharma#RIPBiology https://t.co/OjLV1JlUvs pic.twitter.com/qISELwvvMz

— Steffi (@Stef_Oli) December 9, 2021
Talking about "Satyamev Jayate 2", it was directed by Milap Zaveri and bankrolled by T-Series and Emmay Entertainment. Released on 25th November, the flick wasn't able to impress audiences and as a result, it fell flat on the box-office.
We also request our readers to raise their awareness about heart diseases as it is something which people should take seriously.
Share Your Views In Comments Below