Sports
Jos Buttler's Hopeless Viral Photo Becomes A Meme On Twitter & These Tweets Will Make You ROFL
There is no denying the fact that real cricket is test cricket but it is also true that people nowadays like to watch ODIs and T20Is more because of which many cricketers focus on the shorter formats and are not able to make any impact in the longest format. Jos Buttler, the England cricketer, is also one of those players who have an excellent track record in the shorter formats but have not been able to prove their worth in the test matches.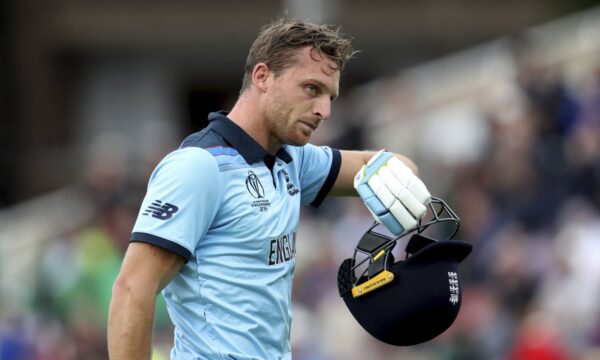 How effective Jos Buttler in ODIs and T20Is is can be understood by the fact that his strike rate in ODI is 119.83 while it's 139.68 in T20Is. However when it comes to test matches, his track record is a little disappointing. Jos has played 43 test matches till now in which he has scored only one century and 15 fifties and his average is 31.14. In the last seven test matches, the batsman has not been able to reach the 50-mark which speaks of the struggle that he is facing in the longest format.
In the ongoing test series between England and West Indies also, Jos Buttler hasn't been able to leave any impact as in the first test match that was won by West Indies, he scored 35 and 9. In the second test match also which is being played at Old Trafford, Manchester, he got out at 40, though he looked in good touch.
Presently, a photo of Jos Buttler is going viral in which he is seen sitting in a hopeless mood. The netizens are having a great time making jokes on the pic and few of them also recalled the mankading incident which happened in the IPL  in which Indian spinner Ravichandran Ashwin mankaded Buttler.
See the photo: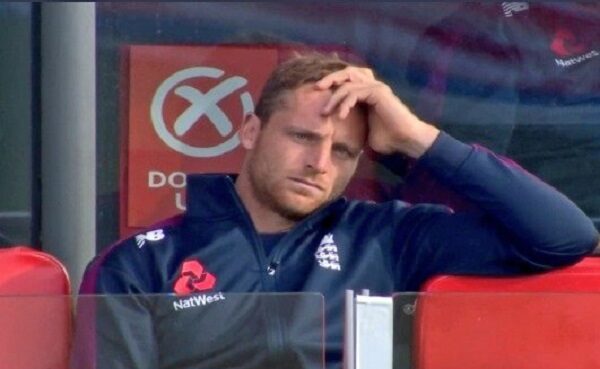 This is how Twitter reacted over it:
#1
When she says "ee saala cup namde" pic.twitter.com/MK5yekSvXK

— Robin Rounder (@robin_rounder) July 20, 2020
#2
When siblings wake up early and parents are after you who slept at 4am. pic.twitter.com/t0qrtOzx2k

— Silly Point (@FarziCricketer) July 20, 2020
#3
Jos Buttler didn't even appeal. His mood is set at:#ENGvWI pic.twitter.com/9qgKa83eNM

— Nikhil 🏏 (@CricCrazyNIKS) July 20, 2020
#4
When she said, i need at least two years time 😢😢

— The Unknown! (@ImSanjivkr) July 20, 2020
#5
I could hear this! Could you? #ENGvWI pic.twitter.com/sp9ynL2BYp

— Nikhil 🏏 (@CricCrazyNIKS) July 20, 2020
#6
If 2020 had a face.. pic.twitter.com/GukdND30Rh

— R A T N I $ H (@LoyalSachinFan) July 19, 2020
#7
My reaction when I saw Buttler's name in the XI for the 2nd Test.#ENGvWI pic.twitter.com/ovY0vEjaXr

— Vaibhav 🐍 (@V_Trips7781) July 20, 2020
#8
10/07/2019. pic.twitter.com/foiRu6Ufdv

— Saurabh Malhotra (@MalhotraSaurabh) July 20, 2020
#9
Face of @ManUtd fans right now 😭

— PK Sachinist (@pksachinist) July 19, 2020
#10
Retire from Tests, Buttler. https://t.co/PlkdxVZKVv

— Alagappan Vijayakumar (@IndianMourinho) July 20, 2020
#11
Me after every overseas Test defeat.

— KASHISH (@crickashish217) July 20, 2020
The ICC T20 World Cup has been postponed so now the chances of the IPL taking place this year seem to be little brighter, what do you say?
Share Your Views In Comments Below