Bollywood & TV
Journo Asked Govinda His Views On Dancing Uncle. Here's What The Actor Said
A few days ago, a middle-aged man stormed the Internet with his amazing dance moves and social media went crazy for him. He is none other than 46 years old Sanjeev Shrivastava who is an Assistant Professor at Bhabha University, Bhopal. His dance video on the song "Aapke Aa Jane Se" was shot during the wedding ceremony of his brother-in-law and his wife Anjali was also seen sharing the stage with him.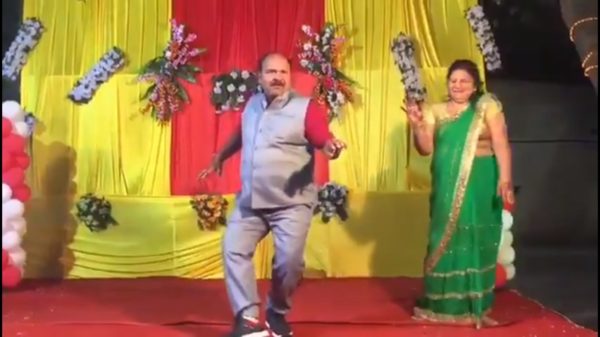 His video went viral for all the right reasons and he earned the title of Dancing Uncle. Subsequently, one more video featuring him on the track "Chadti Jawani Meri Chaal Mastani" got circulated and even after reaching home, he was in no mood to stop as more of his dance clips kept on circulating over the micro-blogging site Twitter.
More and more people are becoming his fans day by day and we were just waiting for Govinda's reaction on his dance as Sanjeev is a big fan of Govinda and copies his style.
Finally Govinda has reacted over it and here's what he said when a journalist asked his views over Sanjeev's dance videos,
"Thanks to that person who has danced on the song of my movie which came many years ago and the song has got popular due to that person. I saw it and I liked it, he has done it very well."
When the anchor asked who sent him that video, he said,
"Someone sent me and I showed it to my wife as well. I have seen nearly half-a-dozen actors copying my moves but this guy has done remarkably well."
When Govinda was asked whether Sanjeev exactly copied him, the actor said,
"The main thing about it is that he was enjoying a lot, he never thought of getting famous, he was just having fun. We actors do it because we are asked to do it."
He also added,
"I always try to do something unique which has not been seen in dance but this guy gives an impression that he is copying Govinda very well and he is doing great. Every artist likes to see his work repeated by someone else. He is dancing so good despite his tummy is out and I feel he is quite different from others and I haven't seen someone else like him."
Govinda also gave a message for the professor,
"Thanks for the way you have copied my dance and keep on enjoying like this. Your wife has also enjoyed the moment and I liked the way she also danced a little in UP style."
Watch the video to know what all Govinda said:
For More Videos, Subscribe Us Now
Click here to watch this video directly on YouTube
Well, Dancing Uncle deserves all the praises and we too wish that he keeps on enjoying himself and entertaining the whole nation with his amazing dance moves.
Share Your Views In Comments Below