Humour
Juhi Chawla Getting Fined For Rs 20 Lakh For 5G Suit Sets Twitter On Fire With Hilarious Memes
There is no denying the fact that we humans have damaged the environment to a great extent in the name of development and it seems that the veteran Bollywood actress Juhi Chawla suddenly got worried about the environment and she decided to file a petition against the rollout of 5G by the telecom companies in the country.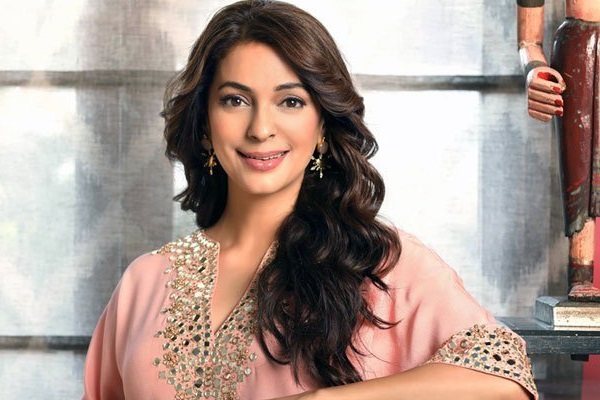 Juhi Chawla along with Veeresh Malik and Teena Vachani filed the petition in the Delhi HC and the hearing on this matter was carried out in a virtual manner. These three stated that they are against the 5G rollout because, "no person, animal, bird, insect, and plant on Earth will be able to avoid exposure, 24 hours a day, 365 days a year, to radiation 10x to 100x times greater than what exists today."
However, one mistake that Juhi Chawla committed was that she shared the link of the hearing with her fans and few of them interrupted the court hearing by singing famous songs of Juhi's movies. The court observed that the plea was filed for the purpose of publicity and the Justice Jag Jivan Ram Midha also referred to the sharing of link in support of the statement. The court also ordered three of them to pay a fine of Rs. 20 lakh as they have used the process of law for wrong purposes and also wasted the time of the court.
BREAKING: Delhi High Court dismisses Juhi Chawla's civil suit against 5G Roll out as "defective and not maintainable".

"Vexatious allegations made", Court says.#JuhiChawla @iam_juhi pic.twitter.com/iTShLDt9zh

— Live Law (@LiveLawIndia) June 4, 2021
The online community was already making fun of Juhi Chawla for filing a plea against 5G and after the court's decision, Twitterati went berserk and the micro-blogging site was flooded with memes and jokes in this regard. Here are some of the selected reactions that will make you go ROFL:
#1
Delhi High Court to #JuhiChawla after imposing fine of ₹20 lakh on her case against 5g : pic.twitter.com/u4mZv5Iikp

— UmderTamker (@jhampakjhum) June 4, 2021
#2
Not the first time Juhi Chawla fell for a fake news pic.twitter.com/2QpN7nbs95

— Sagar (@sagarcasm) June 4, 2021
#3
Suit was for publicity: Juhi Chawla's 5G lawsuit dismissed by Delhi HC, ₹20 lakh fine imposed. Meanwhile Juhi Chawla:: pic.twitter.com/xorUOoknJn

— Baba Ramdev (Parody) (@Kaniya_baba) June 4, 2021
#4
#JuhiChawla
Indian Government right now after seeing Juhi Chawla fined for 20L..#5ginindia pic.twitter.com/BO431UQK2B

— TheAquarian (@aquarian1702) June 5, 2021
#5
#JuhiChawla after Delhi High Court dismisses her civil suit against 5G Roll out and fined 20L . pic.twitter.com/OqWZR0s6o7

— Dr. SarcasticBro (@sarcasticbro89) June 4, 2021
#6
Breaking : Rahul Gandhi dialled Juhi Chawla to discuss current situation..! pic.twitter.com/vQKAv65RKN

— BHK🇮🇳 (@Kalburgism) June 4, 2021
#7
When you get a ₹20,00,000 bill for the data you didn't get to use in the first place! #JuhiChawla #5GinIndia 😂🤣😂🤣 pic.twitter.com/iSGg5JCGlm

— CR Aditya நாராயண் | आदित्य ನಾರಾಯಣ್ 🇮🇳❁ (@CRAdityaNarayan) June 5, 2021
#8
Judge to #JuhiChawla : pic.twitter.com/WZvE3xhTUY

— Parasxchaddha (@parasxchaddha) June 4, 2021
#9
#JuhiChawla Shares the Link of HC Virtual Hearing on 5G hearing on her Instagram Page.

Le kejriwal: pic.twitter.com/sBqUN4R9bW

— 𝙎 💀 𝙈 (@TheSaktMemer) June 2, 2021
#10
When it comes to dumbness and fakeness sky is the limit
Welcome the fake environmentalist club#JuhiChawla #5ginindia #Bollywood pic.twitter.com/4LlX02i6VW

— Guru Nayak (@GuruSriNayak) May 31, 2021
#11
Nobody-
Court to #JuhiChawla
20 laat the😂 pic.twitter.com/XYUDdTch1g

— JituGalani (@JituGalani5) June 4, 2021
#12
After scenes of court making penalty of 20 lakhs on Juhi Chawla : pic.twitter.com/VHKTIxCDR6

— Ctrl C + Ctrl Memes🇮🇳 (@Ctrlmemes_) June 4, 2021
#13
#JuhiChawla
High court does not trust juhi chavla pic.twitter.com/L1r1DKBirQ

— Rofl Stalin 1.0 (parody) (@Stalinhhr) June 4, 2021
#14
Court: How do you know 5G is affecting humans.

Juhi Chawla : pic.twitter.com/eyeRMEgU1r

— Jaskirat Lamba (@jaskiratlambaa) June 5, 2021
#15
Delhi Court imposed ₹20 lakh fine on Juhi Chawla and called her case against 5g a publicity stunt#JuhiChawla to Judge – pic.twitter.com/Udsju9PV38

— Manoj Tiwari(Parody) (@ManojMujra) June 4, 2021
#16
#JuhiChawla has filed a suit against 5G in India

Telecom companies to Juhi: pic.twitter.com/48Qgf4o8vS

— GURPANTH SANDHU (@Gurpanthinsan) May 31, 2021
#17
And Juhi chawala. pic.twitter.com/8LA6PiqIHH

— satyam yadav (@ViplavSatyam) June 4, 2021
#18
SC to Juhi Chawla while imposing 20lac fine for her 5G Petition pic.twitter.com/r4H3ZPGTOf

— Ram (@SocialChartered) June 4, 2021
#19
Juhi Chawla after getting imposed with a fine of 20 lakhs by Delhi HC : pic.twitter.com/3c8LFxn2aW

— That Anti Liberal Guy (@Anti_LiberalGuy) June 4, 2021
#20
#JuhiChawla after getting fined of Rs 20 lakh by the court : pic.twitter.com/JM3QSypDxa

— Raghav Masoom (@comedibanda) June 4, 2021
What is your take in this matter?
Share Your Views In Comments Below