Bollywood & TV
Kangana Ranaut Used Fake Horse To Shoot Manikarnika Battle Scene. Gets Trolled On Twitter
Kangana Ranaut's Manikarnika is one of the successful films of this year so far and she has proudly promoted the film everywhere. Even though the film found some criticism for direction, Kangana's performance has won her a lot of accolades.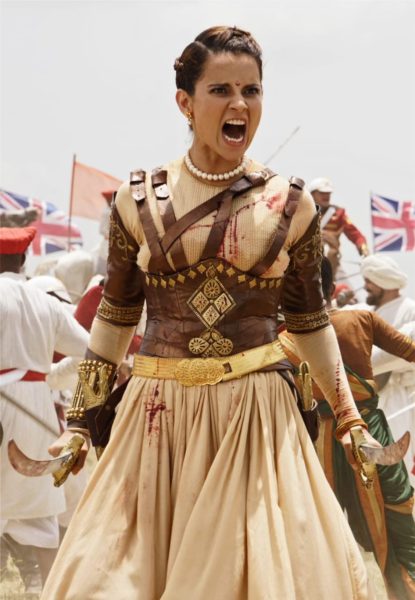 The talented actress played the role of Queen of Jhansi in the film and she totally rocked it. The battle scenes in the film especially won the hearts of people.
However, a behind the scenes video has surfaced on social media which has become a reason of trolling for Kangana. The video shows Kangana using an artificial horse for battle scene and people can't stop laughing about it. While Bollywood war films mostly remain in news for the authentic fights and costumes, this one has amused the people for opposite. Watch the video below:
— Sailing Cloud (@twinitisha) February 21, 2019
Click Here to watch the video on Twitter
Here's how people reacted to the video:
#1
Inspiration for Majnubhai painting in Welcome 😂😂😂😂 pic.twitter.com/Z6vKWIcG7N

— Maya (@IamMayaSharma) February 21, 2019
#2
Pretty much like the horse BJP is galloping on last 4 years !

— yas (@YasPhysio) February 21, 2019
#3
Her nationalism is also like this, on rails..

— Abhi (@AbhishekGureja) February 21, 2019
#4
😂😂😂 what lies beneath!

— Dr Nazma parveen (@nazmaaman) February 21, 2019
#5
Thank God nobody said "khoob ladi mardani wo to … "

— Aye Himanसू ® (@4mlvodka) February 21, 2019
#6
Wah Jhansi ki Rani wah !

— Fevoc (@fevocism) February 21, 2019
#7
It's a horse…it's a unicorn…it's a lisping scarecrow on a shaky beanbag.

— Amit Schandillia امیت (@AmitSchandillia) February 21, 2019
#8
jaisa ghoda waisa sawaar !!

— ashok kumar (@a_kumar7) February 21, 2019
#9
Lakdi ka kaathi
Kaathi ka ghoda 😂 https://t.co/4XRL4ARURR

— Azam Khan's buffalo (@jenaanindya) February 21, 2019
What's your take on this?
Share Your Views In Comments Below