Bollywood & TV
Kangana Ranaut's Sister Charged Randeep Hooda Of Harassing Kangana During The Shoot Of Ungli
Kangana Ranaut was recently making headlines for lashing out on Alia Bhatt criticising her work in Gully Boy, for not supporting Manikarnika and also Alia and her boyfriend Ranbir for not sharing their opinions on politics.
Actor Randeep Hooda recently came out to support her Highway co-star Alia for not letting the negativity and the comments affect her and her work.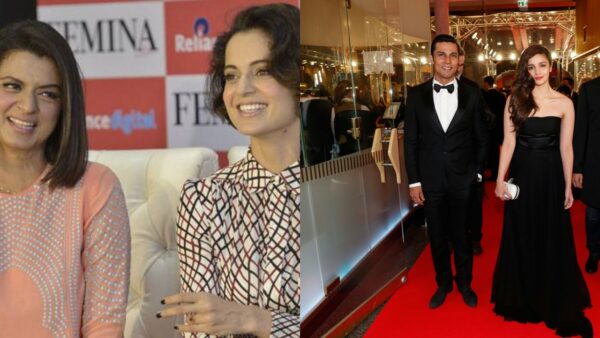 Randeep didn't take any names but his tweet perhaps seemed like it was for Kangana Ranaut who was frequently taking a dig on Alia Bhatt. He also acknowledged them as 'an occasional actor and chronic victims'.
Dearest @aliaa08 I'm so glad you are not letting the opinions of very occasional actors and chronic victims affect you and your work .. kudos to you for your continued efforts to outdo yourself 🤗

— Randeep Hooda (@RandeepHooda) April 16, 2019
Alia replied to the tweet of Randeep.
Randy 🤗🤗🤗🤗 https://t.co/16O3RJPRLq

— Alia Bhatt (@aliaa08) April 16, 2019
Kangana's sister Rangoli who didn't sit back after Hooda tweeted and she accused Randeep of harassing Kangana during the shoot of Ungli. She wrote a series of tweets and hit the low taking the argument to the next level.
#1
Alia baby ko bachane ko nepotism gang ki khud ki himmat nahin toh tujhko aage kiya, I know during film Ungli what u did, kitna harass kiya tune Kangana ko aur kitna bada chatukar hai tu Karan Johar ka….(contd) @RandeepHooda

— Rangoli Chandel (@Rangoli_A) April 16, 2019
#2
(Contd)…..magar phir bhi tera kuch nahin hua, at least people like Alia are successful because of chamchagiri, bhai tu to permanent failure hai 🙏 @RandeepHooda

— Rangoli Chandel (@Rangoli_A) April 16, 2019