Humour
Kanpur Guy Chewing Gutkha During INDvsNZ Test Sets Twitter On Fire With Hilarious Memes
The first test match of the two-match series between India and New Zealand is being played at Green Park, Kanpur, and at the end of the third day, India has wrapped New Zealand's first innings at 296 which leaves India with a lead of 63 runs in the match. The toss was won by India and batting first, it posed a total of 345 on the score board with the help of debutante Shreyas Iyer's century and useful fifties by Shubman Gill and Ravindra Jadeja.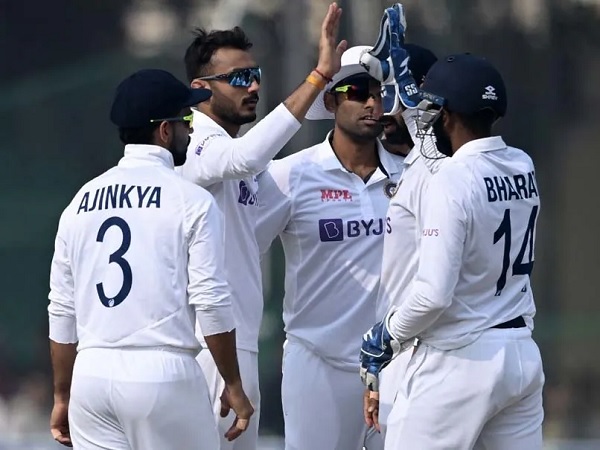 Kanpur, the city in Uttar Pradesh, is famous for the leather products but it is also known as one of those cities of India where the consumption of gutkha (tobacco) is pretty high. Other than being a health hazard, gutkha is also very harmful for the cleanliness as those who chew it spit anywhere, even in public places as if everything is owned by their respective fathers.
During the ongoing India-New Zealand test match, the live camera focused on a man who was chewing tobacco while talking on phone. Needless to say, this image soon became a meme material and gave enough fodder to memers and netizens to show their creativity. As a result, the micro-blogging site Twitter was flooded with memes and jokes and for the same, the concerned guy also became famous in just few hours.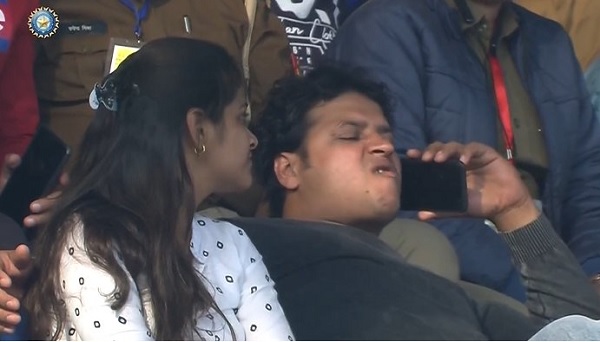 Wasim Jaffer who is known for his witty and humorous tweets also shared a meme on it featuring Akshay Kumar and Paresh Rawal:
😅 #INDvNZ pic.twitter.com/JpRSwzk8RQ

— Wasim Jaffer (@WasimJaffer14) November 25, 2021
This man is all over social media and people's reaction over the viral pic will make you go ROFL:
#1
— AMIT KUMAR (@AMITKUMAR2604) November 25, 2021
#2
When you are on a date with your crush and your bestie calls to say 'nahi pategi' pic.twitter.com/GPf3eDBr6Q

— SwatKat💃 (@swatic12) November 25, 2021
#3
— Sonu Singh( सोनू सिंह) (@iamsonusingh94) November 25, 2021
#4
— Ankit🙈🙊 (@ankitlistener) November 25, 2021
#5
Aaj ke baad galat time pe phone kiya na… to aisi laat marenge ki tumhare kulhe par dimple nikaal denge pic.twitter.com/sMiWLE9E9X

— Memez Madness (@MemezMadness) November 25, 2021
#6
#INDvNZ #KanpurTest 🥰❤ pic.twitter.com/ihitYJv0As

— Rajneesh 🇮🇳 (@Rajneesh_16) November 25, 2021
#7
— Masooq Jeffrey (@jeffrey_masooq) November 25, 2021
#8
Test matches in Kanpur.

Pity the guy at the other end who has to decipher what this guy is saying pic.twitter.com/AOTYTnvQYR

— Gabbbar (@GabbbarSingh) November 25, 2021
#9
"Abey saala
Rohit sharma ko kyon ni khilaye ye
Kantaap khayenge hum se" pic.twitter.com/OwJZD4NQ1O

— lawgical Anna🌻 (@annaanupam1) November 25, 2021
#10
— Rohit Yadav (@RohitnVicky) November 25, 2021
#11
tmkoc guy 👀😂 pic.twitter.com/uBHR75pdwb

— Aman Verma (@VermaAman_IN) November 25, 2021
#12
#INDvNZ pic.twitter.com/KbO14yKFMa

— Yogesh Dhameliya😷 (@YoDha_16) November 25, 2021
#13
Kanpur mein match hai Wasim bhai.. pic.twitter.com/hD17V7ahGj

— Maaz Hasan (@maazinesss) November 25, 2021
#14
"Abe Guddu, Guthka sath leke aana, idhar mehenga bech rahe." pic.twitter.com/9HyYg33S1U

— Silly Point (@FarziCricketer) November 25, 2021
#15
Turu lob ❤ pic.twitter.com/wj1FS6wFKi

— ᴀsɢᴀʀ (@asgarhid) November 25, 2021
#16
We all grew up ! pic.twitter.com/F31kuzYVKy

— Varad Ralegaonkar (@varadr_tistic) November 25, 2021
#17
Cameramen pic.twitter.com/OHbamTzeDg

— bissfull (@ShanawazIbrahi2) November 25, 2021
#18
People from Kanpur be like: pic.twitter.com/f3KuSsN1zR

— Mohit Monga (@MisterMonga) November 25, 2021
#19
N he'll be like 😂 pic.twitter.com/ofy9vunI07

— CON_MAN. (@CONMAN_917) November 25, 2021
The man who was seen allegedly chewing tobacco has been identified as Shobhit Pandey, resident of Maheshwari Mahol, Kanpur, and he made a clarification in this regard. Shobhit was seen with a placard which read that eating guthka is a bad habit and he also disclosed that he was not eating tobacco but was having sweet betel nut which his sister gave him. He further added that he is not scared or embarrassed at all because he has done nothing wrong but he is not happy with not so good comments which have been passed by some people about his sister.
While eating gutkha is not a good habit, passing comments for any female is also not good and people should learn not to say anything about anyone just because they CAN as it may cause mental and emotional trauma to someone. Agree?
Share Your Views In Comments Below