Sports
"Kapde Bhi Utaar De," Annoyed Virat Kohli's Epic Reaction To Bangladesh's Time-Wasting Tactics
The Indian cricket team under KL Rahul's captaincy has already taken a lead of 1-0 in the ongoing 2-match test series against Bangladesh by winning the first test match by 188 runs and now in the second test match also, India seems to be in a strong position.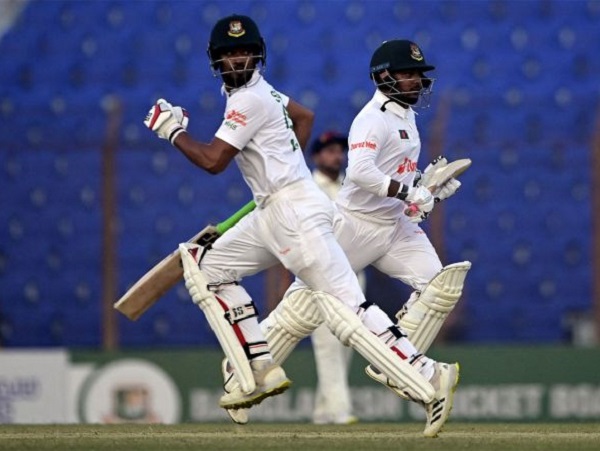 The second test match is being played at Sher-E-Bangla National Cricket Stadium, Mirpur, and the hosts decided to bat first after winning the toss. The Bangladeshi team managed only 227 runs in its first innings with the help of Mominul Haque's knock of 84 runs. The Indian squad fared a little better than its counterpart as it could manage 314 runs in the first innings and the highest scorer for the team was Rishabh Pant who missed his century by just 7 runs. Shreyas Iyer also played a brilliant knock of 87 runs and helped his team in taking a lead of 87 runs.
The second innings of the Bangladeshi team started towards the end of the second day and the openers Najmul Hossain Shanto and Zakir Hasan batted very carefully as they didn't want to lose any wicket but what did not go well with the Indian players was the time-wasting tactics of Bangladeshi batters.
At the end of the fourth over of Bangladesh's first innings, Najmul Hossain Shanto requested bat change and some Bangladeshi players came on the field with drinks. The Bangladeshi opener tried four new bats but at the end, he got settled with the one which he was playing with and this made Indian skipper KL Rahul very angry. KL Rahul went to Shanto, checked his bat and then he made a complaint with the on-field umpire about the time-wasting tactics of the opponents.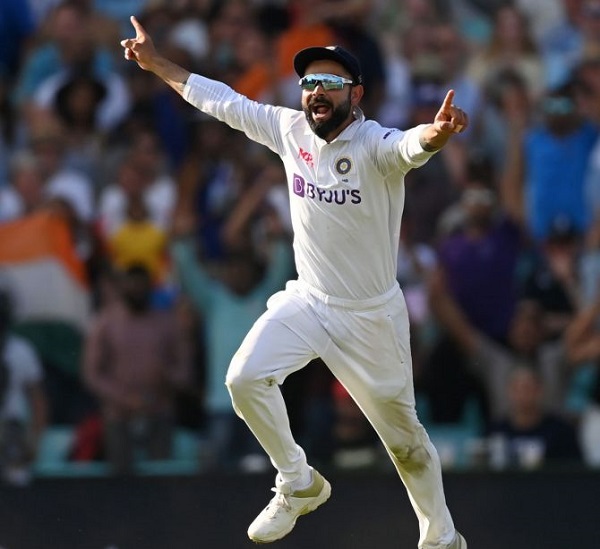 The Indian cricketers Virat Kohli and Ravichandran Ashwin were also very annoyed with what Bangladeshi batters were doing. In fact during the final over when Shanto stopped the game for tying his shoelaces, Virat asked him to remove his clothes too ("Kapde bhi utaar de") and he also made a gesture of removing the shirt.
The act was caught on the camera, here is the video:
Kohli to Shanto: "Kapde bhi utaar de" when shanto tried to waste time on tieing shoe laces 😭🤣 #ViratKohli #INDvBAN pic.twitter.com/mzFSDb8dkO

— Keshav Bhardwaj 🇮🇳 (@keshxv1999) December 23, 2022
Click to watch this video directly on Twitter
Here are some other Twitter reactions in this regard:
Asked for change of bat and took the same bat 😂
Well done shanto, you succeeded in wasting the time
You may survive for a day but not a match#INDvsBangladesh #indvsban #IndiavsBangladesh pic.twitter.com/TfefuGie3O

— Ayodhya karthik (@ayodhyakarthik) December 23, 2022
#IndvBan Lots happening on field as 2nd day comes to an end with light fading.. Bangladeshi batsman Shanto called for new bats and then picked up the same bat with which he is playing now..

Ashwin and KL Rahul got angry and got into discussions with Shanto.. Even King got angry pic.twitter.com/2yXYURZjf0

— Anurag Sinha (@anuragsinha1992) December 23, 2022
He was scared that he'll get out. All good , Bangladeshis aren't exactly known for their sportsmanship anyways

— I_play_chess _ (@I_play_chess_) December 23, 2022
Poor cricket from Bangladesh. Umpires and referee are mere comic pieces not taking any disciplinary action on such players.. Cricket will loose its value due to such gentleman.. 👎

— Rajashekar Siddapur (@RajSidd76) December 24, 2022
At the end of day 2, Bangladesh managed to score 7 runs in six overs without losing any wickets and at that time, they were trailing by 80 runs. However, the Bangladeshi team is struggling on the day 3 of the game as by the time this article was written, it had lost 7 wickets on 202 runs and was leading by 115 runs.
There is no denying the fact that the result will surely come in this match. Which team do you think will end as a winner in this match- India or Bangladesh? Do let us know your opinion.
Share Your Views In Comments Below