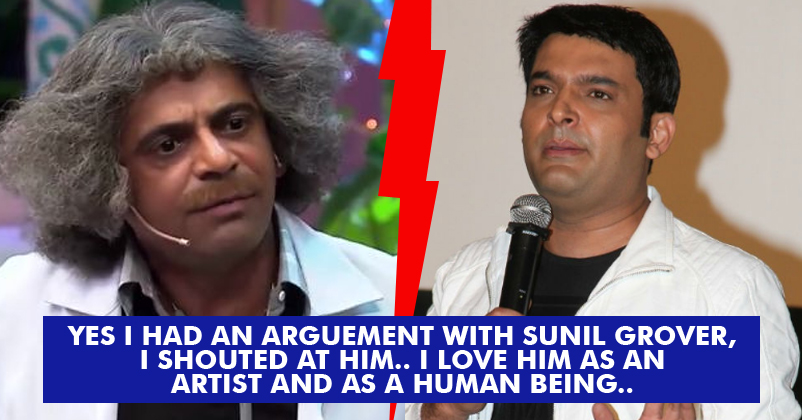 There have been many speculations about Kapil Sharma beating Sunil Grover and abusing him on the flight from Melbourne to Mumbai. Reports said that Kapil was heavily drunk, due to which he couldn't control his anger. There were also reports about Kapil telling Sunil, "Tu hai kaun? Tera show flop gaya tha, tu mera naukar hai, tu Australia mein bhi jo show kiya khude se woh flop tha…"
Then, according to some sources, Kapil had rubbished these reports. God knows what's wrong. Some also claimed that Sunil Grover will quit the show, due to this bad episode.
Moreover, fans became all the more insecure when Kapil and Sunil unfollowed each other on Twitter. Everyone was curious to know the reality, which is why Kapil took to Facebook and shared a post in relation to this.
Check out his post;
The post reads,
"Hi.. good morning friends .. was celebrating my best time n suddenly I heard a news about me n sunil paji fighting.. first of all see where it is coming from.. what r the intentions behind this.. if I fought with him in the flight then who saw it n informed u.. is he trustworthy..? Some people enjoy these kind of stuff.. we eat together .. we travel together.. I meet my brother once in a year.. n spending almost everyday with my team.. specially sunil .. I love him.. I respect him.. yes I had a argue with him.but r we not normal people..?I shouted at him first time in 5 years .. itna to chalta hai bhai. we will sit n talk that where is the problem.. I love him as a artist as a human being.. he is like my elder brother.. why so much negativity all the time.. I respect our media.. there r some other serious issues which we need to focus. Is me n sunil's issue is so important n realted with the security of my country ..? We spend a lot of time together rather then our families .. n sometime it happens in family.. its our family matter.. we will sort this out.. zyada maze mat liya karoo. OK now m tired typing .. n one more thing.. I m going for the final schedule of Firangi. Hahahahaha.. sorry again promotion.. thank u so much for ur love n blessings… keep smiling n stay happy always :)) love u all"
Kapil has indeed won our hearts with this reply; this hints towards the fact that Sunil and Kapil are just like brothers and everything is alright between the duo. Fights are very common in families and we got to see a good example here too. Moreover, he has a very good message for media i.e. focus on important issues rather than such petty fights.
This also means that Sunil Grover might not leave the show, as opposed to media reports. Let's wait and watch what happens. What's your take on this? Do share your views in our comments section below.
RVCJ Video Of The Day
Share Your Views In Comments Below