One of the most beautiful couples of Bollywood – Ranbir Kapoor and Alia Bhatt gave wonderful news to their fans recently through social media handles as they became proud parents of a baby girl and the social media networks are flooded with congratulatory messages.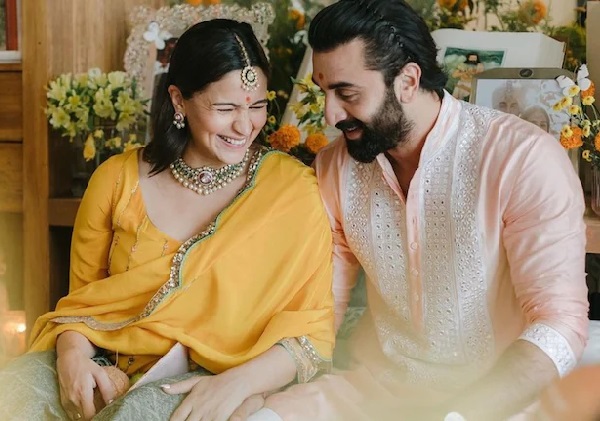 However, there were some who trolled the celebrity couple as Ranbir and Alia got married in April this year and it took less than 9 months for them to become parents after marriage.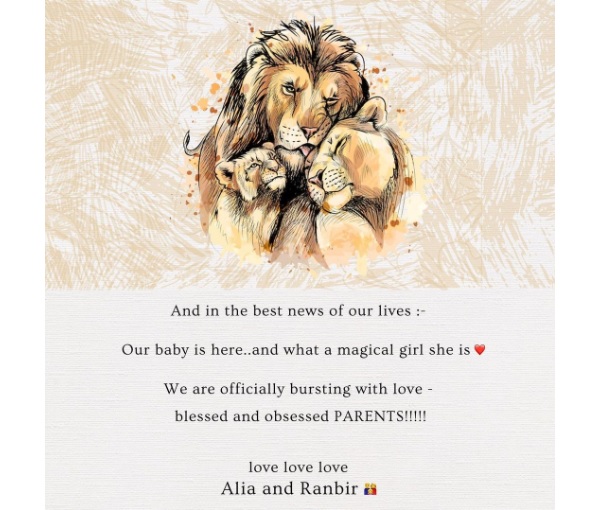 However the couple, their family members, relatives, friends and their loyal fans are on cloud nine after the arrival of the baby girl and there are also some who have started discussing about the career options of the little angel. Majority of the online users feel that Ranbir & Alia's daughter will also choose to act in movies because they both are good actors themselves and acting is in the genes of their daughter.
Many Bollywood celebs including famous producer-director Karan Johar also congratulated the couple and as he is very close to Ranbir and Alia, he declared himself as a proud nana.
He posted his photo with the couple and wrote, "My heart is full of love…. Welcome to the world baby girl… You have so much love waiting for you….. I love you @aliaabhatt and RK!! To the moon and back!!!! So this makes me a proud Nana!!!!" with many heart emojis.
Karan Johar is famous for launching star kids in Bollywood as he has launched Alia Bhatt, Varun Dhawan, Ananya Panday, Ishaan Khatter, Janhvi Kapoor, etc. and soon he will launch Shanaya Kapoor (daughter of actor Sanjay Kapoor) in the movie industry.
Many Twitter users are hilariously claiming that Karan Johar will also launch Ranbir and Alia's daughter and a few go on to say that the contract has already been signed while there are some who say that KJo has started working on the script of the movie.
Here are some selected reactions:
#1
https://twitter.com/JustSurajJokes/status/1589184548222668803
#2
Karan johar already preparing script for daughter of ranbir & alia#AliaBhatt #RanbirKapoor pic.twitter.com/bdFquWc5JX

— meh° (@ImMehulOkk) November 6, 2022
#3
Alia & Ranbir welcome's baby girl
*Le Karan Johar: pic.twitter.com/tx5FapA7r6

— -paciFIRE' (@PrashantNaikade) November 6, 2022
#4
Alia-Ranbir's Daughter:
*first breath *
Karan Johar:#RanbirKapoor #AliaBhatt #babygirl pic.twitter.com/p0fbb7f7um

— Fest Mosaic (@FestMosaic) November 7, 2022
#5
Has Karan Johar started working on Alia-Ranbir's baby girl's launch?

— Bailey's Comet (@lakey_musings) November 6, 2022
#6
Alia & Ranbir blessed with a baby girl & Karan Johar already signed her for student of the year part 5 pic.twitter.com/H42zj0em1q

— Varad Ralegaonkar (@varadr_tistic) November 6, 2022
#7
Ranbir Kapoor and Alia Bhatt had baby, Karan Johar starts saving up money for financing their kid's debut movie.

— PMW (@Just_curiousPM) November 6, 2022
#8
#KaranJohar announcing Ranbir-Alia's baby!#RanbirKapoor #AliaBhatt #babygirl #movies #Baahubali pic.twitter.com/7e1b3d9ECt

— Budweisserrr (@Budweisserrr) November 6, 2022
#9
Breaking: Karan Johar already signed a contract for newly born baby girl (Ranbir and Alia) for Dharma productions.

— Farrago Abdullah Parody (@abdullah_0mar) November 6, 2022
#10
#KaranJohar searching for script to sign Ranbir and Alia's Babygirl. pic.twitter.com/X5BbGSeJ5r

— William Rebello (@Mooipoint) November 6, 2022
#11
Alia Bhatt & Ranbir Kapoor Blessed with Baby Girl..

Karan Johar : pic.twitter.com/C0gJw8IgOC

— UmdarTamker (@UmdarTamker) November 6, 2022
#12
Alia Bhatt and Ranbir kapoor blessed with baby girl.

Le Karan Johar – pic.twitter.com/e3ScCy4SUu

— Chirag (@igot10on10) November 6, 2022
#13
*Ranbir and Alia have been blessed with a baby girl*

Karan Johar & his team outside the Kapoor house : pic.twitter.com/omRDbSzZ7F

— Harshhh! (@Harsh_humour) November 6, 2022
#14
*Ranbir-Alia blessed with baby girl ❤️*
Meanwhile karan johar:- pic.twitter.com/wPPRQ5yr1t

— Shreyas ♡ (@sochengeee) November 6, 2022
People may be doing it as a fun activity but who knows it may turn into reality after two decades or so. What do you think 😉