News
Karnataka PWD Minister HD Revanna Threw Biscuits At Flood Victims, Got Slammed On Twitter
The Indian state of Kerala and its citizens are dealing with the worst ever floods that have resulted in hundreds leaving the world while lakhs are being forced to leave homes to save their lives. Heavy rainfall in Karnataka is posing problems for the citizens of the state as well and many have been shifted to relief camps by the relief agencies and Indian Army.
People from not just India but all around the world are coming forward to help these people and trying to fulfill at least their basic needs. The governments of UAE and Qatar have also donated a good amount to help the flood victims.
The state government and central government are also leaving no stone unturned in making sure that help reaches to every flood victim.
Karnataka's PWD minister HD Revanna also visited a relief camp in Ramanathapura in Hassan district. A video of his visit is going viral in which he is seen throwing biscuits at people who were standing surrounding him and expecting him to listen to their problems.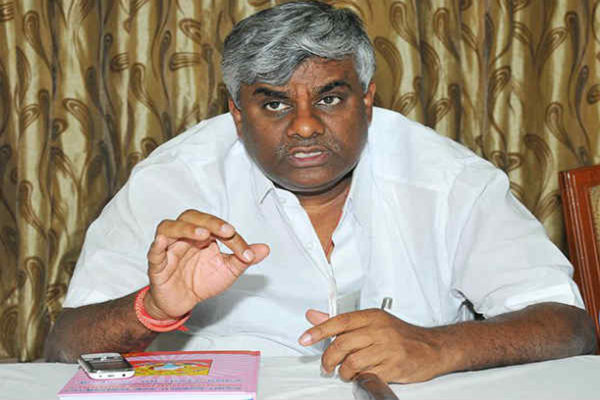 Watch The Video:
This is HD Revanna, Karnataka PWD Minister throwing biscuit packs at people who lost homes, crops due to rain, flood on Sunday in Hassan.

I feel disgusted seeing this. If you cannot give, then do not. But please do not throw food. pic.twitter.com/funCX55L8O

— nolan pinto (@nolanentreeo) August 21, 2018
Click here to watch this video directly on Twitter
The minister has been slammed for this act and it is also being said that some people refused to take biscuits thrown at them.
This is how angry Twitter reacted over the matter:
#1
How Gentle !! What a Statesman ! So Kind, Generous & Polite. ! How inclusive !

Minister Revanna would beat Mother Theresa in expressing Compassion.

Karnataka PWD Minister Revanna Throws Biscuit Packets at Hungry Flood Victims. Video Goes Viral https://t.co/SMbynXFvfD

— Rahul Easwar (@RahulEaswar) August 20, 2018
#2
Highly condemnable behaviour!! @CMofKarnataka @hd_kumaraswamy's brother & Karnataka PWD Minister, Revanna literally throwing biscuits at flood victims as if they were dogs!!

This misbehaved, morally bankrupt, mannerless man should be asked to step down!!#Shame pic.twitter.com/UozqfjeVT9

— Priti Gandhi (@MrsGandhi) August 20, 2018
#3
People like him are not a sign of "RELIEF" rather they are the Sign of "DISTRESS"
Brother of CM Kumarswamy, Son of Ex PM Devegowda
Karnataka, PWD Minister Revanna distributing food to flood victims as if he is distributing it to Animals.

SHAME! pic.twitter.com/NCluEFctB1

— Dr Rutvij Patel (@DrRutvij) August 20, 2018
#4
Brother of CM Kumarswamy
Son of Ex PM Devegowda
Karnataka PWD Minister Revanna

Giving relief to flood victims

Yes, he is giving food to people not animals

What is a bigger disaster?

"Flood" or "politicians" like him pic.twitter.com/1I2ED5XKH4

— Kapil Mishra (@KapilMishra_IND) August 20, 2018
#5
Look at the arrogance of Revanna,
PWD minister of Karnataka

There is a way to treat the flood effected people

These people never begged anything but today they literally need help

But this minister is treating them worse than a Dog #KodaguFloods pic.twitter.com/x4tmqE9ItG

— Basavaraj Nesaragi (@basavaraj_in) August 20, 2018
#6
How inhuman can a person be?
Worst of all, he's Public Welfare Department Minister… God knows what kinda welfare will he be doing…
Shame on you sir!!!#KeralaFloodshttps://t.co/o07bVTIInk

Shared from my Google feed

— Aditya Gupta (@iAdityaGupta) August 20, 2018
#7
Pity on our politicians. They think they are above God

— Monica Gupta (@monicavaneet) August 20, 2018
#8
Karnataka PWD Minister Revanna is giving food to people and not animals. Forces me to think what is more disastrous "a helping hand like his" or "the unstoppable water?"pic.twitter.com/SxHOt2ZdVJ

— Sagar Tyagi (@SagarTyagiBJP) August 20, 2018
#9
This bloody burger has no sense. How come he hasn't been thrown into the floods? 😠 #KodaguFloodReliefhttps://t.co/n7wQxfZzIL

— bunny (@itsbunnyvenu) August 21, 2018
#10
PWD minister of Karnataka Revanna(Ravana) throwing biscuit packets at flood victims….his wife also must throwing biscuit & chapati at him

— Biren Bhatt (@bhatt_biren) August 21, 2018
#11
Disgusting display of insensitivity by Karnataka Minister for PWD H D Revanna. Throwing biscuit packs at people in a relief camp, all for a photo op! It isn't enough that govt ensures ppl's safety at times like this, remember to treat them with dignity too! pic.twitter.com/FsA5me1TDj

— Anusha Ravi (@anusharavi10) August 20, 2018
However, Revanna's brother and Karnataka's CM Kumaraswamy has defended him and said that he had looked into the matter and there was no space for movement while Revanna's son has said that his father didn't want to insult anyone and it was unintentional. In fact as per News 18, Revanna's son has also apologised on behalf of his father.
What is your take on this matter?
Share Your Views In Comments Below