News
"Kitne Tejasvi Log Hain," Bihar Student Writes Lyrics Of Bhojpuri Song In Chemistry Exam
Every student wants to get good marks in their examinations but only very few work pretty hard in order to fulfill this desire. Some students are ahead of the teachers of their school/college in regard to syllabus and they even revise twice or thrice before the exams and then there are several students who start studying just days or a month prior to exams but few students begin studying just one day before exams.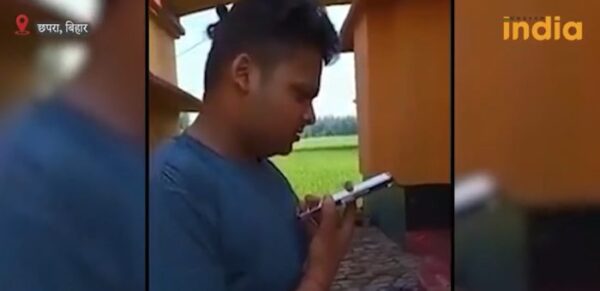 Students from the last category are the ones who are very less prepared and some weird acts can be expected from them during exams. One such college student from Bihar's Chhapra has become famous on the social media networks after his video goes viral on the Internet in which he is seen getting scolded from the faculty on the phone because the student has written the lyrics of a Bhojpuri song in the answer sheet of his chemistry practical exam.
In the video, firstly the answer sheet is shown and then conversation between the student and the faculty can be heard as the latter asks the former whether he did not feel ashamed in doing this. Later on, the faculty tells the student to bring his father to the college next day but the student says that his father can't come as he is not there at the moment. The faculty then asks the student to give the phone number of his father which the student gives but he also apologizes to the teacher.
Here is the video:
परीक्षा में लिख आया भोजपुरी गाना, टीचर ने किया फोन और लगाई क्लास | Unseen India pic.twitter.com/E4nEQ4w6bm

— Utkarsh Singh (@UtkarshSingh_) October 20, 2022
Click to watch this video directly on Twitter
Many have reacted to the video and some are of the opinion that it is fake because how a student can record his own clip while getting scolded by the faculty.
Here are some selected reactions:
#1
Pahle page per he likh diya budbak😂

— Mishra K (@KD_19) October 20, 2022
#2
केमिस्ट्री मे भोजपुरी🫢

— Saurabh Yadav (@Saurabh66027424) October 20, 2022
#3
Wannabe Chapra uni topper pic.twitter.com/XFZNAXFzMD

— Vickey Patil (@CaoSpy) October 20, 2022
#4
Sir ko song pasand ni aaya🤔 ya personal feeling judi h sir ki🤣🤣🤣

— Mahenaz khan (@Mahenazkhan6) October 20, 2022
#5
Aaree ii ta badka topibaaz student nikla 😅😅

— TIWARI JI RAHUL (@Kalamsindia1) October 20, 2022
#6
Bihar for a Reason.

— محمد طارق🇮🇳 (@emperor_mohd) October 20, 2022
#7
@TheSatyaShow
kitne tejasvi log hai …. Kitna shaandar Vichar rakhte hai yeh .. 😅😅

— Sharad Choudhary (@sharad098) October 20, 2022
#8
Looks scripted

— TARANJEET (@jeet_taran) October 20, 2022
#9
Call aaya toh Video shoot karne ke liye pehle se ready tha?? Sab reel ko real bna ke bechte hai and patrakar sahab v share karte rehte hai.

— Rk (@RamanGaonWala) October 20, 2022
#10
Banaya hua video hai

— VIVEK JAYSWAL (@vivekjayswal2) October 20, 2022
#11
टीचर कॉल करके डांटे और खुद का वीडियो बनाए वो समज आता है लेकिन स्टुडंट खुद डांट सुनते अपना वीडियो बनाए ये समझ नहीं आया.

— SatyamevJayate (@SatyaSodh) October 20, 2022
What is your take in regard to this video? Do you think it's fake and has been circulated just for entertainment purposes or you feel that it is real? Let us know your views.
Share Your Views In Comments Below