Sports
KL Rahul's Performance Against England Lions Is Disastrous. Fans Troll Him, Called Him Consistent
Following the decision by the BCCI which lifted the suspension on KL Rahul, he was asked to join the series against England Lions under the captaincy of Ankit Bawne.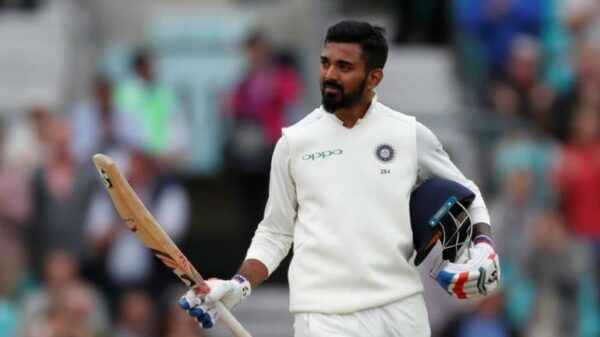 However, KL Rahul failed to live up to expectations and people began to troll him online. They were quite sarcastic and felt that this can be expected from him as he is consistent.
Ouch!
Check out what people had to say:
#1
Bad day at office for both India and India A

Just one bad day. #IndAvEngLions #INDvNZ

— Bhavani Sankar M S ® (@Bhavanisms) January 31, 2019
#2
When Rahul couldn't fit in India's mix, team India decided to fit in KL Rahul's world. #NZvIND #INDAvENGA #IndAvEngLions

— shrikant jadhav (@jshrikant54) January 31, 2019
#3
#IndAvEngLions @klrahul11 scores another duck. The way it's going downhill , he might soon have to start a DUCK farm for a living

— R Bhat (@RSBHAT) January 31, 2019
#4
Somethings never change #IndAvEngLions pic.twitter.com/0TLpl5B687

— Yadesh kumar🇮🇳 (@yaadeshkumar) January 31, 2019
#5
@klrahul11 golden duck #IndAvEngLions . Don't know what's running in his mind. If not for the controversy he wd hv played at No3 today #INDvNZ game. Now, his chances for #wc2019 looking very very bleak.

— Karthik Chandra (@BVKC82) January 31, 2019
#6
KLRahul out again on golden duck😂😂 keep it bro.. #NZvIND #IndAvEngLions

— Nikhil アムイ乇レ ღ (@Im_Nikzy) January 31, 2019
#7
KL Rahul These Days
-Wake Up
-Eat
-Score Ducks
-Sleep

He Is The Perfect Example Of 'Talent Ke Naam Par Dhabba'#IndAvEngLions

— Amandeep Gautam🇮🇳🇮🇳 (@amndeep_gautam) January 31, 2019
#8
Bhai iski consistency ki to bcci fan hai. Isliye to ise baar baar mauke mil rahe hai. Kamaal ka player hai. 😜😜

— Aditya singh (@Adityas53467502) January 31, 2019
#9
🤣🤣🤣🤣🤣🤣🤣🤣🤣🤣🤣🤣🤣🤣🤣🤣🤣🤣🤣🤣🤣🤣🤣🤣🤣🤣🤣🤣🤣🤣🤣🤣😂😂😂😂😂😂😂😂😂😂😂😂😂😂😂😂😂😂😂😂😂😂😂😂😂😂😂😂😂😂😂😂😂😂😂😂😂😂😂😂😂😂😂😂2 min ka silence unke liye jinhone ise futute ka player mana tha..😂😂😂😂😂😂😂😂😂😂😂😂😂😂😂😂😂😂😂😂😂😂😂😂😂😂😂🤣🤣🤣🤣

— aalu bonda-आलू बोंडा (@ek_aalu_bonda) January 31, 2019
#10
Harakari day for all Indian batsman today.

— Prasad Mani (@Rasa_Prasad) January 31, 2019
#11
Ye Banda kabhi nahi sudhrega 😀@ankitmishra3010 @abhi_sheth

— just normal (@FaithinRam) January 31, 2019
#12
Bhikari player ko chance do salo Raina Ko math do

— Saurav (@Saurav63851013) January 31, 2019
#13
Arey bc yaha bhi Zero ki promotion

— 👑 Off Happiness 🇮🇳 (@madmax29580547) January 31, 2019
#14
Just Degrade him to India B…!

— King Jaga (@KingJaga1) January 31, 2019
#15
— Jatayuu (@Lakkar_bagga) January 31, 2019
#16
Meanwhile, KL Rahul after a golden duck against England Lions. pic.twitter.com/A3ILHzhzYl

— Chinmay Jawalekar (@CricfreakTweets) January 31, 2019
#17
KL Rahul giving tribute to no. 4th spot. https://t.co/uZTzRGxkiF

— Sunil- The cricketer (@1sInto2s) January 31, 2019
#18
KL Rahul contributing to this scorecard from different continent. https://t.co/sX4Ul1z4XP

— Silly Point (@FarziCricketer) January 31, 2019
What do you have to say about this?
Share Your Views In Comments Below