Sports
Kohli Shared A Photo With His Squad But Rohit Was Missing. Twitter Asked, "Where Is Rohit Sharma?"
The Indian cricket team will be playing three-match T20I series against West Indies which is starting tomorrow in America and many Indian players have shared their photos from Florida.
Indian skipper Virat Kohli also posted a pic on the micro-blogging site Twitter and photo-sharing site Instagram which he captioned as "SQUAD 👊💯".
First of all, take a look at the pic shared by Kohli: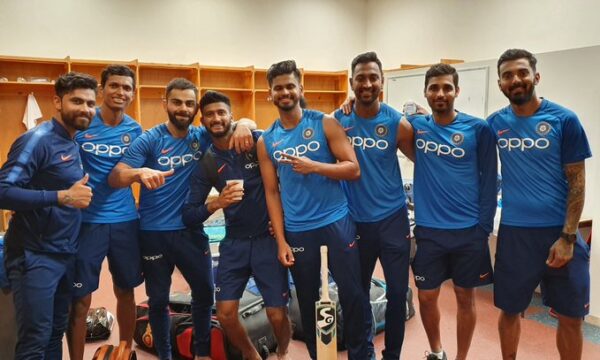 In this image, Virat is seen with his teammates Ravindra Jadeja, Navdeep Saini, Khaleel Ahmed, Shreyas Iyer, Krunal Pandya, Bhuvneshwar Kumar and K L Rahul.
Here's the tweet of Virat:
SQUAD 👊💯 pic.twitter.com/2uBjgiPjIa

— Virat Kohli (@imVkohli) August 2, 2019
However, Rohit Sharma was missing from the photo and the social media users started asking Kohli, "Where is Rohit?"
Check out some of the selected reactions:
#1
Oye pic.twitter.com/Jooha2HMfz

— Chota Don (@choga_don) August 2, 2019
#2
Hey @imVkohli if everything is alright with in your team and dressing room, why every time you post a pic with team members @ImRo45 always go missing?? #RohitSharma #ViratKohli

— Gaurav Varmani 🇮🇳 (@gauravvarmani) August 2, 2019
#3
So this ur side..
Others with Rohit what?
😂😂😂

— PrakashS45 (@Psharma182) August 2, 2019
#4
No Rohit in Virat's posts…
No Virat in Rohit's posts…

And Virat says it's baffling, there's no truth in news of rift..😉

— Sujith Kolap (@KolapSujith) August 2, 2019
#5
where is @ImRo45 Y u r doing politics @BCCI after Graig chapel virat ND shashtri will be responsible for poor performance of Indian cricket

— silent (@jiteshkumar114) August 2, 2019
#6
No squad is complete without this two cricketing beast Rohit and Shikhar @SDhawan25 @ImRo45
The more you hide your feelings, the more they show. The more deny your feeling, the more they grow.

Please try to include them from next click Virat sir..

— Sanjay Yadav (@iamsanjaydv) August 2, 2019
#7
With your and @ImRo45 every pic it is getting evident that there are indeed 2 camps in team, not seen shikhar or rishabh in ur pics and Rahul n Bhuvi in his pics. You both can give interviews that all is well but action speaks louder than words. Ur egos will break the no. 1 team.

— Vishal Shukal (@vss80) August 2, 2019
#8
Where is @ImRo45… How did you select your team without #Rohit..
This team gonna to be wrost… Nd showing that.. Nothing is good relationship between you and #Rohit sir.. Politics ploxx. Everywhere arrived…

— It's @Chandan (@chandan_264) August 2, 2019
#9
Sikhar and Rohit has a different group bcz they play for their country u stupid Kohli always play for yourself and for your wife and for your so called god Ravi shastri

— Rakesh Swain (@Rakesh725444) August 2, 2019
#10
Where is our world cup hero @ImRo45 ?
Please step down from captaincy just for country. And Give A chance to Rohit Sharma To Lead This Team.
Dont Angry with me I Sorry to Say That Practically You Really Don't know How To Make A Good Team.
You kiked off @ajinkyarahane88

— Abhishek Pratap singh UPSSSC (@JayAbhishekHind) August 2, 2019
#11
Still rohit is better captain for odi and t20 @ImRo45 . you felt insecure thats why u came to play odi and t20 series which you wore not going to play earlier

— Mehul Kulkarni (@MehulKulkarni3) August 2, 2019
#12
Fir Rohit nahi ? Daya Pata lagao kuch ho gadbad h 🤣🤣

— K'rulzster (@krulzster) August 2, 2019
#13
Are isme Sharma ji ka ladka Kaha hai..?

— "Thakur" Gyanendra singh (@BittuSingh1109) August 2, 2019
#14
ye le! instagram pe wapas se follow kar varna mere squad se bahar! pic.twitter.com/XGlaeTZ9yH

— Keh Ke Peheno (@coolfunnytshirt) August 2, 2019
#15
@ImRo45 is still missing in frame … Don't know what is going behind

— Aman Rai (@imamansuperstar) August 2, 2019
Well, this once again confirmed the rumours of a rift between Virat Kohli and Rohit Sharma. It is being said that Virat and Rohit are not on talking terms since India got defeated by New Zealand in the semi-finals of the World Cup 2019. However, the captain and the coach Ravi Shastri called all such rumours baseless in a pre-departure press conference before leaving for America.
Just a few hours before leaving for America, Rohit Sharma also posted a photo of himself with the caption: "I don't just walk out for my Team. I walk out for my country."
I don't just walk out for my Team. I walk out for my country. pic.twitter.com/S4RFkC0pSk

— Rohit Sharma (@ImRo45) July 31, 2019
Earlier, Rohit unfollowed Virat Kohli and his wife Anushka Sharma on Instagram which was one more indication that all is not well between the two players. Later, Anushka posted a cryptic message which further strengthened the rumours of rift.
It seems that not much is being done by the team management to handle this situation despite the fact that it can be devastating in the future. What do you think?
Share Your Views In Comments Below