Bollywood & TV
Kriti Sanon Posed With A Taxidermied Giraffe For Magazine Photoshoot; Got Slammed Like Never Before
Kriti Sanon has a good number of followers on social media networks but one photo of her has turned her followers into her critics.
She did a photoshoot for a magazine named Cosmopolitan India for their cover page in which she was seen posing with a giraffe that was hanging in the air.
Here's the photo: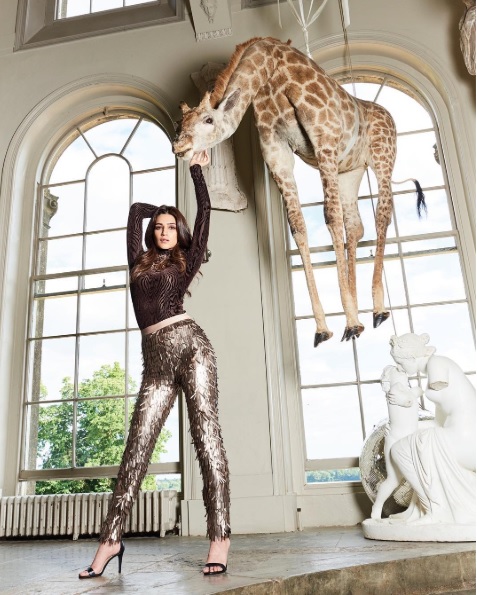 The photo was clicked at a museum in England's Aynhoe Park and it was also shared on the Instagram page of the magazine. The post also talks about the art called taxidermy which is used at the park for preserving the animals that are no more because of natural reasons. These animals are preserved for academic purposes.
Here's the caption that the magazine wrote while sharing the pic on Instagram,
"I'm not someone who gets angry easily, but when I read about atrocities against women, it really upsets me." Meet our cover girl @kritisanon being her candid self in our August issue.✨
PS: Aynhoe Park features taxidermy, hundreds of years old, most from museums. Taxidermy is the art of preserving an animal that died of natural causes, for academic purposes. The giraffe featured here is floating (not hanging, heavens no!) with balloons on its back. An art installation, in what is possibly one of the eclectic yet most majestic mansions in the world.
PPS: Cosmo loves, no, is obsessed with animals. We were, possibly, the first magazine in India to ban the featuring of fur, three years ago. No animals were harmed before, during, or after this shoot. We may be guilty of watching too many puppy videos during work hours, though."
However, this photo has not gone well with netizens as they called it cruelty to animals. Many people were not able to understand the relation between the hanging giraffe and the atrocities against women and what it has to do with women empowerment. Many people have demanded an apology from Kriti Sanon and the magazine.
Here are some comments slamming Kriti and the magazine:
#1

#2

#3

#4

#5

#6

#7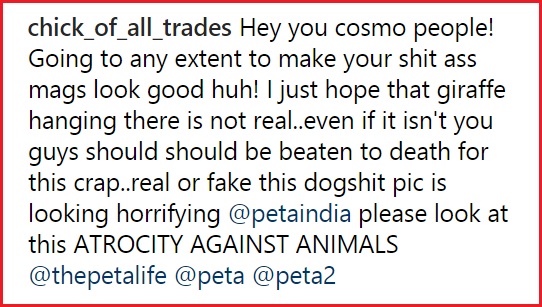 #8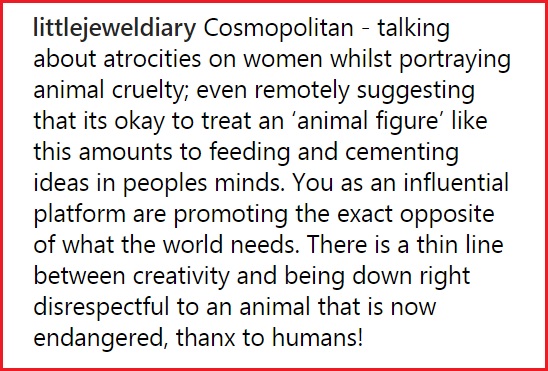 #9

#10

#11

What do you have to say about this photoshoot? Let us know.
Share Your Views In Comments Below