Extras
KRK Is Back On Twitter. He Has Targeted The 3 Khans For His Account's Suspension
KRK is one of the most controversial celebrities and there's not the least doubt about it. He often makes headlines for all the wrong reasons and leaves no chance to target celebs, especially from B-Town.
However, the world had a sigh of relief for more than a month, as the Twitter account of KRK was suspended on 18th October this year. It so happened that he disclosed what the climax of "Secret Superstar" would be.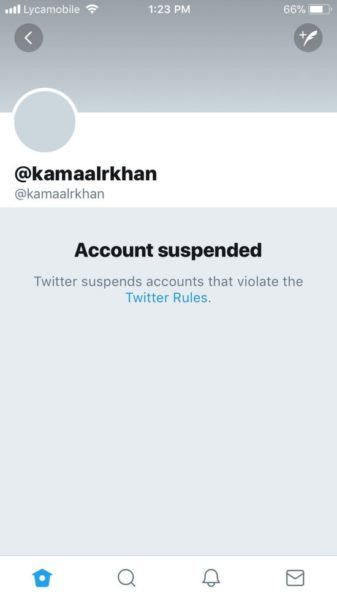 If you remember, a press statement was released by him post the account suspension in which he said that his account had been suspended without any warning. He also mentioned that it took him much time and money for creating as many as 6 million followers.
This is official statement of #KRK @verified @Twitter @TwitterSupport @jack pic.twitter.com/qtzXS2A2Og

— KRKBOXOFFICE (@KRKBoxOffice) October 18, 2017
There have been around a week when he threatened of committing suicide if Twitter doesn't activate his account within 15 days.
You'll be surprised to know that the self-proclaimed no. 1 critic is back on the micro-blogging site Twitter. Yes, you read it right! A couple of days ago, he himself made an announcement of the same and tweeted, "Hello friends! #TheKRKBrand is back."
https://twitter.com/KRKActor/status/934006473457156099
Well, KRK has once again started posting controversial tweets and this time, he has targeted the three Khans, as he is of the opinion that they are behind the suspension of his account.
Here's what he tweeted, "SRK + Salman Khan + Aamir Khan forced #Twitter to suspend my account, but still they can't stop me from reviewing films to save public from watching their crap films. Better, they should make good films instead to stop me."
https://twitter.com/KRKActor/status/934008256518750208
In another tweet, he slammed Shah Rukh and wrote, "Yesterday, SRK told to one of the top director that he will finish all these idiot critics within next 2 years. Thank you SRK. Let's see if you will finish Critics or You will finish yourself within next 2 years."
https://twitter.com/KRKActor/status/934010206752620544
What do you have to say about KRK's comeback? Let us know.
Share Your Views In Comments Below