Sony has finally started Krushna Abhishek's much talked about comedy show 'The Drama Company' and it's in a direct competition with 'The Kapil Sharma Show' now.
The show featuring the likes of Krushna, Sudesh Lahiri, Ali Asgar, Sugandha Mishra, Dr Sanket Bhosle, Ridhima Pandit, Tanaji, Mithun Chakraborty and Aru Verma made its debut on Sony TV yesterday and attracted a lot of eye balls.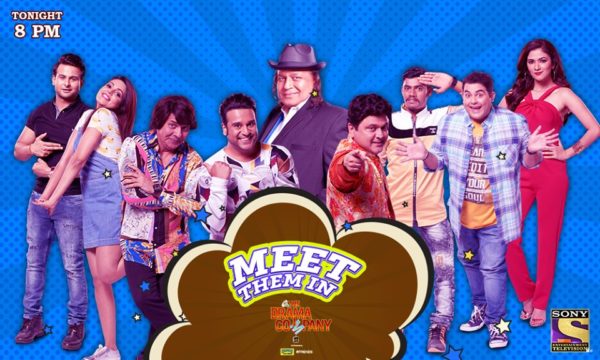 However, the show failed to deliver as much as it promised hence leaving the audience disappointed. Some viewers took to Twitter to show their disappointment regarding the show and shared their reviews in which they termed it as "boring" and 'below the mark'.
Check out the reactions-
1
#TheDramaCompany Flop show

— sourav mandal (@souravm70) July 17, 2017
2
@neetisimoes Please close #thedramacompany.Varna yeh apki aur comedy ke level ko bahut niche le aayega.it's a request from ur well wisher

— Mukesh Kumar (@MukeshK90234069) July 17, 2017
3
@WhoSunilGrover pls come back to #TheKapilSharmaShow. After yesterday's debacle of #TheDramaCompany.

— Sameer Prasad (@sameer_prasad) July 17, 2017
4
Respect for @Krushna_KAS and @Sudesh_Lehri but #TheDramaCompany could not make an impact… #boring @SonyTV #nomatchforTKSS

— amit bhagotra (@Amitbhagotra) July 17, 2017
5
Mera kutta bhi rone lag pada?? #TheDramaCompany ko dekh kar. @kikusharda @KapilSharmaK9 @Tksshowofficial @PankajP71402033 @SonyTV

— The Rajan (@therajan07) July 17, 2017
6
@Krushna_KAS bhai sch sch batana esi kya jaruurt thi jo itna fltu ka show #TheDramaCompany lke aa gaya tu @SonyTV pe
Q apni bjjti kra rha h

— ❤ Rahul Kapilian ❤ (@imrahul234) July 17, 2017
7
@kikusharda ek naya joks milaa hai :#TheDramaCompany is a competition to #TKSS hahahah haaahhaa
haaah haaah matlab kuch bhi??????????

— Azhar (@azhartheactor) July 17, 2017
8
this alone broke the entire TRP #DramaCompany might have barely managed to make ? #TKSS ROCKS! Kapil and Sarla and Kiku ROCK!

— ☘️Heize☘️ (@deta_lara) July 16, 2017
9
@KapilSharmaK9 Nobody can reach your level Kapil!!!! You are too good! #DramaCompany Not even 1 percent of your show!!

— Neha Rai Arora (@NehaRaiArora) July 16, 2017
10
@SonyTV now get over with the boring disappointing #DramaCompany. Pls get on #TKSS quickly. Really want a comic relief after this disaster

— Surender Dhaleta (@dhaleta) July 16, 2017
11
Why #TheDramaCompany episode is not uploaded on youtube?@SonyTV are you scared?? Upload soon so that I can dislike?

— ⚡ (@classysassybeau) July 17, 2017
12
AoA
Ya Ali Madad
Bhai apka yaha kuch nhi hona
ap wapis kapil ke show per chale jao plz #TheDramaCompany ittu sa bhi acha nhi hai

— MD Abbas Ali Ansari (@Mdabbas_ali) July 17, 2017
13
Please don't continue #TheDramaCompany in future… #humsakal was better movie than this hilarious

— SOUMYA ❌ (@itsoumya) July 17, 2017
It seems like Kapil Sharma has taken the standards of TV comedy to a far higher level than any other comedian can touch. We hope Krushna Abhishek and team tries their best and makes a strong comeback and turn the tables around.
We'd really love to see more comedians getting their due on the small screen so that even Kapil can challenge himself for better.
What do you think about the new show 'The Drama Company'? Did you like it or not? Share your thoughts with us in the comment section.
Share Your Views In Comments Below