Sports
"Kuch To Sharam Karo," Twitter Trolls Pujara & Rahane After Their Dismal Show In 2nd Test
The second test match between India and South Africa is being played at Wanderers Stadium, Johannesburg and the visitors were able to score only 202 runs in their first innings as their batting collapsed in front of the formidable bowling attack of South Africa. The Indian test skipper Virat Kohli is not playing in this test match as he is suffering from an upper back spasm. KL Rahul is leading the team in his absence and Jasprit Bumrah has been appointed as the vice-captain for this test match.
KL Rahul (50) and Mayank Agarwal (26) gave a steady start to the first innings of the Indian team but majority of the Indian batsmen were not able to bat properly barring Ravichandran Ashwin who scored useful 46 runs. Hanuma Vihari who is playing in place of Virat Kohli also got out on the low score of 20 and Rishabh Pant managed only 17 runs. The South African bowler Marco Jensen took 4 wickets while Kagiso Rabada and Duanne Olivier took 3-3 wickets each.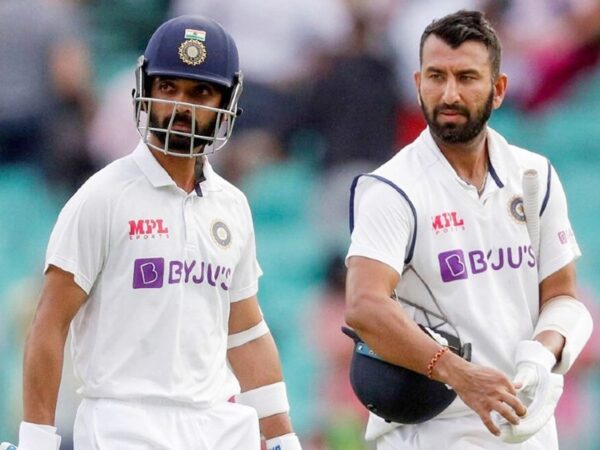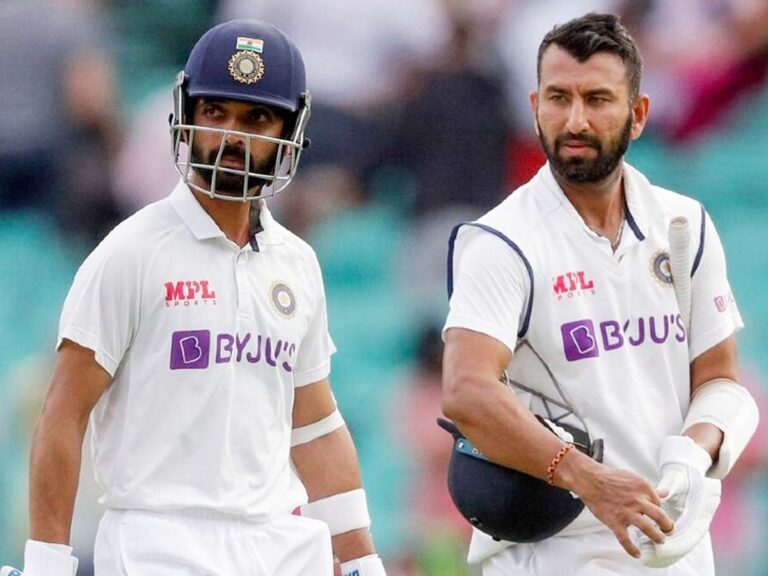 However, the Indian cricket fans were highly annoyed with Cheteshwar Pujara and Ajinkya Rahane as their poor form once again haunted them and the Indian team as well. Pujara got out on the score of 3 after facing 33 balls and Jinx was not even able to open his account as he got out on the very first ball faced by him. As soon as they both went back to pavilion, social media was flooded with jokes and memes regarding Pujara and Rahane and majority of the netizens were of the opinion that these two BFFs should retire together now.
Here are some of the selected reactions:
#1
Thank You Ajinkya Rahane and Thank You Cheteshwar Pujara🙏🏻

BFFs Should Retire Together 💆🏻‍♀️ pic.twitter.com/POmsOIKB7T

— Dr Khushboo 🇮🇳 (@khushbookadri) January 3, 2022
#2
Nothing just a regular conversation between #Pujara and #Rahane #सुनीलशाह #VIDEO #Viral #Trends pic.twitter.com/8Wb6PWujmJ

— सुनील शाह (@SunilShah7777) January 4, 2022
#3
Cheteshwar Pujara and Ajinkya Rahane has failed to perform on a consistent basis since 2020. Failures after Failures. 😑

Whole India to Them:#SAvIND pic.twitter.com/wuZclzRPBU

— Nitesh Chauhan 🇮🇳 (@Nitesh_Chauhan7) January 3, 2022
#4
Since last year I've felt more secure watching Bumrah and Shami together than Pujara and Rahane. Be it while batting or bowling.

— Heisenberg ☢ (@internetumpire) January 3, 2022
#5
Me who tries to defend Pujara and Rahane pic.twitter.com/0UYDTChxMr

— KING KOHLI (@Indiain27046658) January 3, 2022
#6
Pujara and Rahane in Tests these days.. pic.twitter.com/NMjHx101cs

— Harisankar (@harish_staycalm) January 3, 2022
#7
Rahane and Pujara racing back to pavilion 🥲🤭❣️#INDvsSA #SAvIND #CricketTwitter pic.twitter.com/7hqtHgXJ9M

— Mritunjay Dubey (@mddubey409) January 3, 2022
#8
Pujara and Rahane in test team pic.twitter.com/dlfHrzzo4S

— A (@AppeFizzz) January 3, 2022
#9
Cheetahs are fast, but not faster than Pujara and Rahane returning to the pavilion.🙆🏻‍♂️🙂#INDvsSA pic.twitter.com/cutSEWpsAg

— 𝐘𝐮𝐯𝐢𝐢𝐢¹⁸ (@18yuviii) January 3, 2022
#10
Pujara and Rahane watching other players#SAvIND #INDvsSA #IndianCricketTeam pic.twitter.com/PRzpB9b9IL

— Jigar Vyas (@jigar__vyas) January 3, 2022
#11
Pujara and Rahane show us how far you can travel on reputation alone. #INDvsSA pic.twitter.com/xCzLphTbCF

— Ajay Kaul (@ajaykaul10) January 3, 2022
#12
Pujara and Ajinkya Rahane #IndvsSa
Then Now pic.twitter.com/5CNaUf2Cef

— Positive Entropy (@EntropyPositive) January 3, 2022
#13
Pujara and Rahane,
Its time to go. ⌛#INDvsSA pic.twitter.com/IMjR9qtHwx

— Kshitij Sharma. (@_ghostcookies) January 3, 2022
#14
Indian fans to BCCI
to drop Rahane and Pujara pic.twitter.com/mCjCLnmvXO

— Bd.Copper (@copper_bd) January 3, 2022
#15
Rahane and Pujara running it back one last time 😭💀💀#INDvsSA #Rahane #pujara pic.twitter.com/u4QlBBz6JX

— Saicharan (@RombaPainBro) January 3, 2022
It has been quite a long time that they both are struggling on the crease and are not able to score runs. The former Indian cricketer Sunil Gavaskar also made a pretty big statement after Cheteshwar Pujara and Ajinkya Rahane departed from the field in quick succession. While doing commentary, he stated that these two veteran cricketers have only one more innings (second innings of this test match) to prove that they are worthy of a place in the Indian squad. Sunil Gavaskar says that questions have been raised on their position in the team for a long time now and they have only one more innings to save their test career.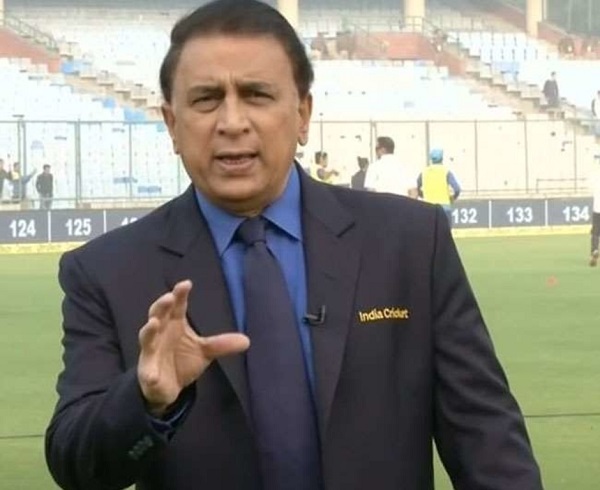 As far as the match is concerned, in reply to India's 202, South Africa was 35/1 at the end of the day one. The opener Aiden Markram got lbw to Mohammed Shami at the score of 7 and the skipper Dean Elgar (11) is at the crease along with Keegan Petersen (14).
One thing is for sure that the result will come in this test match as four days are remaining provided rain doesn't spoil the game. Will the Indian team be able to win this test match and win the series or will South Africa keep its hopes alive by attaining victory in this test match? What do you think? Let us know your views.
Share Your Views In Comments Below