Humour
Kyle Jamieson's 'Flirting' During RCBvsKKR Sparks Meme Fest, Fans Say He's Playing His Own Game
The IPL team Royal Challengers Bangalore performed pretty well in the first leg of the IPL 2021 as it won 5 out of 7 matches that it played and after such a wonderful show, fans expected a lot from Virat Kohli led team in the second leg of the tournament too. However, RCB had a pretty disappointing outing against Kolkata Knight Riders in its first encounter of the league's second leg which was played at Sheikh Zayed Stadium, Abu Dhabi.
Virat Kohli's RCB won the toss and went for batting first but it had a terrible start as the skipper who opened the innings for his team got out for just 5 runs. Devdutt Padikkal (22) and Srikar Bharat (16) tried to stabilize the innings but after they got out, the RCB star-studded batting line-up which also includes AB de Villiers crumbled against the KKR bowling. This was the sixth time in the IPL that AB de Villiers got out for golden duck and while 7 RCB batters failed to touch double digit, the squad failed to touch three-digit mark as the whole team got out for just 92 runs.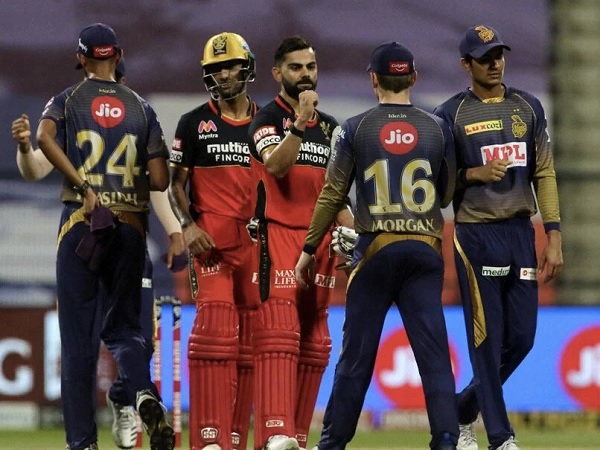 In reply, KKR openers Shubman Gill (48) and Venkatesh Iyer (41) played superbly and ensured that their team ended the match as a winner. Shubman Gill got out on the bowling of Yuzvendra Chahal but by that time, KKR was totally in control of the game. KKR won the game with 10 overs remaining and RCB fans were pretty much in shock after seeing their favourite team losing so badly.
However there was one more incident which got a lot of attention and it involved the New Zealand cricketer Kyle Jamieson who has been bought by RCB for a huge amount of Rs. 15 crore. When RCB was struggling at the score of 53/4 in the 10th over, the cameraman focused on the RCB dugout where Kyle Jamieson was seen padded up and ready to take the field but he was continuously looking and smiling at the RCB massage therapist Navnita Gautam.
Take a look: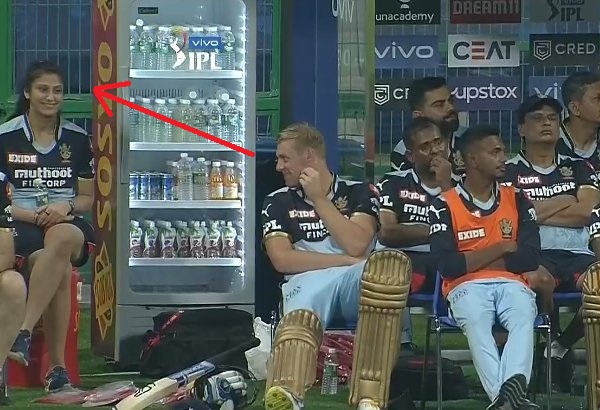 This was noticed by audiences and soon the image went viral resulting in a huge number of memes and hilarious reactions.
Here are some selected ones:
#1
#RCB match bhale hi haar gyi ho par Jamieson ne ladki ka dil jeet liya ❤️ pic.twitter.com/a7t5m9tv0l

— Deeksha Singh Gaur 🇮🇳 (@Blossom_077) September 20, 2021
#2
🤣🤣🤣🤣🤣 Kyle Jamieson#Cricket #ViratKohli #VIVOIPL#RCBian #rcb#RCBvKKR #KyleJamieson#cricketwalibeat#CricketDhamaka pic.twitter.com/hbWzLuXGTD

— 🏏🏏🏏 (@Cric_tracker333) September 21, 2021
#3
#RCBvKKR #IPL2021
Men will be men ft.Kyle Jamieson pic.twitter.com/dV5aQnBO8x

— Basrani Dev (@MSDIAN___DEV) September 20, 2021
#4
Can't Bat ❌
Can't Bowl ❌
Can Simp ✅

That's King Kyle Jamieson in IPL for you folks. pic.twitter.com/qcnTJhKeRP

— Yash #RCB ❤️ // old account zucced (@SRKxABD_) September 20, 2021
#5
Everyone became stressed by seeing team's condition.

Meanwhile Kyle Jamieson is busy in playing his own game.😉#RCB|#IPL2021 pic.twitter.com/bICD6bcVyN

— SHOUNAK🇮🇳 (@SHOUNAK__72) September 20, 2021
#6
15 crore of rcb on kyle jamieson worth it not only playin match on field also outside the field in dugout 😂❤️😂#IPL2021 pic.twitter.com/L5EZ0ZpAri

— m̶r̶ ̶m̶e̶a̶n̶ 🥀 (@__m_ea_n__) September 21, 2021
#7
#RCBvKKR
Kyle Jamieson 😹😹 pic.twitter.com/bIbZ8Oe5dc

— Vivek Yadav (@iamengimemer) September 20, 2021
#8
Kyle Jamieson Bade harami ho beta 😅@RCBTweets#RCBvKKR | #IPL2021 pic.twitter.com/n1W7cqg1i3

— ❖Mʀ᭄Ꮶᴀʀᴀɴ࿐ (@KaranSiddh) September 20, 2021
#9
Sigma rule #101
Focus on your goal first 😉#RCB #KyleJamieson pic.twitter.com/9qeY17ubBP

— Mayur Jain ( Wear Mask )😷 (@MAYUR448) September 21, 2021
#10
If this isn't the next best idea for Imperial Blue's 'men will be men' series then I don't know what is😂 pic.twitter.com/L3IECeXH3R

— Kanav Bali🏏 (@Concussion__Sub) September 20, 2021
#11
Jamieson – I see this as an absolute win! pic.twitter.com/t8K5WQtce9

— JC (@jc_writes_) September 20, 2021
#12
It's not the @KKRiders bowling, it's some where off the field where @RCBTweets lost their match. @IPL @BCCI @cricketcomau @ICC @imVkohli #KyleJamieson @StarSportsIndia pic.twitter.com/WY6rcjiuWA

— Dibyajyoti Panda (@dibyapanda7) September 21, 2021
#13
Jamieson interested in different match.. 😉😋#RCBvKKR #IPL2021 pic.twitter.com/0tg7MwkMJl

— Ramesh…ᴿᵃᵈʰᵉˢʰʸᵃᵐ💞 (@Rebelstaaar) September 20, 2021
#14
#KKRvRCB #Kohli – Have Eyes on the Prize Boys.

Meanwhile Jamieson – pic.twitter.com/aetWnci4Wa

— g0v!ñD $#@®mA (@rishu_1809) September 20, 2021
#15
She : Tell me those Three words

Jamieson : We are Chokers pic.twitter.com/az40jho2Rh

— Imabzkhan MSDian™ (@MSDhoniRules) September 20, 2021
Navnita Gautam is RCB's massage therapist who is basically from Canada and has also worked with Toronto Nationals during the Global T20 Canada League as well as with the Indian women's basketball team in the Asia Cup. Navnita Gautam is the only female support staff member in the IPL as of now as only one team (Deccan Chargers) hired two women support staff members in the history of the tournament but that franchise is defunct now.
What's next after this flirtatious incident?