Sports
"Ladki Ka Chakkar Babu Bhaiya," Fans React As Prithvi Shaw Shares Cryptic Instagram Story
The young Indian cricketer Prithvi Shaw has once again attracted the attention of netizens with his social media post and now it has become a meme material which is getting viral on the Internet.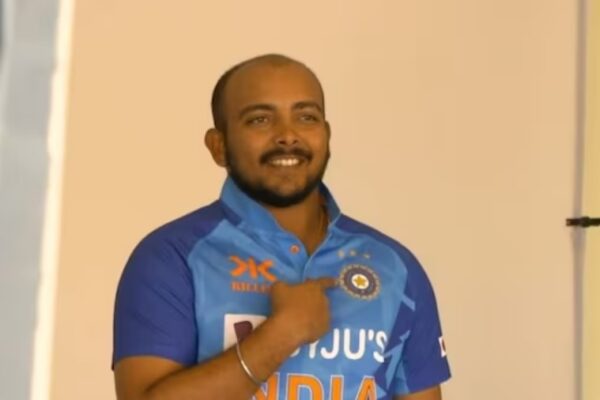 Prithvi Shaw was considered as a special talent and the next big thing in the Indian cricket world and he started his international career in a terrific style as well but things didn't go as planned and soon he was out of the team.
Recently, Prithvi Shaw made a cryptic post on his Instagram story in which he wrote, "Some people will only 'love you' as much as they can use you. Their loyalty ends where the benefits stop."
Take a look: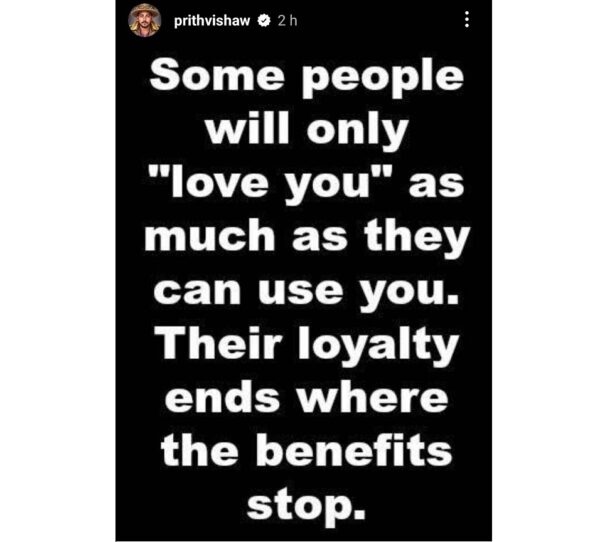 Prithvi Shaw's Instagram story. pic.twitter.com/d0MfFlYXBs

— Mufaddal Vohra (@mufaddal_vohra) March 9, 2023
Soon, people started sharing their views on his post and most of the netizens were of the opinion that Prithvi Shaw might have had a breakup or someone betrayed him. Soon the micro-blogging site was flooded with memes and people opined that there are a number of problems in this guy's life. Check out some of the selected tweets:
Stay strong Prithvi bhai pic.twitter.com/W4wLYh4CP8

— India Wing (@india_wing) March 9, 2023
Time for him to focus on his cricket vs social media

— Arun B (@realarun82) March 9, 2023
🥺🥺🥺 pic.twitter.com/5encIKnbwl

— Swapnil Sagvekar (@SwapnilPackers) March 9, 2023
Dil toota hai shayad 👀

— Purva Kadam (@Kohlifitoor) March 9, 2023
Bichara😭😭 pic.twitter.com/ZPDarUh5pa

— Yashvi🦋 (@yashvi41) March 9, 2023
😉😂wt dis time? I am nt against him but he should be careful on meeting people and going places until settles…off course people might say he got avoided by bcci etc bcci avoided nt just shaw they avoided sarfaraz,sanju and so many youngsters in&out but they werent into mess .

— Vamsi (@Kr17Vamsi) March 9, 2023
Breakup ho Gaya kya bhai ka?

— Nikhil Prajapati (@Niksprajapati99) March 9, 2023
Nibba behavior by a professional cricketer

— Priyanka (@Lostgirlprii) March 9, 2023
Every week he comes up like this story🙄, kitne dukh h bhai iski jindagi meij.

— Aditya (@King_Kohli34) March 9, 2023
Uski gf ne dhokha diya h bechare ko 😢

— Shamsi (MSH) 🥺😍 (@ShamsiHaidri) March 9, 2023
Meanwhile Insta influencer Sapna Gill reading this story from another Insta account pic.twitter.com/P3myEZ6O5A

— ً (@SarcasticCowboy) March 9, 2023
Prithvi Shaw also made headlines some time back for all the wrong reasons as he and his friend were involved in a brawl with some people outside a hotel in Mumbai. While the cricketer claimed that influencer and Bhojpuri actress Sapna Gill and her friends attacked him because he refused to take a selfie with them, Sapna Gill alleged that Prithvi and his friend outraged her modesty while she kept on requesting to him to leave her.
Prithvi Shaw has made news for his social media posts earlier as well and we are pretty sure that this is not the last time too.
Share Your Views In Comments Below