Videos
Leopard Attacks Dog Suddenly; How Dog Stands Up To Leopard & Beats It Is What You Need To Watch
When a person's life is in danger, he can do things which weren't even expected from him and the same goes for animals as well.
In the Jhalana Safari Park near Jaipur, Rajasthan, a stray dog compelled a young leopard to retreat after it tried to pounce on the dog.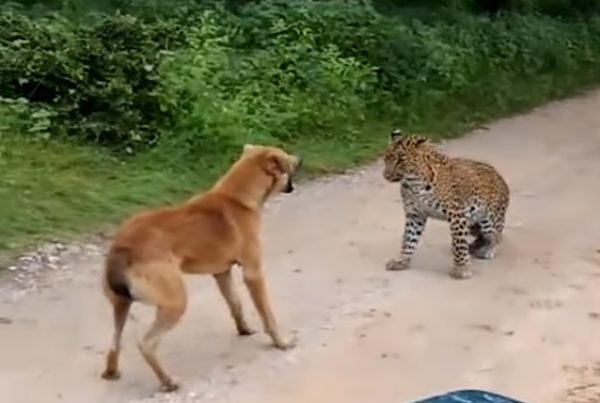 Tourists at the safari park saw that a young leopard was keeping an eye on the dog while the dog was carelessly sleeping on the road. All the tourists got ready with their mobile cameras to shoot the clash as it was quite obvious that the leopard would have taken down the dog but something unexpected happened.
As the leopard pounced on the dog, the dog woke up suddenly and started barking vigorously. It kept on barking continuously which made the young leopard go back without hunting the dog.
Watch The Video:
For More Videos, Subscribe Us Now
Click here to watch this video directly on YouTube
The forest officers and experts are of the opinion that the young leopard which they have named Julie didn't attack the dog as there were many people otherwise the dog would not have survived. However from the video, it appears that the leopard got scared from the dog. What do you think?
Share Your Views In Comments Below