News
List Of Indian Cities With Highest Internet Speed Is Out. Mumbai's Rank Is Disappointing
India is a country which is going through a digital revolution at this moment. With a mammoth number of Internet users, India is one of the biggest Digital content consumers in the world.
While it is not easy to provide a great Internet speed to that much users, India has still shown a great growth.
As per Ookla, India stands at 67th position among all the countries in the world if we sort them as per the Fixed Broadband Speed for the month of February. The position has seen a growth of 2 places in 1 month. On the other hand, if we talk about Mobile Speed then India has shown a growth of 3 places and stands at 109th rank.
The average Fixed Broadband download speed in India is 20.72 MBPS and Mobile speed is 9.01 MBPS.
The leading Speed Test company has given state/city wise data also and it tells us that Southern states are leading the country if we talk about Fixed Broadband speed.
As per the Ookla reports, Chennai leads all the states with an average downloading speed of 32.67 MBPS and Patna Bihar is the slowest with a speed of 7.80 MBPS.
Bangalore stands on 2nd rank, Hyderabad, Vishakhapatnam on 3rd and 4th respectively while Delhi on the 5th rank. It is clear that, South India has 4 cities in the Top 5 while North India has just 1. At the same time, it's a shock to see Mumbai not getting a place in Top 5 and Punjab not getting in Top 20.
Have a look at the complete chart-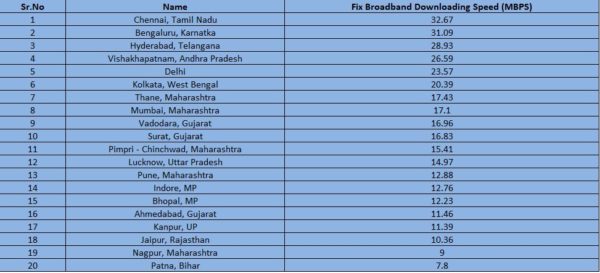 What are your thoughts on it?
Share Your Views In Comments Below