Lifestyle
List Of Top 10 Expensive & Top 10 Cheapest Countries Out. Check Where India Stands
Earlier, moving from one country to another was very easy; one just had to pack his bags and go. But these days, the scenario is different.
Whether you are planning to move to another country for business or just for personal reasons, the first thing you need to do is calculate the living cost there.
It is essential to have a proper study about the most expensive and least expensive countries, so as to take a better decision. The living costs in a country depend on a variety of factors like cost of groceries, rental costs, income as well as other expenses.
Expatistan has carried out a study of countries and has come up with a list of most expensive and cheapest countries. 109 countries were included in this survey and a price index was calculated.
Czech Republic was considered as the central reference country and a score of 100 was given to it. Now, the price index of other countries was compared to that of Czech Republic and accordingly the list was formed. As we mentioned above, various factors were considered for coming up with the price index.
As per the survey, Ukraine became the Cheapest country to live in. It's price index is 56.
Bermuda is the most expensive country to live it. It's price index is 297.
India is the 5th cheapest city with a price index of 62. Sri Lanka is the 7th cheapest country while Bangladesh is the 8th cheapest country.
Here's the top 10 list of most expensive countries as per the survey;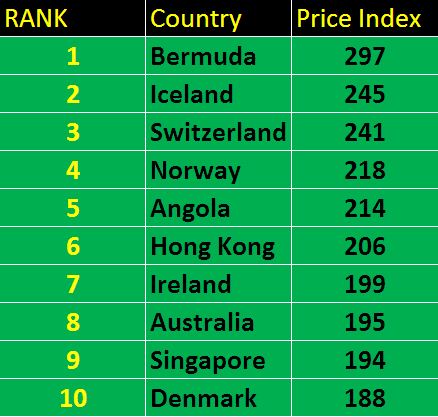 And here's the list of most cheapest countries in the list…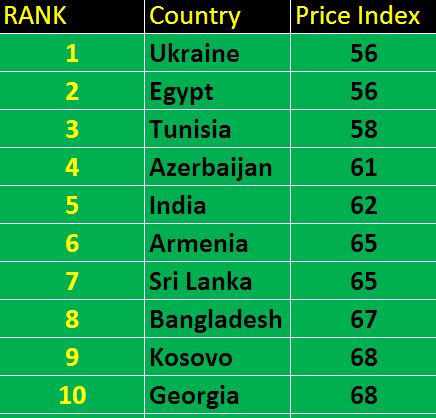 We are glad to see India being in the cheapest country list as most of the people are able to afford all necessities and can even live on rent affordably.
Click here to check the full list of 109 countries and their ranks.
So what do you have to say about this list?
Share Your Views In Comments Below