Sports
Little Girl Tells Neeraj Chopra "Mere Favorite Aap Hi Ho", His Reaction Wins Hearts On Twitter
Neeraj Chopra, the Indian track and field athlete, has become a household name after he won the Gold medal in Javelin Throw event in the Tokyo Olympics. After this historic win, he has become the second Indian sportsperson to win an individual Gold medal after Abhinav Bindra who grabbed Gold in shooting in the Beijing Olympics.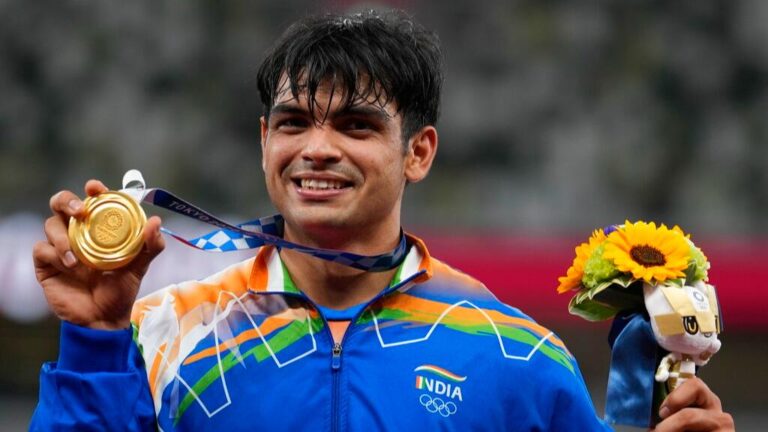 Neeraj Chopra made many public appearances after returning from the event and also appeared on some TV shows. The audiences loved him for his simplicity and wittiness and we really don't need to mention that this 23 years old athlete has become an inspiration for a number of youngsters after what he has achieved.
Recently, Neeraj Chopra interacted with some kids at the Panipat Sports Stadium and now a video is going viral in which he is seen telling a young girl about another athlete and asking her to search about him. However, the young girl responded by telling Neeraj, "हमारे favorite तो आप ही हो" (You only are my favorite).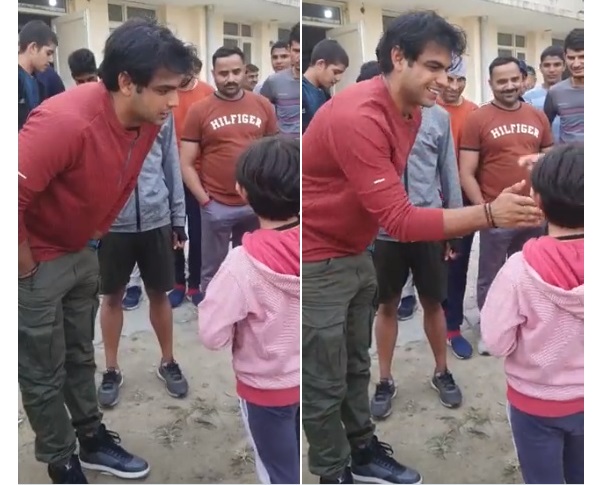 After listening to this, Neeraj laughed and patted the girl. The video has been posted by IPS Pankaj Nain and the micro-blogging site Twitter has been flooded with reactions as the video goes viral.
Pankaj Nain shared the video with caption,
"हमारे favourite  तो आप ही हो @Neeraj_chopra1
Look at the simplicity of this man, interacting with kids at Panipat Sports Stadium today.
Way to go Champion @dsya_haryana"
हमारे favourite तो आप ही हो 😊 @Neeraj_chopra1
Look at the simplicity of this man, interacting with kids at Panipat Sports Stadium today .
Way to go Champion 👍 @dsya_haryana pic.twitter.com/eKcjRjeDLI

— Pankaj Nain IPS (@ipspankajnain) October 27, 2021
Click to watch this video directly on Twitter
Twitterati praised the athlete for his no show-off attitude in front of the camera. Here are some selected reactions:
#1
Pankaj Nain Sir… Real Hero like #NeerajChopra is available for everyone, his simplicity encase and won everyone Heart and Great to see your efforts- Thanks a lot

— Dhrub Raj Mishra (@mishra_dhrub) October 28, 2021
#2
I just love about the way he treat with children no show off in front of camera just treat like true gentle man ❤️

— Shiv Dutt pal 🇮🇳 (@Shivduttp1998) October 28, 2021
#3
Bhai bda mushkil ha itna fame ko endure krna, ache khase log iske agge apna santulan kho dete ha.

— Manavjit singh (@Manavjitsingh12) October 27, 2021
#4
@Neeraj_chopra1 being sportsmanship and secular mentality will always be our idol.

— prodyot bepari (@prodyotbepari) October 29, 2021
#5
@Neeraj_chopra1 is the best athlete and a fine human being

— Moon Nagar (@moon_nagar) October 28, 2021
#6
He is down to earth man 🙏🏻

Real hero 👏👏

— kirandeep kaur (@OnePanjaban1) October 27, 2021
#7
He is a genuine man …. love from me ❤🇮🇳

— Nitin Kr. Pandey (@nitinevergreen) October 29, 2021
#8
Wow heart touching video ❤️❤️🙏🙏 .Great Neraj sir 🙏🙏

— Hritik Pandey (@HritikP97610795) October 27, 2021
Earlier, Neeraj Chopra also expressed his unhappiness over the fact that he had to attend so many events after returning from Tokyo that his practice got affected and even he fell sick. Neeraj's win in Javelin Throw will certainly inspire many more youngsters to take up this sport as career.
Share Your Views In Comments Below