Fashion
Louis Vuitton Comes Up With Luxury Gold Studded Face Shield Worth Rs 70K, Twitter Goes Crazy
Nobody can deny the fact that the coronavirus pandemic has turned our lives upside down and it has completely changed our lifestyle. While there was a time when we used to hug our friend and relatives to make them feel the warmth of our hearts, in today's time we have to maintain a distance of 6 feet when we meet them. Wearing the mask has also become a necessity whenever we are out of the house and some people are even opting for face shields for protecting them from lethal virus.
The pandemic has destroyed the economies of many nations as majority of the businesses were closed during the lockdown and still there are lots of restrictions for the businesses to operate. But there are some who are using their creativity in order to boost their business in these critical times; for example a jeweler shop in Surat designed masks in which diamonds were embedded and they were made for marriage purposes. While these designer masks were priced around Rs. 3-4 lakhs, there was a man from Pune, Maharashtra, who wore a gold mask worth Rs. 3 lakhs.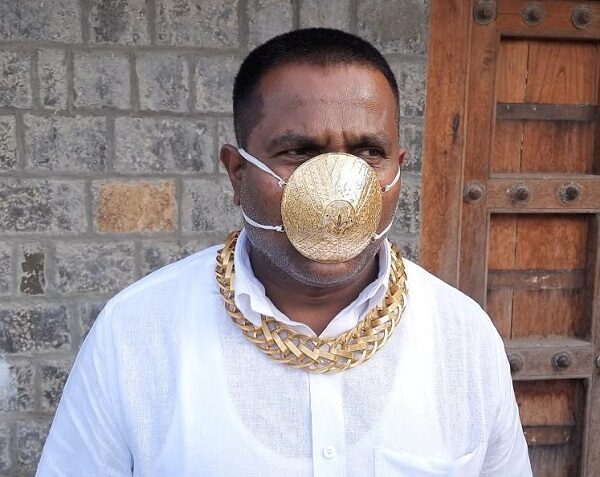 Now, Louis Vuitton which is a luxury brand has come up with a face shield which is not only protective but stylish as well. This face shield is a part of their 2021 Cruise Collection and it has gold studs on which the name of the firm is engraved. It also has a movable visor which can easily change from clear to dark under the Sun. But what has surprised everyone is the price at which the French fashion house is going to sell this face shield. It has been priced at $961 which comes to Rs. 70,610 approximately. Huge indeed!
Louis Vuitton is releasing a face shield with golden studs.

Pricing has not yet been announced, but as a high-end fashion brand, it's not likely to be cheap. https://t.co/UqSRXGfMWX pic.twitter.com/h33l7LNEJI

— CNN (@CNN) September 15, 2020
Soon, Twitterati started reacting and people slammed the company for thinking of making money even in the time of pandemic. Here are some of the selected tweets:
#1
— Black_In_Amerikka (@ejamesjohn) September 15, 2020
#2
Masks are starting to become a fashion statement. Makes no sense to me.

— Gabriel (@OG_SuperSonic) September 15, 2020
#3
Im a Louis Vuitton girl. Love my bags. I'm saddened that with what's going on in our world today that PPE has been a shortage and still is. It would be amazing if you released a face shield to the people on the front lines everyday risking there lives to save ours.

— Lydia Skordilis (@LSkordilis) September 15, 2020
#4
A morbid thought.. Will those who buy one wish for the pandemic to last much longer, so that they can continue to wear the face shield? 🤔

— Twitman – To twit, and not be a twit. (@TwitMan_Seeker) September 16, 2020
#5
So luxury cars and designer clothes aren't enough of an attempt to elevate ourselves above others. Now we accessorize with golden studded face shields which will make our war against COVID so much more effective while those paper masked people haven't a chance.

— J Taylor (@JillSilverShoes) September 15, 2020
#6
Why are luxury brands so myopic, no blind. Utter nonsense. Well there will be many hedons who will want to make a fashion statement even in a calamity. Vulgar.

— PREETI SINGH (@preetitejsingh) September 15, 2020
#7
Covid is not impressed by gold or the luxury brand. Expensive way to get infected

— TSK (@penveled) September 15, 2020
#8
They have the talent to make everything one hundred times more expensive…

— DonGiaken (@DGiaken) September 15, 2020
#9
I guess none told Louis Vuitton that face shields are not recommended.

— Stella Mar (@StellaMar1213) September 15, 2020
#10
Finally, Louis Vuitton found a way to crystallize the tears of children in cages and form them into a face shield, bravo 👏🏼🙄👎🏼

— M (@9_THIRTEEN) September 15, 2020
#11
The sad reality is it will sell and there will be competition.

— Ron (@Ron51664060) September 15, 2020
#12
Face shields basically do nothing to prevent the spread of COVID19 without a mask.

— Adam Smith (@FriedrichSmith) September 15, 2020
#13
But serves the same purpose pic.twitter.com/oNwKgHXraM

— among stella ruth (@mngstella) September 15, 2020
#14
Whats the use if it doesn't provide better protection than a normal shield/mask

— sami-ur-rehman (@drsamirehman) September 15, 2020
#15
Making money on the back of a pandemic

— Linda M (@popstarsmam_mc) September 15, 2020
What is your take on this face shield? Are you going to buying it?
Share Your Views In Comments Below