News
Lucknow Cop Gave Man A Rose For Wearing Helmet & His Wife Suspected An Affair. Read What Followed
There is no denying the fact that road accidents are a serious concern for the traffic police departments of each Indian state and what makes it more important is the fact that most people lose their lives because they don't wear helmets while riding two-wheelers.
While Bengaluru police chose to bring their own Yamraj on road to impart education about the importance of following traffic safety rules, the Uttar Pradesh police opted for gifting rose flowers to those who followed traffic rules.
Yes, you read it right! Lucknow traffic cop carried out a road safety awareness campaign last week in which people who were wearing helmets were given a flower of rose while pillion riders without helmets were given a helmet for free.
Check out some pics shared by SI Prem Shahi on Facebook:
#1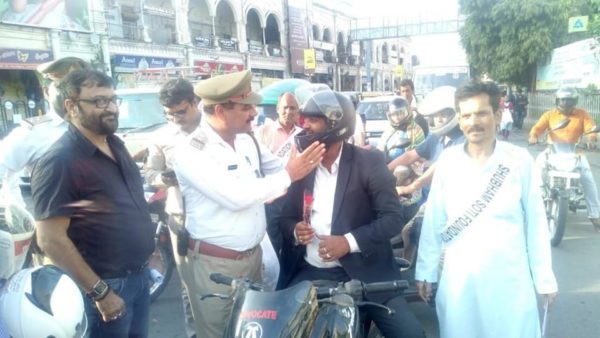 #2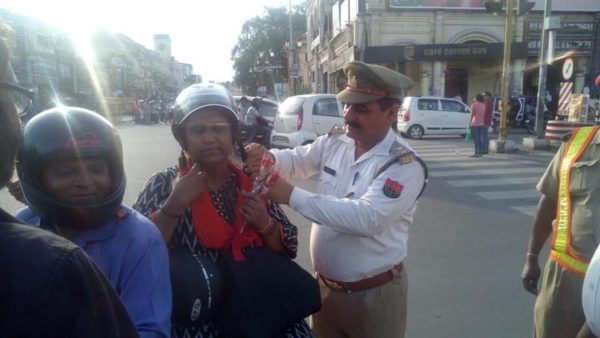 #3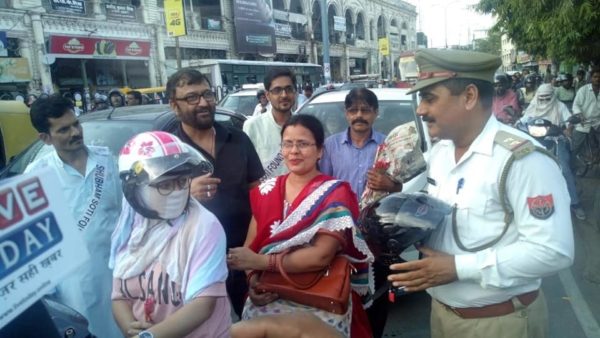 #4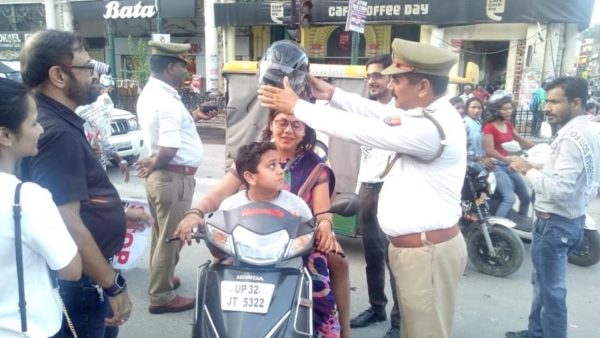 Here's his Facebook post:
We must say that it's indeed a unique gesture of saying thanks but a rose cost a man his sleep for one whole night and all the credit goes to his suspicious wife.
It so happened that when the man reached his home with the rose, his wife might have suspected of an affair and started inquiring about the flower. He tried a lot to convince her that he got this from a traffic cop but she was in no mood to believe him and they kept on quarrelling the entire night. Next day, the man met the same cop again to get the pic that was being clicked as he received the rose from the officer to show it to his wife as a proof.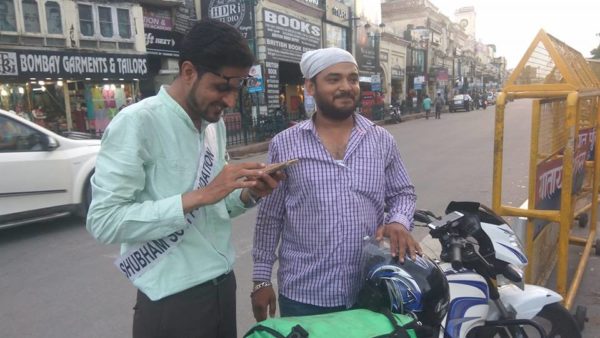 Prem Shahi wrote on Facebook:
"I met this gentleman today and he asked for photos that were clicked in yesterday's helmet awareness campaign. He was quite worried about the photographs and finally I got his picture after searching a lot.

When I asked him the reason, he said, 'I passed Sikandar Bagh intersection yesterday and you gave me a rose for wearing a helmet. When I reached home with the flower, my wife started inquiring about the rose as to from where I got it, who gave it to me and all. I kept on telling her that a traffic police officer gave it to me for wearing the helmet but she didn't convince that cops can give flowers and we fought all night long.'

Along with the yesterday's photo, I gave him one more picture that was clicked today while giving him rose. I hope their night won't be blackened tonight."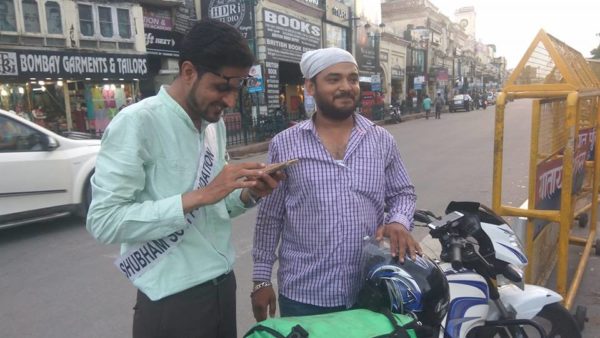 Check out his post:
UP Police PRO Rahul Srivastav took a hilarious jibe at the whole episode and came up with a solution. He took to the micro-blogging site Twitter and asked Lucknow police to give law-abiding citizens a cauliflower instead of a rose.
लखनऊ पुलिस ध्यान दें ! Cauliflower पे विचार करें –https://t.co/PrevcgL142

— RAHUL SRIVASTAV (@upcoprahul) July 27, 2018
Well, his wife must have repented yet laughed at herself after seeing the pics. What do you think?
Share Your Views In Comments Below