Bollywood & TV
Madhubala's Sister Reveals What Ended Dilip Kumar & Madhubala's Beautiful Relationship
Dilip Kumar is one of the biggest stars of Bollywood and he is also called the tragedy king because of his superb performances in the tragic love stories. Dilip Kumar worked with many actresses but his pair with Madhubala was loved a lot by audiences and they both worked in many hit movies together including the classic "Mughal-E-Azam".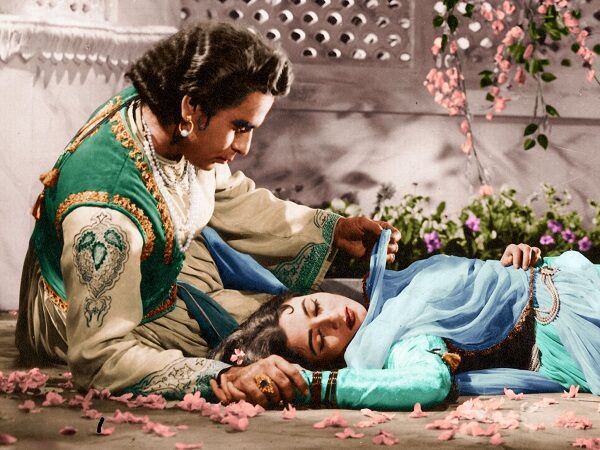 However, the reel pair of Dilip Kumar and Madhubala was in also real-live pair and they dated each other for nearly 9 years but then they parted ways. Madhubala's sister Madhur Brij Bhusan revealed the real reason behind the break-up of Dilip Kumar and Madhubala and it was shared by a Twitter handle – @greeneyedabyss.
Madhur told that her sister Madhubala was in love with Premnath earlier but religion came in between. Premnath asked Madhubala to convert but she refused and they got separated. Later Dilip Kumar came in her life when they both met while shooting for "Tarana". They worked in many movies together and dated for 9 years and even got engaged as Dilip Kumar's sister came with a chunni as per the custom.
She met Bhaijan (Dilip Kumar) on the sets of Tarana. They later worked in Sangdil, Amar and Mughal-e-Azam. It was a nine year long affair. They even got engaged. Unki apa aayee thi, chunni lekar (his sister had come with a chunni as is the custom). Bhaijan was also a Pathan.

— Yaser Khan (@greeneyedabyss) May 1, 2020
Madhur also told that Dilip Kumar was very respectful towards the kids and he used to visit their home often. However things turned ugly when during the shooting of a movie "Naya Daur", Madhubala's father didn't want her to shoot at a particular location because some time ago, a woman's clothes were torn by crowd during the shooting of another film "Jabeen Jaleel".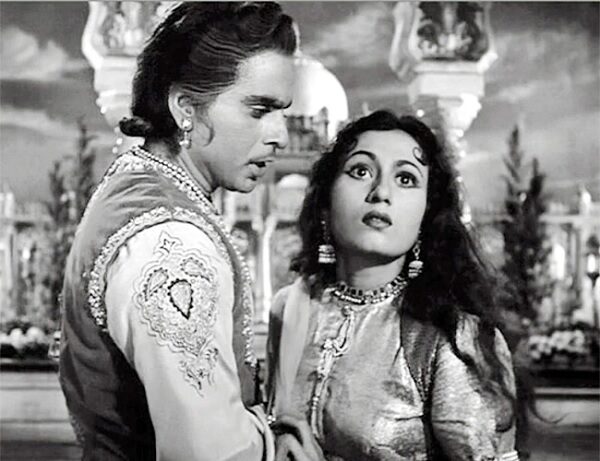 Madhubala's father had no problem in her shooting outdoors as she had shot earlier in Hyderabad, Mahabaleshwar, etc. but he was not ready for sending Madhubala for shooting at that disputed location which was near Gwalior. The matter went into the court as the makers were not ready to change the location and Dilip Kumar also supported BR Chopra who was the director of the movie and called Madhubala's father a dictator.
He was respectful towards us children and addressed us with 'aap'. The two would go for a drive or sit in the room and talk. The breakup with Dilip Kumar happened due to the court case during Naya Daur in the mid '50s. The unit was to shoot somewhere in Gwalior.

— Yaser Khan (@greeneyedabyss) May 1, 2020
Apa had shot in Mahableshwar, Hyderabad and other places before. Bhaijan called my father 'a dictator' in court and sided with the Chopras (late BR Chopra was the director). Darare padh gayee, rishtey toot gaye (relationships were broken).

— Yaser Khan (@greeneyedabyss) May 1, 2020
Madhur said that their relationship got over because ego came in between their relation. However, she also has a question for Dilip Kumar and she wants to ask that when his love was on this side, why he took other side, he might have asked to change the location or remained neutral. The relationship between Dilip Kumar and Madhubala came to an end and the latter used to cry a lot.
Apa used to cry a lot those days. They had conversations on the phone trying to patch up. He kept saying, 'Leave your father and I'll marry you'. She'd say, 'I'll marry you but just come home, say sorry and hug him'. It was zid (ego) which destroyed their love.

— Yaser Khan (@greeneyedabyss) May 1, 2020
Dilip Kumar used to ask Madhubala to leave her father and come to marry him while she used to ask him to say sorry to her father and hug him.
After that, Madhubala married actor-singer-director Kishore Kumar while Dilip Kumar tied the knot with Saira Banu who was 22 years younger to him.
Madhubala departed from this world at the age of 36 in Feb 1969, she had a hole in her heart.
It seems Dilip Kumar had a tragic love story in real life as well.
Share Your Views In Comments Below