Bollywood & TV
Man Gets Intimate With Another Woman In Front Of His Bride On Suhaagraat In Ekta Kapoor's Show
Indian television serials have now become famous for illogical concepts and sequences but what is more disturbing is the fact that some makers don't even hesitate in showing vulgar or obscene scenes despite knowing that their serials are watched mostly when everybody is at home along with children.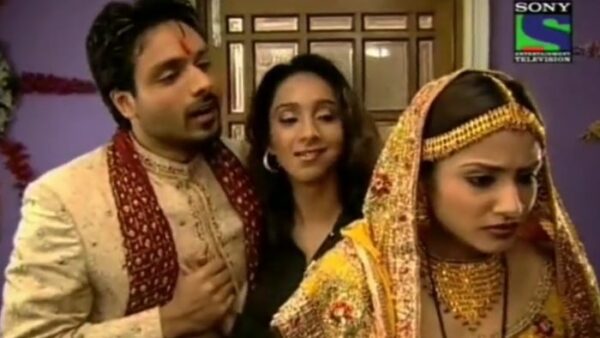 While we may slam the makers of present times for making serials with inappropriate scenes yet this is not something which is happening just in the present times. Yes, you read it right! A video clip is going viral which is from a serial that aired in 2005 and after watching this video clip, one thing is certain that TV was not that sanskari earlier as well.
The video clip is from serial "Kaisa Yeh Pyar Hai?" and in this video, the lead actor Angad (Mohammed Iqbal Khan) got married to Kripa (Neha Bamb) but in their suhaagraat, he brings another woman for getting intimate and tells Kripa that whatever will happen will happen in front of her.
Though Angad tells Kripa that she may go out of the room yet he also makes her helpless by asking her to be prepared to face her parents who are outside the room if she walks out in her suhaagraat. After that, Kripa stays in that room; Angad and the other woman get intimate and throw all their clothes at Kripa while indulging in physical pleasure with each other.
Here is the video clip:
This is what ekta did back in 2005 and we curse today's itv 😭 pic.twitter.com/8JJudk4XTY

— ♡ (@__beintehaa__) November 11, 2022
Click to watch this video directly on Twitter
This is how Twitterati reacted over the viral clip:
#1
I'm so so glad that never had a cable tv network !

— Shilpa K (@asmaanee) November 11, 2022
#2
ITV already did gehraiyaan pro max😂😂😭😭 https://t.co/0jTURZJlbr

— 🌸 (@_Nikkified) November 11, 2022
#3
It's a shame and a pity that such a big name director Conducted kind of abominable things too through television

— ✿³ ~ męśś! 🏆❤️‍🔥 (@inn_haven) November 11, 2022
#4
Ekta ki serials to torture se kam nhi 😣 shuru se yhi concept hai isk pati-patni aur wo 😤

— Sunshine (@SunshineShiny6) November 11, 2022
#5
Acid se aankhe saf karni padegi😵😵😵😵😵

— mihir d (@guddu24219231) November 11, 2022
#6
Now I know why my family wouldn't allow to watch any daily soaps because wtf is this 😭😭😭 https://t.co/KN8GJJg1Y1

— Purva (@dreamyyinn) November 11, 2022
#7
Ye Kya Bakwaas Haii Ye Ladki Sehe Kese Rehii Ye..😒😒😒😒

— 𝐒𝐇𝐑𝐄𝐄 ♕︎ॐ- #SidNaaz 𝓜𝓨 #ShonaShona 🧚🏻‍♀️ (@BB13_IAmShree) November 11, 2022
#8
I am so glad i used to watch the good old Cartoon Network back then. pic.twitter.com/ziVCG9j2xa

— MyeonMyeon (@AduChan07) November 11, 2022
#9
More wrong things had happened in the show 🤧🤧

— 🦚 Lakhi💫🦋 ✨ (@Lakhi7777) November 11, 2022
#10
Lol I used to watch this show…these 2 separated so many times in the show n got back together each time… now that I look at this clip now..it's so cringe 😬😳

— Rhea_Shanatic (@Rhea_Shanatic) November 11, 2022
#11
BRO WTF, if I was her I would've whooped both of them out of the room💀 https://t.co/EoqY72ZKX6

— 𝐏 𝐫 𝐢 𝐲 𝐚 (@xxgoldenroses) November 11, 2022
#12
I now understand why kumkum was called the most sanskari itv show back then 😂😂😂 https://t.co/MRGfEjXodd

— Dimple Dixit (@Vickataesthetic) November 11, 2022
#13
— Deadpool (@Thunder64322254) November 12, 2022
#14
Exactly same story and same scenes ekta used in Kahin toh hoga then in Kasturi 😂😂i watched all these serials and I always knew "Ab yeh bed ko aag lagayega"

— ꧁༺🅚🅞🅜🅐🅛༻꧂ (@soochiimoochii) November 12, 2022
#15
Too much disgusting 🤢🤮

— 🥂 (@itsfanofsome) November 11, 2022
What is your take on such type of shows? Do let us know.