Bollywood & TV
Man Points Out Error In Kal Ho Naa Ho's Famous Diary Scene & We Failed To Notice It Coz Of SRK
Shah Rukh Khan, the Bollywood superstar, is known as the King of romance and he has proved it many times that nobody in the Hindi film industry can play romantic roles better than him. SRK has given many superb performances in movies and one of them is 2003 released romantic-comedy drama "Kal Ho Naa Ho" which was directed by Nikhil Advani and bankrolled by Dharma Productions. The flick also starred Saif Ali Khan, Preity Zinta, Jaya Bachchan and others in important roles.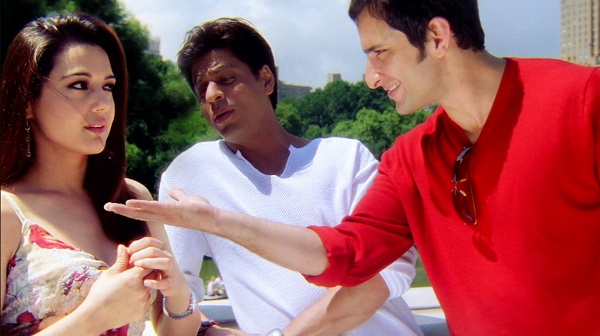 It is being said that this film was inspired from the 1971 released Rajesh Khanna and Amitabh Bachchan starrer "Anand" as "Kal Ho Naa Ho" showed Shah Rukh Khan suffering from a life-taking disease and eventually in the climax, he took his last breath but not before bringing two young souls together by making them fall in love.
In the movie, there is a scene in which SRK tries to make Preity believe that Saif loves her a lot and for this purpose, he grabs Saif's diary and starts reading despite Saif's objection. Though there is nothing written on the pages of the diary, SRK acts as if he is reading from the diary and expresses Saif's love for her.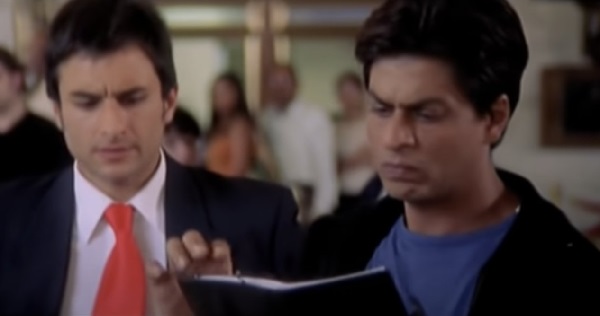 The emotional scene was loved a lot by viewers as Shah Rukh Khan was simply superb and he made everyone cry with his wonderful acting too because of which no one was able to notice a mistake. Though it was shown in the movie that Shah Rukh was standing while reading the diary but in few shots, it was seen that the diary was kept on someone's lap.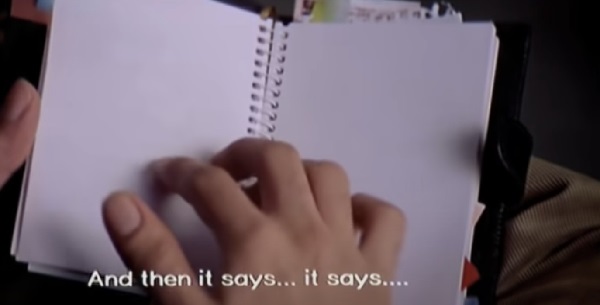 Recently, a Twitter user noticed this error and pointed it out on the micro-blogging site Twitter with the photos. He tweeted, "SRK was so good in this scene that nobody noticed the continuity error in the close up of the diary. It is kept on someone's lap even though he's clearly standing."
SRK was so good in this scene that nobody noticed the continuity error in the close up of the diary.
It is kept on someone's lap even tho he's clearly standing. pic.twitter.com/a6f1uW9K05

— Pulkit Kochar (@kocharpulkit) November 18, 2021
It was then revealed that this shot was taken from a deleted scene of the movie.
They included this shot from the deleted scene for some reason. 😂

@ 1:38https://t.co/ose2zuUZdE

— Nobita Nobi (@captainbolywood) November 18, 2021
Soon Twitterati reacted on this issue and many of them were of the opinion that SRK did this scene so brilliantly that it really didn't matter that they made a mistake.
Here are some of the selected reactions:
#1
Everyone had blurry eyes, Pulkit.

— Abhishek Baxi (@baxiabhishek) November 18, 2021
#2
Scene me error hai ye important nhi hai SRK ne accha perform kiya hai ye important hai

— thememesvilla1 (@thememesvilla1) November 18, 2021
#3
Deleted scenes.. they redid the whole sequence and to show blank diary wud hav used this cut.

— Prasanth Prabhakaran (@kppnsays) November 20, 2021
#4
Aansoo ne andhaa kar diya tha.

— Lubaina (@LubainaSarfaraz) November 18, 2021
#5
You should watch deleted scenes. Aman was sitting in the deleted scenes & somehow they included small shots from it. however we all agree that we never gave a damn coz we were all crying at that scene 😅😂

— S.H Fernando (@ShermilaFernan4) November 18, 2021
#6
Even those 2 diaries are different.. SRK holding the diary that has no spiral, while second one has spiral binding

— Ali majeed (@AlimajeedTweet) November 18, 2021
#7
The lap one edit it from the deleted scene from kal ho naa ho😃 we srkians notice it but unfortunately late😆

— YASOO (@yasmeenhussain7) November 18, 2021
Did you notice it earlier?