News
Man Tries To Mock Someone's English Grammar On LinkedIn, Gets Schooled In A Kickass Way
The English language is quite important in our country as a person needs to be proficient in English if he wants to get a good job in the corporate world. However, being proficient doesn't mean that you are entitled to make fun of those who are weak in the English grammar.
Sahil Vaidya, the co-founder of The Minimalist, made a post on LinkedIn in which he made fun of someone who made an error in the English grammar. He posted, "When someone says, "Your screen is getting stucked, I cant able to it", you wonder what to fix first: the screen or their grammar".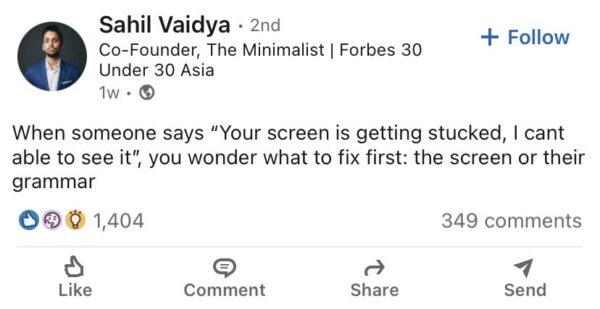 While Sahil Vaidya may have made the post just to make his friend and followers laugh, it didn't go well with Arti Gupta, the co-founder at StyleNook. She posted a long comment in which she wrote that the first thing that needed to be changed here is attitude and she also pointed out some errors in Vaidya's English.
Her reply read, "Perhaps attitude may be the first thing to fix here.
Since we're on the topic of grammar, here are some minor observations – a few things you may want to fix. The cant is missing an apostrophe – should be can't. The comma needs to be before closing quotes, not after. And Co-Founder is incorrect grammar. Capitalization after hyphenation is a cardinal sin.
Jokes apart – it's easy to poke fun at other people's grammar. I would understand if this were a remark about a marketing tagline, but it is a jibe at someone trying to do their job and communicating clearly. As long as communication is lucid, in our time and age of a diverse and global economy, one is better off leaving judgment at the door.
Also, you're missing a full stop in your statement. Just saying'!"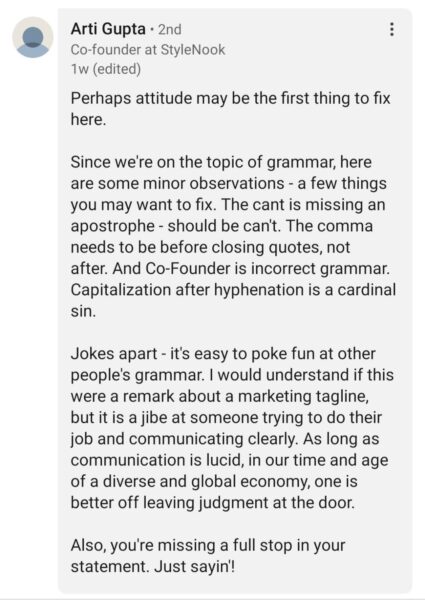 A Twitter user shared the screenshot of the post on the micro-blogging site Twitter with the caption, "This guy got schooled on Linkedin and how!!"
This guy got schooled on Linkedin and how!! pic.twitter.com/G57tRYBO68

— Sritika Dhar ♌ (@Sritika_) July 19, 2021
The tweet has gone viral and it has been liked by more than 17k users while around 2.5K people have retweeted it. Soon Twitterati started expressing their opinions in this regard and while some trolled Sahil Vaidya, few people pointed out that Arti Gupta is acting a little smart.
Here are some selected reactions:
#1
The full answer, sahi kiya is ladki ne pic.twitter.com/Y4L0C1cuSl

— lemasolai (@lemasolai) July 20, 2021
#2
Looks like in his haste to be in the 30 under 30, he skipped some Grammar classes himself!

— Trupz (@trupz) July 20, 2021
#3
All fair and well, I do not agree with the comma having to be before the quotation marks end. In India, we've been taught British english, and there is no such rule there. In fact, you put the commas and periods after the quotation marks unless it is part of the sentence within.

— Akshay A Pande (@akshaay_pande) July 20, 2021
#4
Getting called out at LinkedIn is the worst thing that can happen to anyone😂

— m (@mauktikkk) July 20, 2021
#5
Chalo, Linkedin kisi kaam ka nhi h to atleast grammar hi seekh lenge thoda.

— Tamseel Aquib | تمسیل عاقب (@tamseel21) July 20, 2021
#6
He got what he deserved, jokes apart it's so easy for some people to poke or criticize others without checking themselves out first . And as a matter of fact I dont see criticizing others as fun rather correct them .

— Opeyemi 5( The popular nurse) (@Opeyemi510) July 20, 2021
#7
Haha. He happens to be a friend's friend, trying too hard to be in the 30 under 30 – lessons learnt.

— Sunanda De (@sunandade23) July 20, 2021
#8
more grammar mistakes than pointed out by Arti Gupta…
screen is getting stuck… not stucked
I'm unable to see it… not cant able

— AamNagrik🇮🇳 (@batiyana) July 20, 2021
#9
Thus incident taught me that for coming into Forbes 30 under 30 I don't need a good grammar. 🌝😂

— Sid Joshi (@dr34mb0y_sid) July 20, 2021
#10
— Hasan Atif (@itsatefinegypt) July 20, 2021
#11
Karara jawab 😎😂😂

— Apocalypse (@Mizzling_Gaze) July 20, 2021
#12
— Rajarshi Mukherjee (@CEPE_IV) July 20, 2021
#13
🤣😂🤣🤣 pic.twitter.com/CIqaBw52SZ

— amitadventgupta (@amitadventgupta) July 20, 2021
#14
Iski aarti hi utaar di madam ne

— Priyank gupta (@priyankgupta285) July 21, 2021
#15
I like it when uc priviliged boys get schooled publicly and professionally by women.

— Jyoti Tathgur (@JyotiTathgur) July 20, 2021
What is your take in this regard? Do let us know.