News
Man Was Buying Clothes For His Girlfriend, Here's What Happened When His Wife Got To Know
Marriage is said to be an institution which bring not just two individuals but two families together. Loyalty, love, trust and mutual respect are the most important factors which are needed to make this relationship successful. There are times when people face problems in their married lives and the best solution to such problems is communicating with each other, however sometimes things take an ugly turn and issues related to their marriage become public.
Something of this sort happened in the Indian city of Meerut, Uttar Pradesh where people saw a couple abusing and fighting with each other as the husband was roaming in market with his girlfriend.
As per the reports, the woman identified as Ayesha caught her husband Adnan in the market with another woman and she got so angry that she started abusing and thrashing her husband then and there. The cops were called and they took the couple to the police station where they both leveled allegations against each other. While Ayesha alleges that she wants to sent Adnan to prison because he wants to divorce her in an illegal manner, Adnan alleges that their divorce is under process and Ayesha had threatened him that she will take his life when she saw him with one of his female friends.
Ayesha and Adnan got married in 2020 but their relationship was never on good terms because of which Adnan left the home. When Ayesha got the information that her husband was in market with another woman, she decided to confront him. Adnan was in the showroom with another woman, Ayesha waited outside for some time after which she called her hubby outside and then they both started fighting.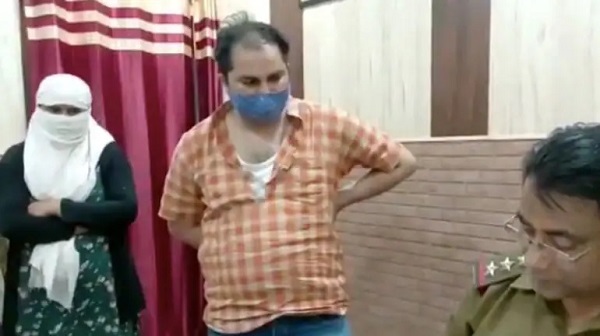 According to a police official, their divorce is under process and legal action will be taken against them for fighting in the market.
Share Your Views In Comments Below