Humour
Matrimonial Ad Asks Software Engineers To Stay Away, Sparks Hilarious Reactions On Twitter
Arrange marriages are quite a big affair in India because sometimes not just relatives but neighbours and family friends are also involved in finding bride/groom for the potential candidate. However, things have changed a little bit as nowadays many people prefer to give advertisements in newspapers and also like to search for life partner on matrimonial sites. While matrimonial sites give a number of options to seekers to refine their search, there is a limit of words in matrimonial sites and people have to specify their choices in selected words.
There was a time when software engineers used to be the first choice of girls in regard to marriage as they not only earn good but there used to be a good chance of going overseas as well. However if we go by a matrimonial ad given in a newspaper, it seems that the times have changed and software engineers are not that much in demand these days.
A Twitter user has posted a screenshot of a matrimonial ad in which a fair MBA beautiful girl from the family business background is searching for a groom who should be either IAS/IPS, working Doctor (PG) or Industrialist/Businessman from the same caste; however, there is a line for software engineers too as per which they are requested not to call.
Check out the ad: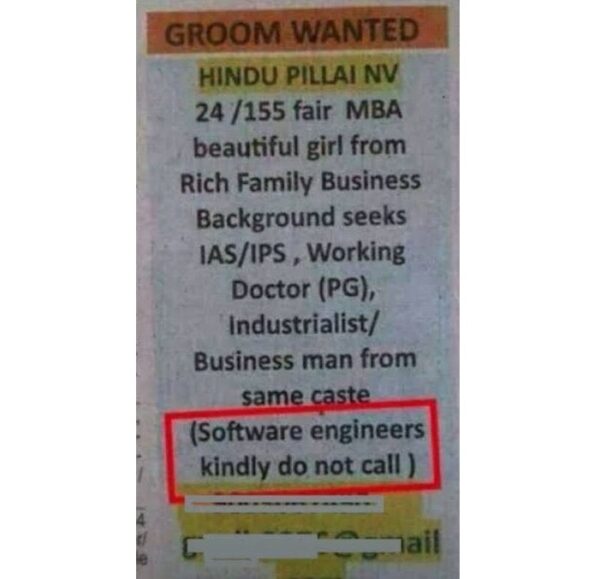 The Twitter user posted the screenshot of the ad with the caption, "Future of IT does not look so sound."
Future of IT does not look so sound. pic.twitter.com/YwCsiMbGq2

— Samir Arora (@Iamsamirarora) September 16, 2022
The tweet soon went viral for obvious reasons and this is how people reacted:
#1
Kya itne bure hai hum Engineers

— Shariq Zahid (@Knuckles1O1) September 16, 2022
#2
future cannot be good without IT

— Parag Pai (@equitysoul) September 16, 2022
#3
Next-gen Software engineers are doomed.

— Normal is Boring (@anuchat73) September 16, 2022
#4
Cringe. They should ban this kind of stuff.

— Pranav Grover (@PranavGrover96) September 16, 2022
#5
Look like that girls father missed the entire IT rally and now taking frustration out on IT peeps

— Nse.whizz (@NseWhizz) September 16, 2022
#6
haha…sir this is a more powerful indicator than all the earning calls combined….

— ramanjot singh (@ramanjot78) September 16, 2022
#7
Don't worry..Engineers don't rely on some newspaper ad. They find everything on their own.

— Ajay sharma (@Ajaysha17977479) September 16, 2022
#8
गजब बेइज्जती है सॉफ्टवेयर इंजीनियर की

— Satya Prakash ⚛️ (@sa8ypr) September 16, 2022
#9
Rich class looking for same caste, and those corporate, elites, educated people come and say where is Casteism !!

— Rajeev R (@RajeevNtweet) September 16, 2022
#10
Looking at the ad, the whole country's future doesn't look so sound.

— Ashutosh Vishwakarma (@aashutoshaawara) September 16, 2022
#11
This has been the case for more than a decade now…but news timing with Down Trend adds to fear…koi share nhi khareed rha..aur ab ladki bhi ni de rha..Bechara Software Engineer aur uske Maa Baap 🙁

— Hira (@draj1180) September 16, 2022
#12
I don't know what they are upto, but one thing I can say marriage life will be shit.
It's like checking balance sheet after the each quarter.

— Dholu (@11234578) September 16, 2022
#13
Mota maati bride is lookin for a mota party..engrs don't make that kind of money as IAS/IPS, PG Doc or abusiness guy

— MVVCapital (@MVVCaptal) September 16, 2022
#14
I think her choice is clear She wants a 'cash' rich family. Must have lot of unaccounted cash

— 𝗠𝗮𝗸𝗮𝗿𝗮𝗻𝗱 𝗞𝗵𝗮𝗻𝗱𝗲𝗸𝗮𝗿 (@MakKhandekar) September 16, 2022
If you are a software engineer, what is your reaction?
Share Your Views In Comments Below