Sports
Mayanti Langer Trolls Sanjay Manjrekar With Ravindra Jadeja's Reference, Video Goes Viral
The Indian cricketer Ravindra Jadeja is certainly one of the finest all-rounders of all times and many times he has played match-winning knocks for the country. Though he rarely makes news for reasons other than cricket yet in 2019, he made headlines after he gave a perfect response to the former Indian cricketer Sanjay Manjrekar on the latter's "bits and pieces player" comment.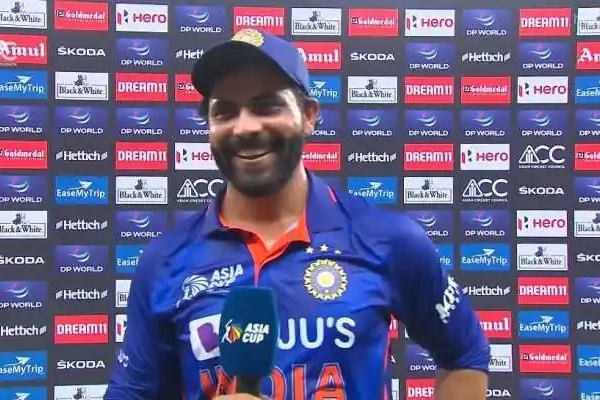 During the ICC World Cup 2019, Sanjay Manjrekar tweeted, "I am not a big fan of bits and pieces players, which Jadeja is at this point of his career in 50-over cricket. In Test matches, he is a pure bowler. But in 50-over cricket, I would rather have a batsman and a spinner."
To this, Ravindra Jadeja responded with, "Still I have played twice the number of matches you have played and I am still playing. Learn to respect people who have achieved. I have heard enough of your verbal diarrhoea. @sanjaymanjrekar"
Since then, they interacted on Twitter few times but that was in good spirit but they never came face to face. However on Sunday after the match between India and Pakistan in the Asia Cup, Sanjay Manjrekar who is a part of the commentary panel is given the responsibility of interviewing Ravindra Jadeja. Even before asking questions related to the match, Manjrekar asks Jadeja whether he is okay to talk to him and the left-handed all-rounder responds by saying that he is fine and has no problem. Both the cricketers laugh and it seems that now they have buried the hatchet.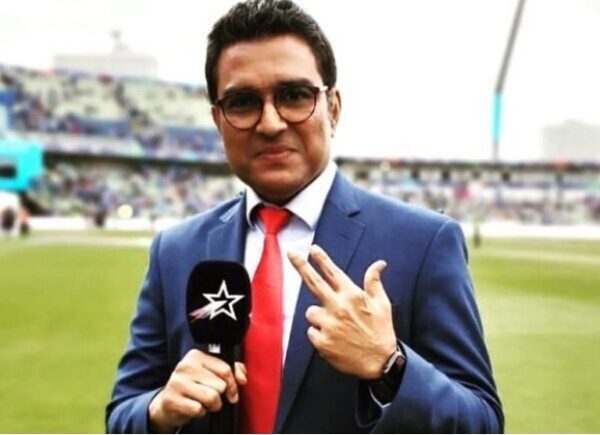 Recently, the sports journalist Mayanti Langer took a subtle dig at Sanjay Manjrekar in relation to Ravindra Jadeja and even the former Indian cricketer had to admit that it was a good one.
On Tuesday just ahead of the Afghanistan-Bangladesh match, former Kiwi cricketer Scott Styris, Sanjay Manjrekar and Mayanti Langer were talking about the slow over-rate as both India and Pakistan were penalized for the same. As per the new ICC rules, both the teams had place an extra fielder inside the 30 yard circle towards the end of the innings.
Scott Styris states that many spinners don't like to bowl in the death overs, even Rashid Khan who is a great spinner doesn't like to do that and in such a scenario, they have one less fielder to stop the shots because of which they will need to change their entire strategy in regard to the line and length that the bowler wants to bowl. The former Kiwi cricketer further says that nowadays teams like to protect one side of the boundary rather than having splits of two on the either side. He adds that in the present times, such types of adjustments have to be made because of which they make their spinner bowl earlier.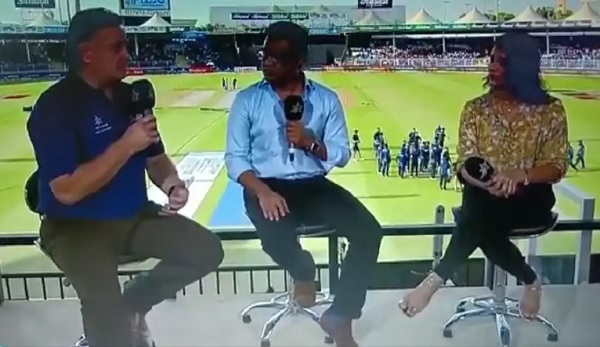 In response, Sanjay Manjrekar says that he has a suggestion for the team which has to deal with slow over-rate, adding that the simple solution is to bowl their overs quicker.
It is then that Mayanti comes up with a hilarious response as she tells Manjrekar that not everyone is Ravindra Jadeja and then pokes fun at him saying she wanted to do it. Sanjay Manjrekar got surprised in the beginning but then he replied, "good one".
Here is the video:
— Guess Karo (@KuchNahiUkhada) August 31, 2022
Click to watch this video directly on Twitter
There is no denying the fact that Ravindra Jadeja is known for bowling his overs quickly and he may also play an important role as far as slow over-rate is concerned. What do you say?
Share Your Views In Comments Below