News
Meet Real Life Prem Of Vivah Movie Who Married Bride In Hospital Post Her Accident On Wedding Day
Marriage is undoubtedly a sacred institution and before entering this phase, the couple should ensure that they are loyal and honest towards each other. Moreover, they should not only love each other but have trust and respect for one another as well since these basic elements strengthen the relationship. While there are many who are not able to live up to the expectations of their partners, a groom from Prayagraj, UP, has set a great example for the future generations.
On the day of marriage, the bride whose name is Aarti met an accident as she fell from the terrace and her spine was injured. In normal circumstances, the marriage would have been called off and the groom and his family would have waited for the bride to recover completely. There is also a different side that they would have ensured the bride is physically 100 percent fit or they would have cancelled the marriage in case of her getting handicapped.
Prayagraj: Couple tied knot hours after bride injured her back in an accident rendering herself bedridden.

Awdhesh, the groom says, "Whatever happened was destiny."

Aarti says, "I was apprehensive but my husband told me he'll be there for me even if I don't recover." (17.12.20) pic.twitter.com/cRAhBOSZnW

— ANI UP (@ANINewsUP) December 17, 2020
However here the groom whose name is Awdhesh has a heart of gold and he took the permission from the hospital authorities to get married to Aarti in presence of their families.
Dr. Sachin Singh who treated the bride told that Aarti has minor injury in her spine and as of now, she is not able to move her legs. He added that as Aarti was about to get married to Awdhesh, we allowed them to carry out the rituals in the hospital. The bride Aarti also talked to the news agency and told that in the beginning, she was doubtful but her husband convinced her and promised her that he would be with her even if she doesn't recover.
Social media users are in awe of Awdhesh who is of the opinion that whatever happened was destiny. People also remembered the scene from Shahid Kapoor and Amrita Rao starrer "Vivah" in which Amrita's character Poonam got burnt on the wedding day but Shahid's character Prem still married her in the hospital.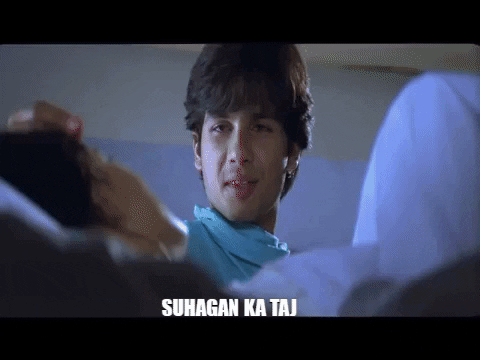 Here are some tweets in which the netizens have showered love and affection on Awdhesh and prayed for the speedy recovery of Aarti:
#1
Greatest sacrifice and commitment by Groom. God bless the Couple. All mighty show your MIGHT and ensure that the Bride recovers fully. I pray with all sincerity.

— S K Bhatnagar (@Tigerofhills) December 18, 2020
#2
Vivah in real life @shahidkapoor sir @AmritaRao mam 🙏

— Kartik Jain (@KartikJ65461182) December 17, 2020
#3
This is the real man who love unconditionally. No one is perfect, but if your intentions are clear towards relationship then everything will be perfect.

— Vandana(Ayurveda Doctor) (@vandanajoshi01) December 19, 2020
#4
May God bless her with a Magical Recovery and A Blissful Life to You Both 🙏 Jai Bholenath

— ShivaYogini🕉️ (@AlienOnEarth108) December 17, 2020
#5
Vivah film ki yaad aagyi…….

— Yash (@yash_12347890) December 18, 2020
#6
Restores my faith in love and good people ❤️☺️

— Shυchι (@doorva207) December 18, 2020
#7
That's so humane of him. Rare quality to see. Hats off to his parents for instilling such values

— LG23India (@LG23India) December 17, 2020
#8
Congratulations .. proud on you Awadesh ji. Wish speedy recovery of your wife. God bless you both 🙏💖💖

— विमलेश अग्निहोत्री (@VIMALESHAGNIHOT) December 18, 2020
#9
Vivah Wala Shahid is this guy. Salute man 🙂

— Heimyname's💝Rishabh (@Rishabhprakash4) December 18, 2020
#10
aye haaye.. sooo cute story like straight outta sooraj barjatya film.. god bless the couple and may she recover soon.. ❣️ pic.twitter.com/j3EU0VoPCR

— ️️ ️️️️️️️️️ ️️ ️️ ️️️️ ️️️️️️️️ ️️ ️️ ️️️️ ️️️️️ (@lmaololhahahaha) December 18, 2020
#11
— Kalki🕉️ (@Kalki19608556) December 18, 2020
#12
Befitting example of commitment and humanity. May this lead as an example for the women and men of this country. 😊😊

— Abadan Mohapatra 🇮🇳 (@AbadanMohapatra) December 18, 2020
#13
Turu lobe 💗 pic.twitter.com/FvejbRkUQS

— Jaydip (@B_21_Raider) December 18, 2020
#14
Ideal Men.
This is what marriage should mean to everyone. " Come what may".

— Rhombus Kumar (@Daridrra) December 18, 2020
#15
It's people like him that will bring difference to the world and society. A lesson worth learning from the man of golden heart and broad mind.

— Fighter (@mayankmilind811) December 17, 2020
This is certainly one of the best examples of true love which is pretty rare in the present era! We wish the couple a happy and healthy married life!
Share Your Views In Comments Below