News
Meet TN Farmer Who Became A Cop For Completing Education, Did PhD & Is A Professor Now
Education is certainly one of the most important factors on which success of a person depends and if an individual is determined and dedicated towards achieving his goal, nothing can stop him as they say "where there's a will, there's a way". If you don't believe in the above statement, you definitely need to know about 34 years old Aravind Perumal who is from Tamil Nadu.
Aravind Perumal's father is a farmer and their financial situation was not good because of which during his studies (school, graduation and post-graduation), Aravind kept on working in the fields for supporting his education. Though he wanted to study further after completing his post-graduation, due to financial problems, he took the decision of giving exams of Tamil Nadu Public Service Commission (TNPSC). Aravind cleared the papers and at the age of 23, he joined Tamil Nadu Police as a constable and for 11 years, he worked as a police officer.
Aravind stated that the wished to pursue PhD course but wasn't able to do so because of the monetary constraints. However, he never gave up the dream of getting a doctorate degree so when he was able to bear the expenditure of his education, he gave entrance examination for PhD course at Manonmaniam Sundaranar University (MSU) and cleared it. Aravind Perumal requested the then Superintendent of Police, R. Chinnaswamy (currently serving as DIG of Tamil Nadu coastal police) to grant his permission to pursue part-time PhD course which R. Chinnaswamy happily approved.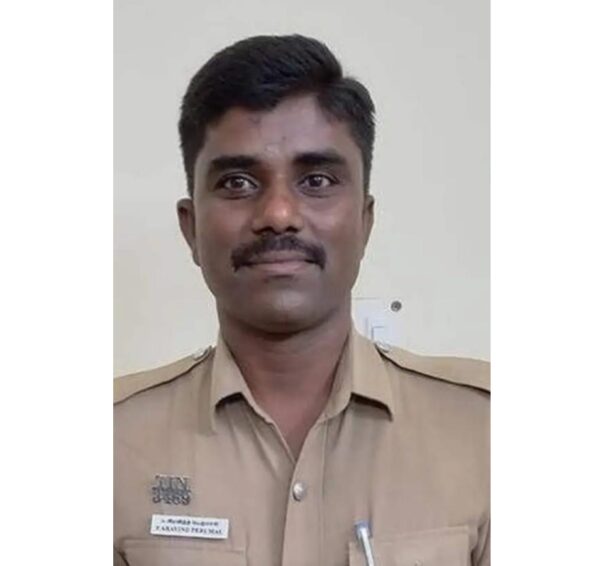 Aravind Perumal chose "Economic study on wage level in the informal sector" as his topic for thesis and in the year 2019, he completed his PhD. He got his degree in the year 2021 after which he was relieved from the job of police officer and now he will be working as a professor in ST Hindu College, Nagercoil.
Aravind Perumal has proved that if a person is totally devoted towards his goal, he will certainly achieve it; it may get a little late but the dreams get fulfilled for sure.
Share Your Views In Comments Below