News
Mia Khalifa Said She Earned Just $12000 In Her Career As An Adult Actress. Twitter Can't Believe It
Mia Khalifa is quite a popular celebrity, thanks to her short stint as an adult movie star. Despite the fact that she has worked as an adult film actress just for three months, she is one of the most famous adult actresses of all times.
It is a common perception that these actors earn quite a huge amount of money but what Mia has revealed in an interview can shatter the belief of many. Mia says that people think that she has earned millions by working in the adult industry but the truth is that she has earned only $12,000 (Rs 8.5 lakh) in three months. She also said that finding a normal job after quitting the adult industry was scary.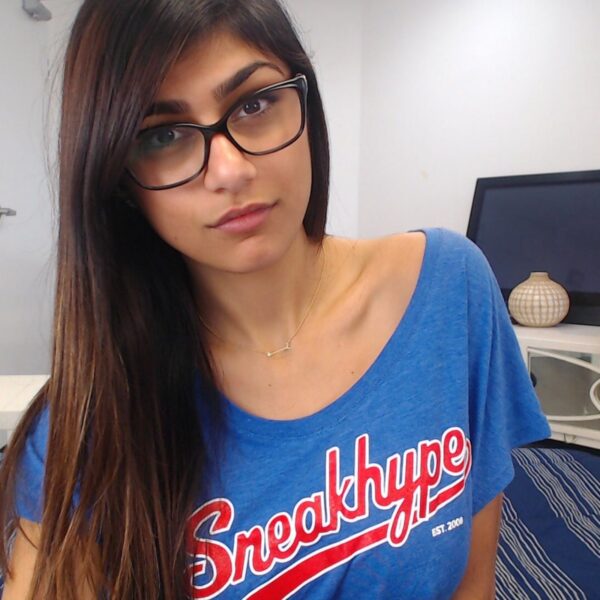 She clarified that she was never promised millions and she herself never expected as well . She is also surprised by the fact that even after leaving the industry 5 years ago, she is still ranked as one of the favourites.
Check out the tweets of Mia Khalifa:
People think I'm racking in millions from porn. Completely untrue. I made a TOTAL of around $12,000 in the industry and never saw a penny again after that. Difficulty finding a normal job after quitting porn was… scary. Full interview here: https://t.co/xHK7SmhfrY pic.twitter.com/fwJlyzHznq

— Mia K. (@miakhalifa) August 12, 2019
To clarify, I was never promised "millions", nor do I expect it. I'm just clarifying common misconceptions about me, and in turn, about the industry.

— Mia K. (@miakhalifa) August 12, 2019
I was involved in porn so briefly, but my actions spread like wildfire, and I continue to be ranked (truly baffles me) 5 years after leaving the industry. This is why people think I still perform.

— Mia K. (@miakhalifa) August 12, 2019
Presently, she works as a sports journalist for a show but her revelation about her earnings from the adult industry has started a debate on Twitter as people are not able to believe it.
This is how Twitter reacted over Mia's revelation:
#1
Mia Khalifa: I've only made a total of 12k in the industry.

All the mandem she gave uck to: pic.twitter.com/NeYgU0FXNS

— ⏳ (@BlessedMoMo17) August 13, 2019
#2
So Mia Khalifa violated the hijab and got banned from her home country for $12,000? pic.twitter.com/QJuQ0OcamY

— #Ö1🎒 (@cosyo_) August 13, 2019
#3
Mia Khalifa was so proud when she swerved Drake but she only got $12000 from her videos??? 😭 pic.twitter.com/ztVe5oteiV

— Papa Mobimba 🇨🇩🇿🇦 (@futurebbydzaddy) August 13, 2019
#4
Mia Khalifa: "I only made $12,000 doing porn"

Us: pic.twitter.com/L2GMtJex1j

— Dank Sinatra (@BigTS_73) August 13, 2019
#5
Mia Khalifa ONLY made 12k off ALL those videos pic.twitter.com/zZxxYGL8Zt

— UNRULY DRACO 🎚 (@DRACOfrm29) August 13, 2019
#6
Mia Khalifa: Can i have my paycheck?

Her Agent: pic.twitter.com/0ik8qmY5tE

— s7_ (@SYFUL93_) August 12, 2019
#7
mia khalifa only made 12 racks her whole career? pic.twitter.com/4ZbB6ViufJ

— a nigga, that is all (@whoreboyjaye) August 12, 2019
#8
Mia Khalifa after takin bbc all weekend long pic.twitter.com/gUgPpr970f

— LaQuinton (@laquinton) August 12, 2019
#9
mia khalifa: I only made 12 racks in my whole career

Up & coming pornstars: pic.twitter.com/30uopUYXZA

— Cap cappidy cap cap (@A_A_Barrow) August 13, 2019
#10
Me trying to figure out Mia Khalifa only made 12K. pic.twitter.com/wPhhlnc2Xy

— Cameron Grant (@camerongrant101) August 12, 2019
#11
Mia Khalifa only made 12,000 American dollars in her years in porn?!? pic.twitter.com/Ze4WkXmhfk

— OG Slim  (@Jody_McFly) August 12, 2019
#12
Me waking up to see Mia Khalifa talking about how she only made $12k from doing porn pic.twitter.com/6cv58Zp2vQ

— IG: @fuckrifle (@fuckrifle) August 13, 2019
#13
Mia Khalifa: "I made 12K my whole career"

Us: pic.twitter.com/Vbl3UbHMb7

— 💘VonnyOnMars💘 (@VonnyOnMars) August 13, 2019
#14
Mia Khalifa only made $12000 after taking all that bbc up the ass? pic.twitter.com/Zx4NvWMASY

— Little Green (@GalaxyOpalShai) August 12, 2019
Mia was one of the most watched adult stars but she left the industry after she started getting intimidation for working in a movie in which she wore a hijab that is wore by Muslim women.
When she was asked as to what made her join the industry, she said that she didn't know what she was thinking, adding that she was just 21 and might be dumb as well. But when she started getting popular, she realised that this is not what she wanted to do, so she quit the industry.
What is your take on Mia's interview?
Share Your Views In Comments Below