Entertainment
Mia Shared A Bathroom Selfie! People Trolled Her With Funny Comments
If you are confused with the definition of hotness, you must see the pics and videos of Mia Khalifa. If you are already a crazy fan of hers, you would know how she melts your hearts with her posts.
Every now and then, Mia teases her fans with her sizzling hot tweets; sometimes she trolls NBA stars while sometime she trolls marketing directors. Everything that she shares is received with love and excitement.
In fact, her fans always want to see something new coming from her; it's obvious, guys just can't get enough of Mia. They want more and more, LOL. This time, the superstar has shared a pic from a flight washroom and to our disbelief, it's "Decent". God knows what made her share such a different pic; if you are her follower, you might be knowing how her posts usually are.
Check out her latest pic;
https://t.co/GLwBpjHv2F pic.twitter.com/zKFnidciG5

— Mia K. (@miakhalifa) August 14, 2017
Here's her pic in case it's not loading;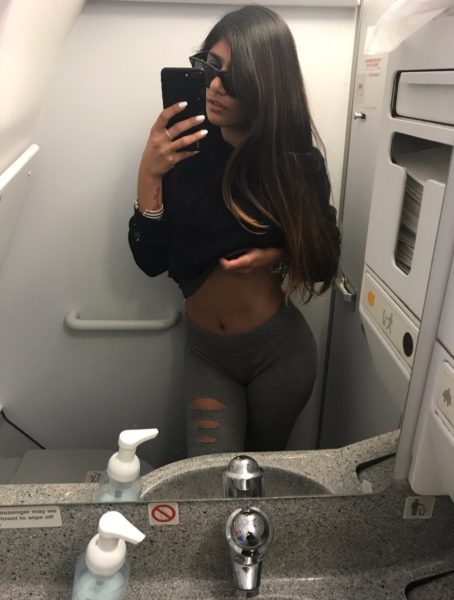 As soon as she shared this selfie, people went crazy and came up with funniest comments. Check them out;
Your pants are giving Wi-Fi!
Your pants out here giving you wifi? pic.twitter.com/eqR0b5a837

— Keith 'Trident' Pecora (@Iam_Trident) August 14, 2017
I would fight a bear!
I swear I would fight a grizzly bear for you

— donald seufzer (@DonaldSeufzer) August 14, 2017
Soap?
https://twitter.com/Rupert_Pupkin23/status/897206518625558530
Just imagine!
Imagine boarding and finding this Vixen in the seat next to you. YES PLEASE..!!!!

— CryForHelp (@CryForHelp) August 14, 2017
Before shitting or after shitting?
Did you take this before you took a shit or after?

— Turner Maney (@turnermaney) August 14, 2017
This should not be allowed!
This should not be allowed at 20,000 feet!

— Peter Nock (@Nockynocknock) August 15, 2017
Clothes on!
Still she's got clothes on🤦🏻‍♂️

— Mikethehype (@mikemarrero43) August 14, 2017
What do you have to say about Mia's new pic?
Share Your Views In Comments Below