Politics
Modi Receives First Philip Kotler Award. Rahul Gandhi Mocked Him & Netizens Can't Stop Laughing.
On Monday, the World Marketing Summit India (WMS), awarded our Prime Minister Narandra Modi with an award call Philip Kotler Presidential Award.
But, surprisingly this award holds no previous record of existence and explanations are avoided by saying that it is a confidential award. Even when the news broke out there was no jury members or even organisations to explain the nature of it.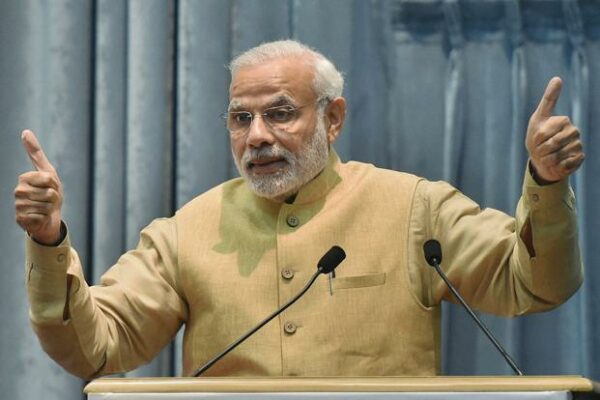 Through social media we can even see BJP leaders such as Chief Minister of Manipur N. Biren Singh, Union Ministers Smriti Irani and Piyush Goyal and even former ministers like Vasundhara Raje, Raman Singh congratulating him.
In Goyal's list of tweets, we can see the individual countries who bestowed the prestigious awards on five people for their achievement, whereas this newly occurring award holds no such credibility.
Sure the nation wants to know why and how this award was selected to be awarded. See what twitter has to say.
1.
This Kotler award is such s self goal by Modi…signs of huge desperation https://t.co/Ax8e7FjJc4

— Clean Politics (@whymeumesh) January 16, 2019
2.
Hmm… Philip Kotler endorses PM Modi for being "selected" for the Kotler Presidential Award. Jagdish Sheth who presented the award said there was "no jury" & it was decided by Kotler himself. What kind of "selection" is this? 🤔🤔 pic.twitter.com/Vkj9ia439W

— SamSays (@samjawed65) January 15, 2019
3.
Don't know if Modi got anything from Philip Kotler Award but Kotler has gained much.

1. From 0 – 5 RTs, he is crossing 1000 RTs

2. He has learnt the technique of writing a thread. After writing individual tweets apparently somebody taught him.

This is #AccidentalMarketing 😂

— Bal Kotler بال کوٹلر (@PresidentVerde) January 15, 2019
4.
Fail to see the fuss over the @kotl award to PM @narendramodi .. Kotler is a global guru in marketing and Mr Modi is a master in political marketing. Surely a well deserved award?

— Rajdeep Sardesai (@sardesairajdeep) January 15, 2019
5.
Narendra Modi with the guy who introduced the first ever Philip Kotler award. pic.twitter.com/2vU0js31rK

— Supariman™ (@SupariMan_) January 15, 2019
6.
So @narendramodi wins a 'first-ever' award and his ministers are quick to jump in to say it's a proud moment for Indians. But what is this award? The person who gave it refuses to share details. Says it's a 'very confidential award.'
https://t.co/hVpJ9MQ4qV

— Rohini Singh (@rohini_sgh) January 15, 2019
7.
After Modi won the 1st ever Philip Kotler presidential award , another proud moment for India as Arnab Goswami is likely to win the first ever JBL Speaker loudmouth award.

— Roshan Rai (@RoshanKrRai) January 15, 2019
8.
Back in school days, whenever I used to perform bad, I used to create a story and tell my parents that teacher gave me an award for some co-curricular activity.

In another news, Modi ji has received first ever Philip Kotler Presidential Award by an unknown jury.

— Jet Lee(Vasooli Bhai) (@Vishj05) January 15, 2019
You surely cannot miss what Rahul Gandhi has to say on this too.
I want to congratulate our PM, on winning the world famous "Kotler Presidential Award"!

In fact it's so famous it has no jury, has never been given out before & is backed by an unheard of Aligarh company.

Event Partners: Patanjali & Republic TV 🙂https://t.co/449Vk9Ybmz

— Rahul Gandhi (@RahulGandhi) January 15, 2019
But, amid all the speculations about this award, Philip Kotler, the world famous marketing tycoon himself congratulated Prime Minister Narendra Modi on his achievement.
He even clarified that PM Modi is the most deserving and to honor his selfless service, he asked his Marketing Professor Jagdish Sheth to present the award on his behalf.
Check out the tweets below.
1.
I was involved in a misunderstanding with the Indian media. Confusion over the award presented to India's PM @narendramodi by my friend Jag Sheth and The World Marketing Summit. Here's my @marketingjour interview to clear up the confusion: https://t.co/rHmnv86QU2

— Philip Kotler (@kotl) January 15, 2019
2.
2/2 @narendramodi's efforts have resulted in extraordinary economic, social and technological advances in India. His winning the first award raises the bar for future recipients.

— Philip Kotler (@kotl) January 15, 2019
3.
I congratulate PM @narendramodi for being conferred the first ever Philip Kotler Presidential Award. He has been selected for his outstanding leadership & selfless service towards India, combined with his tireless energy. (1/2)

— Philip Kotler (@kotl) January 15, 2019
So, what is your opinion regarding this?
Share Your Views In Comments Below