Sports
Mohammed Shami Wearing A Towel On The Field In WTC Final Sparks Memes Fest On Twitter
The rain-affected final of the World Test Championship is into its last day of the match and the Indian batsmen are struggling at the moment as in the second innings, India has lost 5 wickets at the score of 134. Though India has taken a lead of 102 runs over New Zealand, it doesn't seem to be enough especially because the Kiwis have a better understanding of the English conditions as they have already played two-match test series against England before the WTC final.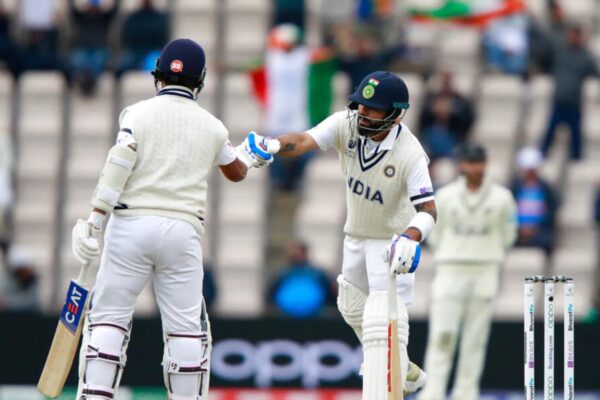 It won't be wrong to say that the bowlers of both the teams have performed better than the batsmen as in the first innings of India, the Kiwi bowlers got them all out at just 217 with Kyle Jamieson taking a fifer for 31 runs. The Indian bowlers struggled initially in the first innings of New Zealand but they soon made a comeback and restricted the Kiwis at 249. Mohammad Shami was the pick of bowlers for India as he bowled superbly and took 4 wickets.
While Mohammad Shami was already getting praised on the social media networks because of good performance, he started trending for one more reason which was quite unusual as well as funny.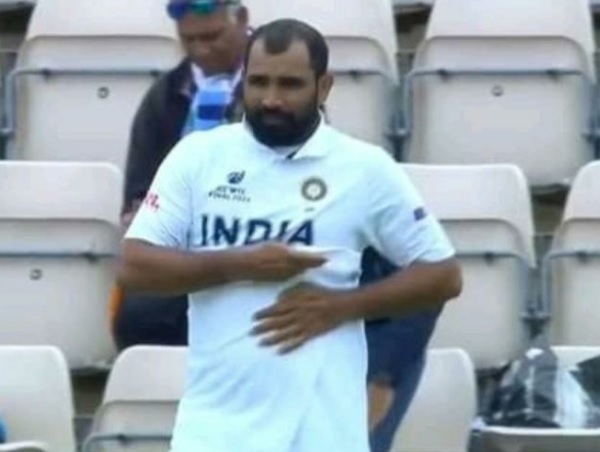 During the match, Mohammad Shami was seen wrapping himself with a towel and this led to a hilarious meme fest on Twitter.
Who needs a cape when your superpowers can make do with a towel? 😬#ICCWTCFinal #TheUltimateTest #INDvNZ #WTCFinal2021 #WTC21 #Shami pic.twitter.com/MEHq0Tt3sG

— Star Sports (@StarSportsIndia) June 22, 2021
See the Instagram post by the ICC:
This is how hilariously Twitter reacted after spotting Shami in the towel:
#1
Is he gonna dance on " mere khwabon me jo aye" ?? pic.twitter.com/fYLxoZvPDg

— Aditi. (@Sassy_Soul_) June 22, 2021
#2
Shami in that white towel was behaving like a proper Indian uncle who wanders every corner of his house with just towel around his body 😭

— Udit (@udit_buch) June 22, 2021
#3
Indian dad going to bath.😅😅#ICCWorldTestChampionship #IndiaVsNewZealand #Shami pic.twitter.com/y3ziMBF4oi

— Sayan S. (@sayansark) June 22, 2021
#4
Shami dressing for lunch, puts a towel on – could be swinging his food and doesn't want to mess his whites.

— Gaurav Sethi (@BoredCricket) June 22, 2021
#5
Shami with towel was still the best part of the day

— Rosh (@ross_rockz_) June 22, 2021
#6
Your favourite hero vs mine.
We are not the same bro. #WTCFinal #WTCFinal2021 #Shami pic.twitter.com/SLLjWpGGGX

— 71st century soon (@_rohan_reigns_) June 22, 2021
#7
*When someone offers 'Towel' on ground*

Other Players Shami pic.twitter.com/BGFfHRg86s

— Samyak Vohra (@sAmeone1901) June 22, 2021
#8
Shami has same energy as kajol 😝😍#WTC21final @MdShami11 pic.twitter.com/zwrfz6P4Xv

— Virat Kohli Kingdom™ (@imVKohliKingdom) June 22, 2021
#9
In ICC tournaments you need to be fully concentrated and serious

Shami : hold my towel pic.twitter.com/A4oOr8uate

— bhargavprdip (@bhargavprdip) June 22, 2021
#10
When you're taking shower and suddenly they call you to bowl#Shami #WTC21final pic.twitter.com/d8c23AKXNG

— Vaibhav Dwivedi (@Vaibhav24145112) June 22, 2021
#11
Shami with Towel, Crossover you didn't expect 😂 #WTCFinal #INDvNZ pic.twitter.com/ONzlZrInzz

— Roshan Rai (@ItsRoshanRai) June 22, 2021
#12
Shami & his towel- Better love story than twilight pic.twitter.com/mf5uNBc7mR

— tejas (@tejaspotter) June 22, 2021
#13
#Shami on fire 🔥 #WTC21final

Towel Wale Wicket Le Jayenge 😂 pic.twitter.com/8Jw69ijhSL

— Roshan Agrawal (@CalmDevta) June 22, 2021
#14
zoom calls and dads#WTC21final #Shami pic.twitter.com/8cZR5NAOPl

— Krishna Daga (@dagakrishna22) June 22, 2021
#15
Jab se tere naina.. from Saawaria. Un-adult version performed by Shami. 👏 pic.twitter.com/YeCuXlPgdx

— Keh Ke Peheno (@coolfunnytshirt) June 22, 2021
There is no denying the fact that the weather in Southampton is quite cold and due to rains, it must have got colder so Shami might have needed to keep his body warm in order to bowl well. Mohammad Shami was just trying to keep himself warm by wrapping towel over himself which gave everyone a chance to laugh a little in the serious situation of the WTC final match.
Share Your Views In Comments Below