Humour
Mohammed Siraj's Viral Photo Of Talking On Walkie Talkie Sparks Meme Fest On Twitter
The World Test Championship final is being played between India and New Zealand as of now in Southampton, however the match has been spoiled by the rain as no play took place on the first and the fourth day of the test match due to the bad weather. As the International Cricket Council (ICC) has kept a reserve day for the match, two days are still remaining but the cricket lovers are pretty disappointed with the apex cricket body for its poor selection in regard to the venue, especially after knowing that it rains in England in the month of June.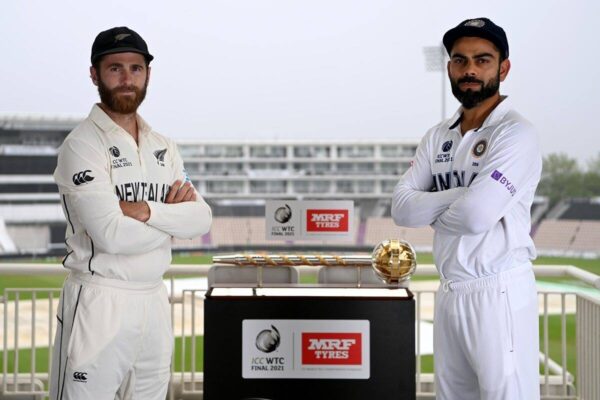 The Indian team scored 217 runs in the first innings and Kyle Jamieson bowled superbly by taking 5 wickets for just 31 runs. The New Zealand team had a good start as they scored 101/2 in their first innings and it will be interesting to see how the weather will behave in the remaining two days of the match.
As far as the team composition is concerned, New Zealand didn't include any spinner in its playing eleven as the pitches of England are pretty famous for being helpful to the pacers. On the other hand, the Indian squad went into the match with three pacers (Ishant Sharma, Mohammad Shami and Jasprit Bumrah) and two spinners (Ravichandran Ashwin and Ravindra Jadeja) because of which the young pacer Mohammed Siraj didn't get the chance to play in the WTC final.
However, the young pacer who played an important role in India's win in the India-Australia series by taking 13 wickets in 3 test matches was trending on the social media sites even without playing the test match. A photo of Mohammed Siraj is going viral on the Internet in which he is seen holding a walkie-talkie and using it for talking.
First of all, take a look at the pic: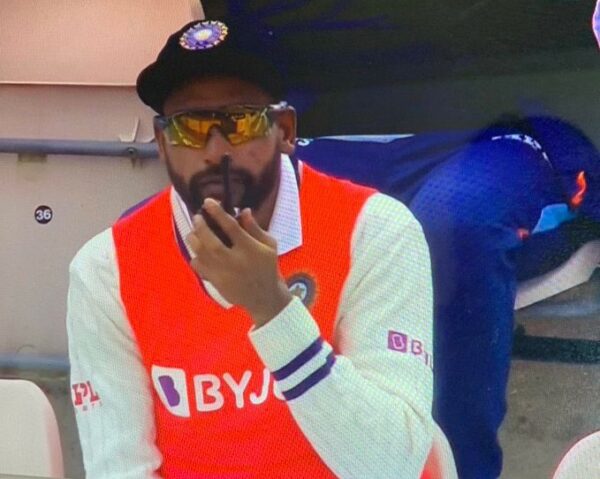 Even though no play on the fourth day disappointed cricket fans, netizens did have a field day and a good laugh with memes on Siraj's viral photo. Here are some of the selected tweets:
#1
Shastri: Mahaul kaisa hai match ka?

Siraj: Apni halat kharab hai

Shastri: Ok over and out

Siraj: 49 over aur 2 out pic.twitter.com/LNSyBjraff

— Rishabh Srivastava (@AskRishabh) June 21, 2021
#2
Kohli: can you call Grandhomme

Siraj: Colin Grandhomme pic.twitter.com/4bY7jdVWAD

— Sir Yuzvendra (parody) (@SirYuzvendra) June 20, 2021
#3
Alpha to delta : soda aur chakhne ka arrangement ho gaya hain..over pic.twitter.com/NdacRFJGh6

— Manu (@Manu_k333) June 20, 2021
#4
'Oye coach ko uthao oye.. Out ho gaya 200 vala.. bach gaye' pic.twitter.com/QnK2eva3vq

— Kanav Bali🏏 (@Concussion__Sub) June 20, 2021
#5
Siraj after seeing the scoreboard:

Call an ambulance, but not for me #WTCFinal pic.twitter.com/Pw2nQTkJp1

— Manya (@CSKian716) June 20, 2021
#6
कोहली भैया और मेरे पैसे भी न्यूजीलैंड पर लगा दो! pic.twitter.com/AFF4JWdIYv

— Professor ngl राजा बाबू 🥳🌈 (@GaurangBhardwa1) June 21, 2021
#7
https://twitter.com/cricketpun_duh/status/1406652009562853376
#8
Ek plate mutton biryani tayyar rakho lunch k liye. pic.twitter.com/cWwIlNrF7h

— T (@its_tabrez__) June 20, 2021
#9
Zara Lukhmi aur chai ka intezam karte pasha bhai?… pic.twitter.com/bu3azoJSBC

— Varun (@wizardrincewind) June 20, 2021
What do you think will be the result of the WTC final?