News
Mom Has The Coolest Response To School Asking About Academic Expectations From Her Kid
There is no denying the fact that school education plays an important role in shaping a person's life because it not only increases our knowledge but also makes us a better individual. However in modern times, parents are more interested in seeing their kids getting high marks from the kids of their neighbours or their known ones which creates an unnecessary pressure on children and their childhood gets lost because of this academic pressure. It won't be wrong to say that marks of kids have now become a matter of prestige for many parents, however there are some parents who may not be concerned about other people but they pressurize their kids to perform well in exams because they want to see their kids on the top position all the time.
The good thing is that there is a little change in the attitude of very few parents nowadays as they want to give their kids a happy childhood and don't pressurize them, at least not at a very young age.
Parents leave no stone unturned in presenting their kid as very intelligent and talented while filling the school admission form in order to make a good impression in front of authorities and also try to show that they are very serious about their kid's education as parents.
But a mother of a 4 years old boy gave a very cool response when she answered the question, "Academically, one thing I would like my child to work on this year is:" as she wrote, "Lol who cares he's 4".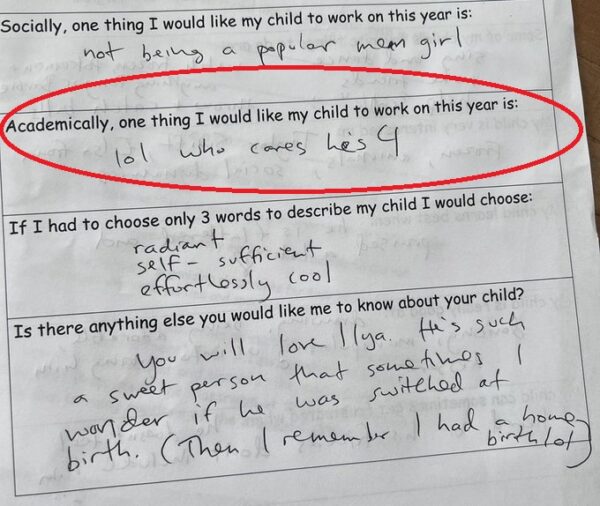 The mother also describes her son in three words – radiant, self-sufficient and effortlessly cool in response to another question. While replying to the query, "Is there anything else you would like me to know about your child?", the mother wrote, "You will love Ilya. He's such a sweet person that sometimes wonder if he was switched at birth (Then I remember I had a home birth lol)."
The mother also makes it clear that she doesn't want her son to be a popular mean girl when she answered the question, "socially one thing I would like my child to work on this year is".
Twitter user Emily Gould shared the screenshot of the admission form with the caption, "Just being honest".
just being honest 🤷🏼‍♀️ pic.twitter.com/pZFfx81xzg

— Emily Gould (@EmilyGould) September 13, 2022
This is so cool and sassy, isn't it?
Share Your Views In Comments Below