Entertainment
Money Heist's Pakistani Version Is Getting Roasted On Twitter, Angry Fans Call It Sasti Copy
The trend of copying or getting inspired from the foreign movies or television series is prevalent not just in the Indian film and television industry but even our neighbours are following this trend as well.
Money Heist, the famous television series which was originally made in Spanish (La casa de papel which means The House of Paper) is one of the most watched non-English series and it was based on the two long prepared robberies which were carried on Royal Mint of Spain and Bank of Spain.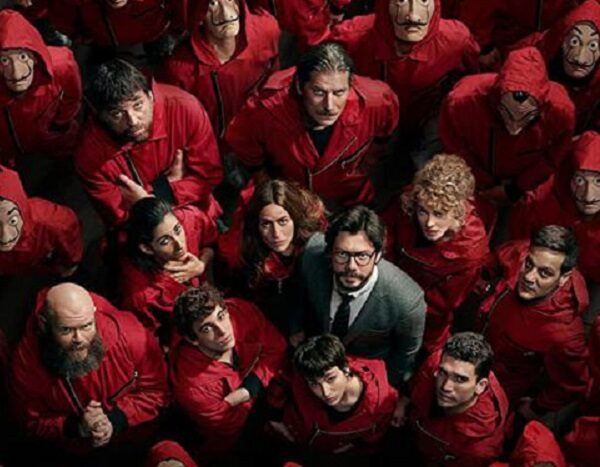 While the world is already in love with this series, the Pakistani moviemakers have decided to come up with its Pakistani version. The movie has been titled as "50 Crore" and recently a teaser was released online by the makers which showed an uncanny resemblance to the original.
Here is the teaser:
#50crore #action #ComingSoon #aijazaslam pic.twitter.com/GwGKtGkLhp

— aijaz aslam (@aijazz7) October 18, 2020
The star cast includes Aijaz Aslam, Zhalay Sarhadi, Saboor Aly, Anoushay Abbasi, Faysal Quraishi, Mehmood Aslam, Asad Siddiqui and Naveed Raza. Moreover, it is being said that their characters are named after different cities of Pakistan.
Twitter users have not liked this idea much and they are calling it a cheap copy (sasti copy) of the original. The anger of the netizens can be understood as they want to see fresh content and not something which is copied from other movies or series or that they have already seen, though in a different language.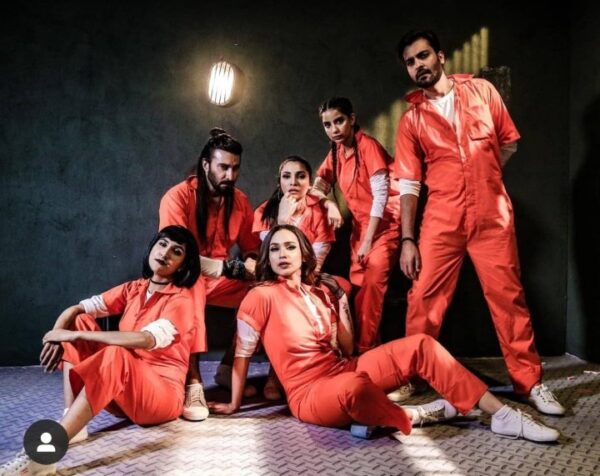 The makers have also released the posters of the movie and it has implicitly confirmed that "50 Crore" is the Pakistani Money Heist.
An another action film is here, titled as '50 CRORE'. The cast includes Faisal Qureshi, Aijaz Aslam, Asad Siddiqui, Mehmood Aslam, Saboor Ali, Faryal Mehmood, Zhalay Sarhadi, Noman Habib, Naveed Raza, Omer Shehzad & Anoushey Abbasi. #Lollywood #50Crore @aijazz7 @faysalquraishi pic.twitter.com/jsOc7RaHHd

— Lollywood🇵🇰 Movies (@Real_Lollywood) October 19, 2020
Consequently, the Pakistani moviemakers are being slammed for their lack of imagination and soon memes and jokes start flooding on the micro-blogging site Twitter. What gives enough fodder to the meme makers is the financial condition of Pakistan. It's an open secret that the economy of Pakistan is in a very poor condition and the majority of the countries of the world are in no mood to help them by giving loans. Twitterati has also made fun of this situation and says that the team of the copied version will be returned by the bank as there will be no funds in the bank or the server will be down.
Here are some selected tweets:
#1
What is this behavior? Yeh secondhand Money Heist version kis ne order kiya? #50Crore pic.twitter.com/rqCEUYx8Lj

— Amal Zuhair (@amalzuhair89) October 19, 2020
#2
Money heist♥️ Money waste💩#MoneyHeist #50Crore pic.twitter.com/7gmJAe6SNX

— Tahreem🌸 (@tweetsbytahreem) October 18, 2020
#3
So Pakistanis copied La Casa De Papel and turned it into a movie? 🤢 DO WE NOT HAVE BRAINS THAT WORK CAN WE PLEASE BE ORIGINAL FOR ONCE??? pic.twitter.com/8Lr1sapdJw

— Ushnaa 👻 (@Lanaschild_) October 18, 2020
#4
Pic 1 : Money Heist
Pic 2 : Money Heist Lite#50Crore pic.twitter.com/sFFJ4StRpj

— Jack (@MrAmbiDexter_) October 21, 2020
#5
Money heist 1080p Money heist 144p#50Crore pic.twitter.com/STdJGmi7eO

— IHassanHK (@hmuhammadhk11) October 18, 2020
#6
how did the cast of 50 CrOre even agreed do it…. they are gonna embrass themselves…

— Aiman Shamim (@jerriee293) October 18, 2020
#7
In Pakistan's money heist/ #50Crore
They need to rob the politicians instead of a bank. #MoneyHeist

— Zaynab 🇵🇰🥀 (@GoDieZaynab) October 18, 2020
#8
In Pakistani Money Heist, Professor's team goes to the State Bank of Pakistan, only to find that there is no money in the vault..

— Naila Inayat नायला इनायत (@nailainayat) October 20, 2020
#9
Pakistani money heist mein chor bank jayengay aur teller bolayga "Sorry sir. Server down hai. Come back later."

— Ariba Shahid (@AribaShahid) October 18, 2020
#10
Money Heist (Siraiki Version)#50Crore pic.twitter.com/DTXpcyktqM

— Siddiq Olia ❤️ (@OliaSiddiq) October 20, 2020
#11
Money heist Pakistan can never work. They'd be stuck in the traffic outside any bank

— Noor 🐥 (@denialhaha) October 18, 2020
#12
Money heist pakistan wale ALLIED BANK jyenge or jawab milega
"Abhi paise ni aye baad me aana"

— Bunny❤️ (@ashumaddy7) October 19, 2020
#13
why tf is pakistan making sasta money heist…. pic.twitter.com/xoI7jQtV9N

— vase⁷ (@TAEHYUNGZERO) October 18, 2020
#14
Money Heist Pakistan in the making?
ugh 2020 seriously needs to STOP. The lack of shameless plagiarism and lack of own creativity is such an embarrassment.

— Anam 🦋 | sushant's bot (@SpoookyAnam) October 19, 2020
#15
When you order Denver and Nairobi from wish#50crore
(le ke koi original content produce karlo bhai) pic.twitter.com/hRbk8r9QjJ

— That's Not My Name (@callmebaji) October 19, 2020
What do you have to say about Pakistani Money Heist?
Share Your Views In Comments Below