Humour
"Mujhe Bhaga Ke Le Jana," Kusum's Viral Message To Vishal On Rs 10 Note Makes Twitter Go WTF
Love is certainly one of the most beautiful feelings of the world but it is really difficult to understand why some people try to separate those who are madly in love with each other and find it difficult to remain alive once they are separated. Our society is divided on the terms of religion, caste, status, etc. and many lovers have to make compromises in life and get married to some other person in place of the one whom they love. This is because their parents do not like their lover as he/she may be from different religion or caste or there might be huge difference in their financial or social status.
While society tries its best to separate the love birds, the lovers are also hell bent on spending their whole lives together because of which we have seen that many times bride or groom runs away from their forced marriage.
Recently, a Twitter user shared a photo of a Rs. 10 note on which a girl wrote a message for her lover. The name of the lover is Vishal to whom the girl Kusum conveys that she is getting married on April 26 so he should come before that as she is ready to elope with him.
Here is the note: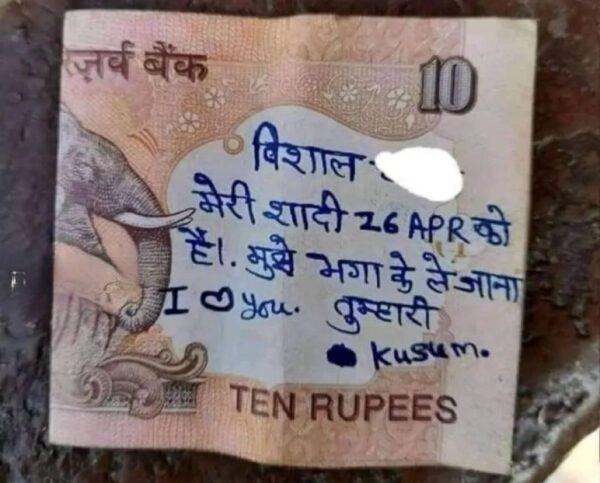 The message on the note read, "Vishal, meri shaadi 26 April ko hai, mujhe bhaga ke le jaana, I love you, Tumhari Kusum".
The Twitter user shared the image with the caption, "Twitter show your power… 26th April ke Pehle kusum ka Yeh message vishal tak pahuchana hai.. Doh pyaar karne wale ko milana hai.. (We need to make this message reach Vishal before 26th April.. We have to unite two lovers) Please amplify n tag all Vishal you know.. 😂"
Check out the tweet:
Twitter show your power… 26th April ke Pehle kusum ka Yeh message vishal tak pahuchana hai.. Doh pyaar karne wale ko milana hai.. Please amplify n tag all vishal you know.. 😂 pic.twitter.com/NFbJP7DiUK

— Crime Master Gogo 🇮🇳 (@vipul2777) April 18, 2022
The tweet soon went viral and netizens started reacting to the matter, while many showed concern towards the estranged lovers, some took it as an opportunity to have fun. Here are some selected reactions:
#1
What if all Vishals /Bishals reach on time ?Who will Kusum run with?

— Shikha Kapoor Rajpal🇮🇳 (@Shiks33075327) April 18, 2022
#2
CID Pradhyumman aur Daya ko bula lo 😃

— 🌞 𝕯𝖎𝖛𝖚 🌞 (@Divublr) April 19, 2022
#3
Vishal , what is this behaviour bhai !!!???? 😐😐😐😐😐😐

— Rishab 🇮🇳 (@ClashWithXerex) April 18, 2022
#4
Haye ram; desperate times call for desperate measures!

— ज्योतसना प्रणीत भारद्वाज (@Bhardwajyotsana) April 18, 2022
#5
GOGO abh toh jitni bhi Kusum hain aur 26th April ko shaadi karne waali hogi un sab ke hone wale Husbands yeh dekh ke shaakh pe shaakh karke apni shaadi hi naa todh de Kusum ke saath. Vishals ka toh pataa nahi paar Ek Kusum ke chakkar mai baaki Kusums ki waat naa laag jaaye

— LOS ALKOS (@alokboytoy) April 20, 2022
#6
Jab tak ye vishal talak khabar pahunchegi tab tak vishal 2 bachho ka mama ban jayega 😂

— Parva Nahi (@parva_nahi) April 18, 2022
#7
Sonam gupta ke baad ab Vishal bewafa hai..

— Indian (@Vodka_Anytime) April 19, 2022
#8
Pata chale 26 April ko 10 vishal pohch gaye kusum ko bhagane 😭 https://t.co/0aPHyMjozM

— Jeera_Rice (@Jeera_Rice) April 19, 2022
#9
Bhai ye Vishal sirf tum k dipak ki tarah hi milega

— angrezi app ke gulam (@gyanbajiaccount) April 18, 2022
#10
Mai aa raha hun Kusum 😘😘😘 https://t.co/PESD18vrSX

— विशाल शुक्ला(PHANTOM PAIN)🇮🇳🎖 (@vishalshukla_88) April 19, 2022
#11
Aur yahan saare Vishal ke Papa Lathi liye Ghum Rahe hn

— abhishek mohan (@1289198511) April 20, 2022
Earlier also we have seen that people have written messages on the currency notes such as "Sonam Gupta Bewafa hai" and few times it has been done in order to make jokes and nothing can be said about the authentication of this message as well. On the other hand, it feel a little odd to see people sending messages by writing on currency notes in the times of smartphones, what do you think?
Share Your Views In Comments Below